KING TUBBY (b. 1941 - † 1989)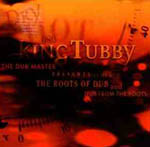 1974 - Moll Selekta - studio - discs: 1
The first Dub albums appeared in 1973. The release of instrumental Dub "versions" on B sides was quite a common thing but before that year not an entire Dub album was ever released. There are different opinions about who released the first entire Dub set. But for sure the first three were these: Lee "Scratch" Perry's "Blackboard Jungle Dub", mixed by Scratch; Clive Chin's "Java Java Java Java" (aka "Java Java Dub"), mixed with Errol Thompson; and Herman Chin Loy's "Aquarius Dub", mixed by himself. The top engineer Osbourne "King Tubby" Ruddock (1941 - 1989) is responsible for the practice of adding a B side as Dub versions. He was a searcher for what could be done with the original versions once that the mixing board started to be thought, managed and used as a whole new independent instrument. He was born in 1941 in Kingston. In 1955 his family moved to the Waterhouse ghetto and started to earn money repairing radios. At the end of the 50's he was already building Sound System equipment. His Hometown HiFi Sound rivalled those of Duke Reid and Coxsone Dodd. The legend says that when in 1968 he was working for Reid, he grabbed the Techniques "You Don't Care" tape and something new happened. He wiped off the vocals and a new song came out. On the live performances he added echo and reverb and the result was pure success. Dub was born. With this innovation, DJ style (aka "Toasting") broke up. The singer came in and out on the Dub background musical structure. That was something very new, and new musical territories started to be explored. The great U-Roy started exactly with Tubby's Hometown HiFi Sound System. From that moment on Tubby never stopped to practice and the results are some of the best Dub ever heared. In 1976 he quit with the Sound System activity since the rivals destroyed it eight times. He kept recording and "teaching". Some of his most skilled pupils were: Prince Jammy (later King Jammy), Scientist, Chemist and Phillip Smart. He had worked extensively with some top producers. To name a few, these names come to mind: Niney The Observer, Yabby You, Glen Brown and the great Bunny Lee. Lee's trademark "flying cymbal" sound was developed with Tubby. King Tubby's incredible contribution to the Jamaican music ended when the was abruptly shot dead in 1989. "The Roots Of Dub" (1974) was Tubby's first Dub album and it was followed six months later by "Dub From The Roots" (1975). These two albums are the first results of the collaboration between King and Bunny. Along with Lee "Scratch" Perry, Clive Chin and Herman Chin Loy's efforts, these King Tubby's sets can be considered as part of the foundation of the entirely dedicated Dub albums phenomenon. Even if later some better sets were released, these two must be approached as an unmissable starting point.
01. Natty Dub
02. Dub Magnificent
03. A First Class Dub
04. The Stepping Dub
05. Rude Boy Dub
06. A Closer Dub
07. Roots Of Dub
08. Dub You Can Feel
09. Loving Dub
10. The Immortal Dub
11. Dread Locks Dub
12. Rocking Dub
DUB FROM THE ROOTS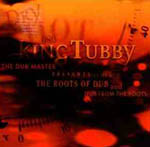 1975 - Moll Selekta - studio - discs: 1
Please refer to the above comments since "The Roots Of Dub" (1974) and this album are strictly connected. Note: these two separate albums come within this reissue as a double CD and therefore the front cover is the same.
FOUNDATION OF DUB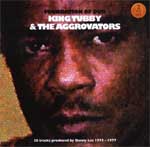 1975-1977 - Trojan - studio - discs: 2
This double set presents twenty eight Dubs from King Tubby and The Aggrovators. This material was produced by Bunny Lee and was recorded between 1975 - 1977. Edward O'Sullivan Lee was born in Kingston in 1940. He studied electrical engineering and by the late 50's he was introduced by his girlfriend (Yvonne McCloud, sister of Derrick Morgan) to the top producers of that time: Duke Reid and Prince Buster. By the mid 60's, while working during the day as a clerk in the car business, he spinned singles for Reid, Buster, Coxsone Dodd and Leslie Kong during the night hours. In 1966 he briefly worked with Joe Gibbs, and later with Blondel J. Calnek (aka Ken Lack and owner of the Caltone label). Lee produced his first single: "Listen To The Music" by Lloyd & The Groovers. His second production was "Music Field" by Roy Shirley for Clifford Rae's W.I.R.L. label. Subsequently Lee became the producer for this label. At the end of 1967 Lee started his own label. The first success in the UK came in 1969 when he produced "Wet Dream" by Max Romeo. By the end of the 70's Lee met Rudolph "Ruddy" Redwood, a Sound System operator. The latter used to abruptly cut the voice track in and out and this approach became some sort of inspiration for Lee. He begun to release singles that on the B-side had versions made of full or semi instrumentals of the original song. This practice became common up to 1972 when very early forms of what will be called Dubs started to be released. Osbourne "King Tubby" Ruddock was mainly responsable for this development. He also was trained as electrical engineering and had started his own System in the early 60's: the Home Town Hi-Fi. He was able to built a powerful amplifier that made his Sound the strongest in the Waterhouse neighbourhood and by 1969 when he employed U-Roy as his regular deejay he became even more powerful. Adapting the practice of the instrumentals, Tubby started to cut special mixes so that U-Roy could toast over the originals. The success in Dances brought the idea to release some cuts of U-Roy. Duke Reid produced them. This new concept was followed by other producers and new toasters came to light: Dennis Alcapone, I Roy and Big Youth. In the meanwhile Tubby developed his experiments using separate tweeter boxes, custom reverb and echo units to create new sounds. As he bought the four-track desk from Dynamic's Studio the innovative producers came to him to mix. These became "Dubs". Bunny Lee was one of them. By the mid 70's Lee and Tubby worked together extensively releaseing Dubs of material from Johnny Clarke, Delroy Wilson, John Holt, Linval Thompson, Owen Gray, Horace Andy, Jackie Edwards, U Roy and Cornell Campbell. Most of these tracks were played by The Aggrovators. This band was basecally formed by Earl "Chinna" Smith on lead guitar; Carlton "Santa" Davis or Carlton "Carly" Barrett on drums; Robbie Shakespeare, George "Fully" Fulwood or Aston "Family Man" Barrett on bass; Tony Chin, Tony Valentine or Aston "Family Man" Barrett on rhythm guitar; Bobby Kalphat, Bernard "Touter" Harvey or Theophilus Beckford on keyboards. Often the great Tommy McCook and Lennox Brown joyned them on saxophone; plus Bobby Ellis on trumpet and Ansel Collins and Jackie Mittoo on organ. The life of Osbourne "King Tubby" Ruddock ended on February 6, 1989, when he was murdered in front of his house in Kingston. This collection presents some material produced by Bunny Lee. The tracks were recorded at Channel One Studio (Maxfield Avenue, Kingston) and mixed at King Tubby's Studio (Drummlie Avenue, Kingston). The material presented here offers different quality levels. What undoubtly remains is the mastership of King Tubby's skills. Undoubtely it is a quite interesting compilation.
1975-1979 - Blood and Fire - studio - discs:1
This collection from the British label Blood & Fire contains some material cut between 1975 - 1979. At the time Lloyd "Prince Jammy" James was working at Tubby's, but in the 80's he would become one of the top producers of the digital era. The presented Dubs were almost all mixed by Jammy. By 1977 he was starting his producion career, and the first step was discovering Black Uhuru. In the meanwhile the friendship with Tubby produced these great Dub versions. As sometimes I state, Dubs are great when they are mixed by geniuses of the mixing board (with a vision too), and the original rhythms are first class material. In this case we have not two, but three big factors: Bunny "Striker" Lee produces, Tubby and Jammy mix, and fourteen classic rhythms. Here follows the list of the originals used: "Declaration Of Rights" (from the Abyssinians) from Johnny Clarke, "Live Up Jah Man" from Johnny Clarke, "The Barber Feel It" from Jah Stitch, "Top Ranking" from Johnny Clarke, "Just Say Who" from Delroy Wilson, "The Stall-O-Watt" from Cornell Campbell, "Power Of Love" from Ronnie Davis, "African People" from Johnny Clarke, "Death Trap" from Jackie Mittoo, "Pomps And Pride" from Leroy Smart, "Breaking Up" from Johnny Clarke, "Girl I Love You" from Johnny Clarke, "Just Give Up The Badness" from Johnny Clarke; and "Time Will Tell" from Johnny Clarke. Top class material indeed. The Aggrovators play these tracks. This compilation is some sort of part two of the CD "Dub Gone Crazy", of course from the same label. I am on the Scratch side, and therefore these Dubs are a different thing, but they are highly good Dubs.
KING TUBBY'S PROPHESY OF DUB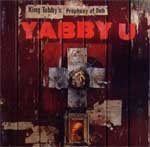 1976 - Blood & Fire - studio - discs: 1
Please refer to the Yabby You's page for my comments on "Prophesy Of Dub".
KING TUBBY MEETS THE AGGROVATORS AT DUB STATION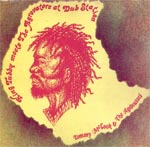 1975 - Trojan - studio - discs: 1
Please refer to Tommy McCook's page for my comments on "King Tubby Meets The Aggrovators At Dub Station".
KING TUBBYS MEETS ROCKERS UPTOWN
* * * *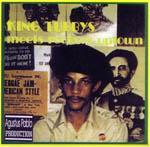 1972-1975 - Jet Star - studio - discs: 1
"King Tubbys Meets Rockers Uptown" is considered a classic in the Dub genre. Not occasionally, but we can say worldwide. King Tubby meets Pablo interpreting some top rhythms from the latter. Highly acclaimed, this set demonstrates that the genius of the man by the mixing board can re-define the original value of original tracks (in this case it was two of them: the great Errol Thompson and Tubby). In other words, Dub is not a sub-genre of Reggae, but an independent organism. It remains clear that without the "originals" there won't be any Dub, so the latter is not created from nothing and so on. But these issues can not be explored here. So, back to this set. In 1972 Pablo gathered some top musicians: Carlton Barrett (drums), Robbie Shakespeare and Aston Barrett (bass), Earl "Chinna" Smith (guitar), Bobby Ellis (trumpet), Vin Gordon (trombone) and Richard "Dirty Harry" Hall (tenor sax). Pablo joyned them on organ, piano and clavinet. He brought these huge artists at Randy's Studio to record the tracks. There Errol Thompson engineered them. After the sessions, Augustus went to Tubby to get a Dub treatement, producing the whole thing. Between 1972 and 1975 he used these tracks in different ways: instrumentals, deejay versions but also vocal versions were released. In 1976 he decided to release the present set with that material mixed by Tubby. The title track presents a Dub version of Jacob Miller's "Baby I Love You So", and "Frozen Dub" versions The Heptones' "Love Won't Come Easy". "Satta" is a version of the immortal "Satta Massagana" by the Abyssinians. In this release by JetStar the track is not listed, but it is there as number twelve. So, now here we are for the final comments. Undoubtly and historically speaking "King Tubbys Meets Rockers Uptown" is some sort of a cornerstone inside the genre, and also inside the Jamaican music. Some consider it a masterpiece, and this is the right adjective if considered through a historical perspective. From my point of view and considering the aesthtetic side, the test of time somehow fails to completly satisfy. Again, this is a semianl set at least historically speaking.
ONCE UPON A TIME AT KING TUBBY'S
* * * /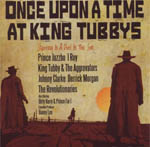 various mid 70s - Pressure Sounds - studio - discs: 1
The rivalry between Sound Systems is something that is present since the first Systems came on the Jamaican scene. From the late Fifties the battle between the Systems has encouraged amazing fights between singers, toasters and producers. This compilation starts with Johnny Clarke's "Do You Love Me", a version of a John Holt song from Studio One with the same title, recorded at King Tubby's legendary Waterhouse Studio in 1975 and produced by Bunny "Striker" Lee. This song initiated a contest between I-Roy and Prince Jazzbo. All the following tracks show how they started to fight each other back anf forth. It is really a contest between the two that lasted a couple of years. Track after track everyone answers to the other with some amazing lyrics and consequent Dub versions. It is a "duel in the sun" played by the Sound Systems. With the exception of "Padlock" and its version which were produced by Jo Jo Hookim and played by The Revolutionaries, all the rest was produced by Bunny Lee and played by The Aggrovators. The two studios involved were King Tubby's and Channel One. An album for passionate fans.
01. Do You Love Me? - Johnny Clarke
02. Straight To Jazzbo's Head - I Roy
03. Straight To Jazzbo's Head (Version) - King Tubby & The Aggrovators
04. Straight To I Roy's Head - Prince Jazzbo
05. Straight To I Roy's Head (Version) - King Tubby & The Aggrovators
06. Padlock - I Roy
07. Padlock Version - The Revolutionaries
08. Gal Boy I Roy - Prince Jazzbo
09. The Roots of Dub - King Tubby & The Aggrovators
10. Jazzbo Have Fe Run - I Roy
11. Jazzbo Have Fe Run (Version) - King Tubby & The Aggrovators
12.: I Roy The Chiney Commer Around - Derrick Morgan
13. Straight To I Roy's Big Mouth - King Tubby & The Aggrovators
14. Straight To Derrick Morgan's Head - I Roy
15. Straight To Trico Lee's Head - King Tubby & The Aggrovators
THE PROPHETS - KING TUBBY'S PROPHECIES OF DUB
waiting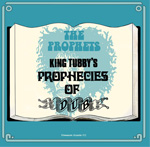 various mid 70s - Pressure Sounds - studio - discs: 1
waiting