JACOB MILLER (b. 1955 - † 1980)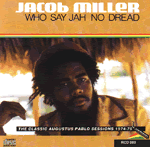 1974-1975 - Greensleves - studio - discs: 1
The best work from Miller is considered that one under the supervision of Augustus Pablo. At that time Jacob was twenty years old. This set consists of six tracks plus their mixed version from King Tubby. The original tracks are pure deep "Rockers" sound and the confidence of Miller is very high. Behind Miller the melodica and the clavinet from Pablo provide a unique taste. Miller would later join "Inner Circle" and these "Rockers" sounds will never be heared again. Let's say that he got struck in some sort of commercial trap. But this album delivers the best Miller's atmosphere ever. The tracks are: "Keep On Knocking", "False Rasta", Baby I Love You So", "Each One Teach One" and "Girl Name Pat". These tracks were produced by Augustus Pablo. The set was recorded at Randy's and Dynamic Studios.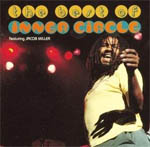 VARIOUS - Island -studio -
live
- discs: 1
This compilation deserves four and a half stars for the Jacob Miller tracks and merely two for Inner Circle. Even if it is titled "The Best Of Inner Circle", I decided to file it under Jacob Miller because he was the one that made the group something to remember. Unforunately without Miller the material is really poor. I will try to explain why. Inner Circle was formed by Roger and Ian Lewis plus Bernard "Touter" Harvey at the beginning of the 70's as a studio backup group. It seems that Jacob Miller knew them since 1974. The main part of the material here (which is from Inner Circle) is a fusion of Rock and R' & B', and that's the reason why it sounds disappointing. Aside from the classic "We 'A' Rockers" what is interesting here are four live recordings (all classics from the Killer, indeed): "Tenement Yard", "I've Got The Handle", "Standing Firm" and "Discipline Child". These songs were recorded at the "Marquee", London, March 1979. The rest is typical Inner Circle on the "crossover" sound side and is frankly quite boring. It is quite clear that once the great Jacob MIller died the group searched for new musical territories. No land was found... at least in the Reggae emisphere. There is not much official material around from Miller. If you are here I suppose it is because you love Reggae, therefore check this compilation only for the four live tracks with Jacob and throw away the rest.
JACOB MILLER & INNER CIRCLE - GREATEST HITS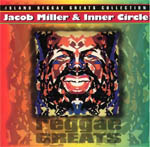 VARIOUS - Spectrum - studio - discs: 1
On March 23rd 1980 Jacob "Killer" Miller, 25, was killed in a car accident on Hope Road in Kingston, not far from the Marley house. Before this sad loss Miller produced some of the best "Rockers" sound. The material contained in this compilation cover some of these tracks recorded between 1977 and 1979. Unfortunally two of my preferred tunes from Miller - "I'm a Natty" (aka "I'm a Rastaman", a magnificent version of Marley's "Soul Rebel") and "Peace Treaty" - are missing. But what makes this compilation a very good one is that the boring croossover material that Miller produced with Inner Circle is not present. Here, as said before, there is pure Miller. Maybe the best tracks are "Healing Of The Nation", "I've Got The Handle", "Roman Soldiers Of Babylon", "Standing Firm" and "Forward Jah Jah Children". All the rest are almost classics.