U - ROY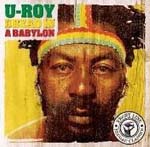 1975 - Frontline - studio - discs: 1
Edward Beckford started in 1961 under Count Matchucki influence as a deejay. In the late 60's he started deejaying under King Tubby sound system. Later in the first half of the 70's U - Roy slipped back while I - Roy, Big Youth and Prince Jazzbo were takeing the stage. He returned on the spotlight with this album. Not a surprise considering that the vibes are a little bit too much commercial for a toaster. Here the pioneering deejay sings his Rastafarians beliefs over updates of Rocksteady classics produced by Prince Tony Robinson and among others played by the Sly Dumbar lead Revolutionaries band that add the right ingredient for a rockers sound. The best songs are "Dreadlocks Dread", "Runaway Girl" and "Chalice In The Palace".
RIGHT TIME ROCKERS
THE LOST ALBUM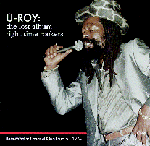 1976 - Sound System - studio - discs: 1
U Roy was one of the most admired, influential and imitated Dj in Jamaica. His work was pioneering for the Dj's to come and all have always admit his importance as the originator of this unique musical style. In 1975 the sound that came out of Joseph Hookim' (producer) and his brother Ernest's (engineer) Channel One Studio changed a lot of things. Their work with Sly Dumbar and Robbie Shakespeare's The Revolutionaries brought a new sound called Rockers. The songs recorded were immediately taken by numerous musicians and singers to be re-played becoming instant classics. As others artists did, U Roy worked on them but due to his extraordinary ability to toast over others rythms, what came out was astonishing. The purpouse for these tracks was not conventionally commercial and infact they were recorded as "specials" to be played exclusively by the King Attorney Hi-Fi sound system. They came out on very rare limited edition vinyls. Most of the material here comes from The Mighty Diamonds plus "Ali Baba" from Jackie Edwards and "Dress Black Wicked" from Earth & Stone. All the songs are tough and powerful. The legend says that the tracks were recorded in the early morning hours and the mood is quite similar to a live sound system performance spiced with a dark and misty atmosphere. This release can be rightly considered among the best material available from the Godfather. Pure toaster's tough style vibes. If you like the genre do not miss it.
NATTY DREAD - EXTRA VERSION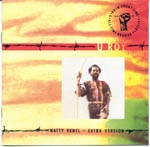 1976-1978 - Frontline - studio - discs: 1
Before any words on the songs presented here it must be said that (again) Frontline label messed up things in a painful way. We are used to their sensless attitude to release old important records without any notes, but this time Frontline went further. What happened? They lied on the title. This is not (!) the complete "Natty Dread" (1976) set plus some extra material. What the album contains are only some songs from that album, plus some songs taken from "Jah Son Of Africa" (1978), plus four live recordings from a concert at The Lyceum, London (1976). If I would have known about this I would have avoid this release and I would have bought the complete and original sets. Thanks Frontline. Let's now talk about the songs presented here. The songs from "Natty Dread" are: "Babylon Burning", a great "Natty Rebel" on "Soul Rebel" from the Wailers, "Badie Boo", "If You Should Leave Me", "Do You Remember", "So Jah Jah Say". The original album has eleven songs but here there are only six. The songs from "Jah Son Of Africa" are: the beautiful "Jah Son Of Africa" on the Wailers "Exodus", "Peace And Love In The Ghetto", "Running Around With Tom, Dick And Harry", "I Got To Tell You Goodbye", and the Roots of "Africa For The Africans". The original album has nine songs but here there are only five. The live recordings are: "Runaway Girl", "Babylon Burning", "Chalice In The Palace", and "Wear You To The Ball". I love U Roy but it is impossible to rate this compilation more than three and a half stars because the whole picture is missing. I hope one day to be able to say something more about the complete both sets. The live recordings are without doubts great and are quite interesting to get some live vibes from one of the greatest toaster that ever emerged from Jamaica.
JAH SON OF AFRICA
1978 - Frontline - studio - discs: 1
After the delusion of "Natty Dread - Extra Version" (please refer above for my comments) here we are with the entire "Jah Son Of Africa" set. It contains nine tracks that are powerfully delivered as could be expected from this great toaster. The album opens with the 7:40 (!) long title track ("Jah Son Of Africa"). This is an incredible effectual toaster's song versioning no less than Bob Marley and The Wailers "Exodus". The second track versions The Melodians "Rivers Of Babylon": the result is gospel-Dub, something that only a Jamaican could have made it work. Follows "Tom Drunk". After this is the turn of "Peace And Love In The Ghetto". The fifth track is "Running Around Town With Tom, Dick And Harry". Follows "I Got To Tell You Goodbye" and "Herbman Skanking" versioning The Gladiators "Stick A Bush". After this comes "Africa For The Africans". The album ends with "Love In The Arena". I must admit that I do not know all the originals, and I am not able to say where most of the songs come from. In any case this do not make me unable to feel strong vibrations. This music was played by some top musicans: Horsemouth Wallace and Sly Dunbar (drums), Lloyd Parks and Robbie Shakespeare (bass), Ranchie and Rad Bryan (guitar), Bubbler and Richard Ace (piano) and Sticky and Scully Simms (percussions). This set was produced by Tony Robinson. This is great toasting.
VERSION GALORE - VARIOUS ARTISTS / Includes: VERSION GALORE (1970)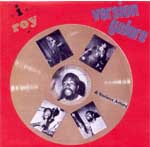 1966-1971 - Trojan- studio - discs: 2
"Versions" and "Dub plates" are an unique Jamaican invention. There have been a lot of speculation on how they were concieved. But rather than something consciously planned it seems that all started form a mistake. Here is the story. Osbourne "King Tubby" Ruddock was cutting some Rocksteady acetates at Arthur "Duke" Reid's Treasure Isle studio. The tapes were two tracks mono and they were intended to be cut and used on his own sound system King Tubby's Home-Town Hi Fi. Without paying too much attention he mistakenly turned off the vocal channel on one of the two. Once at the dance his selector played the acetates but no voice came out. At that time Tubby's DJ was Ewart (Edward elsewhere) Beckford born in 1942 in Kingston. After a couple of months after this episode he started to be called U-Roy. His instant success was so great that three songs reached the three top positions in the charts: "Wake The Town", "This Station Rule The Nation" and "Wear You To The Ball". In 1971 "Version Galore" was released. U-Roy was the acclaimed star. Before this set he had already worked for Lee Perry, Bunny Lee and Keith Hudson but none of them was really able to make him shine. In 1970 Lloyd "The Matador" Daley released a single called "Scandal" (over the "Secretly" rhythm) and this started to change things. In the meantime (1969 - early 1970) U-Roy was the DJ at King Tubby's Home-Town Hi Fi, toasting over Duke Reid's rhythms. Moving from the dance to the studio of Reid, U-Roy cut in 1970 "Wake The Town" over Alton Ellis and the Flames "Girl I've Got A Date"; and "This Station Rule The Nation" over the Techniques' 1967 "Love Is A Gamble". "Wear You To The Ball" followed and set U-Roy on top. Here came the core of this two discs set: the "Version Galore" original album (tracks recorded in 1970 and released in 1971). As can be seen on the original cover (intentionally reproduced as it was for this CD release) there was some confusion and the name printed was I-Roy! Duke Reid decided to include only "Wear You To The Ball" and added brand new tracks from U-Roy. The record became an instant classic with its twelve tracks: "Your Ace From Space", "On The Beach", "Version Galore", "True Confession", "Tide Is High", "Things You Love", "The Same Song", "Happy Go Lucky Girl", "Rock Away", "Wear You To The Ball", "Don't Stay Away" and "Hot Pop". U-Roy had started something new, for sure. Consequently other producers started to release more and more Toaster's style singles. U-Roy stayed at Tresure Isle up to mid 1971. Meanwhile he recorded twentyfive singles there always with the engineer Byron "Smitty" Smith by his side. This great deluxe edition contains on the first disc the original "Version Galore" set plus seventeen songs, with the total number of twentynine tracks. The second disc (also with twentynine tracks) presents the originals from which U-Roy created some classics in Jamaican music.