THE HEPTONES
1977 - Island - studio - discs:1
The Heptones is a first class harmony group. Earl Morgan (1945), Barry Llewelyn (1947) and Leroy Sibbles (1949) were born and raised in the sadly legendary Trenchtown ghetto, Kingston. In 1965 they were working as a newsagent, mechanic and welder respectively. They quit their jobs and headed to Coxsone Dodd to record as The Heptones. In 1966 they hit with "Fatty Fatty", banned from the airwaves for its explicit sexual content. That was a pure Rude Boy Rocksteady song. They cut some crucial Rocksteady songs for Dodd as: "Baby", "Why Did You Leave", "Let's Fall In Love" and "Cry Baby Cry". Their relationship with Coxsone Dodd lasted until 1970. In the meantime Reggae was taking over and the general attention to this Rocksteady era group started to fade. They worked for Joe Gibbs ("Freedom To The People" was a huge hit on supporting the People National Party for the 1972 general elections), Geoffrey Chung and Harry J.. The real renaissance came in 1976 with the "Night Food" album. If that is a good set, "Party Time" is highly superior. Maybe if it had been managed from someone else than Lee "Scratch" Perry the resulting material would have been very different. Here there is a perfect mixture of Lee's superior skills and spiritual vibrations, and great songs and beautiful harmonies from The Heptones. When it happens to think about the great albums that were recorded at Perry's Black Ark, two albums come immediately to mind: Max Romeo's "War Ina Babylon" and Junior Murvin's "Police & Thieves". Even if it is quite meaningless to make a comparison between those and "Party Time", I largely stand for the latter. The sounds and the textures are incredibly sophisticated and fit perfectly in and around The Heptones harmonies. What is delivered are rich Roots songs spiced by the musical genius of Scratch. The album was recorded and mixed at the Black Ark. Perry did everything: he produced, engineered and mixed. Yes Heptones, yes Scratch! A masterpiece and from my point of view the best set from different artists than the Upsetters / Perry partnership to be recorded at the Black Ark!
1. Party Time
2. Crying Over You
3. Now Generation
4. Mr. President
5. Serious Time
6. I Shall Be Released
7. Storm Cloud
8. Road Of Life
9. Why Must I
10. Sufferer's Time
PEACE & HARMONY - THE TROJAN ANTHOLOGY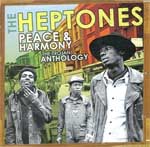 1966-1979 - Trojan - studio - discs:2
No one can argue that The Heptones (Earl Morgan (1945), Barry Llewelyn (1947) and Leroy Sibbles (1949)) were some of the strongest harmony group that came out of Jamaica. This huge compilation (fortysix songs) clearly demonstrates it. It opens with their first release: "Gunmen Coming To Town", a song recorded at Duke Reid's Treasure Isle studio in 1966. After the Duke they recorded for the great Sir Coxsone Dodd up to 1970. During this period at Studio One, Sibbles worked as a talent scout and session bass player (what a bass!), Llewelyn as a session musician too, and Morgan as a worker in the pressing plant plus some singing harmonies for various sessions. After Coxsone they moved to Joe Gibbs and other producers. In 1973 Sibbles moved to Canada and this brought to a period of inactivity. In 1976 two sets were released: "Night Food" and "Party Time". The latter is a classic of the Roots era and a masterpiece of Lee "Scratch" Perry musical visions. The present compilation cleverly presents the song "Party Time" in its 1974 version produced by Phil Pratt, and it is very interesting to compare this version with the Perry's one. In 1977 Sibbles quit the Heptones and relocated to Canada for a solo career. The Heptones must be checked since their contribution, both as a harmony group and single artists, is part of the golden age of the Jamaican music.
MEET THE NOW GENERATION
* * * *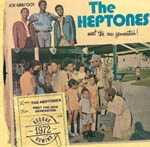 1972 - 17 North Parade - studio - discs: 1
The present set from The Heptones contains material cut for Joe Gibbs in 1972 and produced by Winston "Niney" Holness. Niney used the Now Generation band to back the Heptones. This group of great musicians was formed by Mikey "Mao" Chung and his brother Geoffrey Chung (guitar), Val Douglas (bass), Mikey "Boo" Richards or Martin Sinclair (drums) and Robert Lyn and Earl "Wire" Lindo (keyboards). This band had worked in the early 70's on Junior Byles' "Beat Down Babylon" cut for Lee "Scratch" Perry; Peter Tosh' "Maga Dog" and "Them A Fi Get A Beaten" cut for Gibbs; The Chosen Few' "Shaft" cut for Derrick Harriott; The Abyssinians' "Y Mas Gan" and Dennis Brown's "Baby Don't Do It" and "Things In Life" all cut for Lloyd "Matador" Daley. Top tracks, artists and producers indeed. But let's go back to the present set. It opens with the "Hypocrite", a marvellous rhythm about an "informer" that while working at Studio One he delivered informations to Coxsone Dodd. Follow "Save The Last Dance", and "Our Day Will Come". The former a version of the Drifters song and the latter a version of Ruby & The Romantics' track. These Soul songs are refurbished inna Reggae style with the latter as a small gem. The fourth track is the beautiful "Freedom To The People", followed by its toasters counterpart from U-Roy and called "Freedom Train". It must be remembered that round this time U-Roy was a strong voice at King Tubby's Hi-Fi Sound. Follows "Every Day And Every Night", a sweet love song. The seventh song is "Love Has Many Faces", slow and delicate. Follows "Be The One", a song praising God and its instrumental - Dub couterpart called "The Road Is Rough" credited to Joe Gibbs & Now Generation. The following track is a medley. Called "The Magnificent Heptones (3 In 1)", it presents three hits from Studio One: "Baby", "Why Must I ?" and "Why Did You Leave ?". A gem. Its counterpart is "George Headley Medley" featuring Dennis Alcapone. The set closes with "I've Got A Feeling". Soon after this set, in 1973 Leroy Sibbles moved to Canada and the Heptones silenced for a while. In 1976 the strong "Night Food" album was released, followed in that epochal year by their masterpiece "Party Time". One of the greatest sets inside the Jamaican music. The "Meet The Now Generation" is a powerful album that set The Heptones among the ranking top harmony groups of the moment. Their style is already there. The roots of the Heptones were growing strong.