BIG YOUTH (b. 1949 - )
1973 - Trojan - studio - discs: 1
Manley Augustus Buchanan was born on 19 April 1949. Being taller than his ghetto friends he acquired the nickname "Big Youth". He studied to became a mechanic and worked as a labourer in the construction field. The legend has it that during the construction of some hotels in Kingston he started singing and discovered his vocal skills. By the end of the 60's he approached Rastafari and soon became a fervent follower. He grow up, musically speaking, as the Lord Tippertone Sound system most prominent DJ. His inspiration came from King Tubby's prominent deejay, U Roy. When U Roy was absent Roy "I Roy" Reid took the mike. He found out Big Youth's skills and from time to time he allowed him to talk off the microphone. From March 1971 he was regularly at Tippertone. More than that he always had a cultural approach to his songs. He was the first Rasta chanter. And this made the difference. If U Roy opened the way for the "toasting" style, Big Youth made it stronger. This is his debut on a full length album. Something that has to be remembered is that Gussie Clarke arranged and produced this album. At that time Clarke was only twenty years old and he was completely absorbed and convinced that this was a great opportunity for him too. And this is pretty clear when listening to the result. There is a lot of self confidence both in Clarke's own skills and in Big Youth vocal toasting. A great combination indeed. The sources for his toasting are tough. Just to remember a few: Leroy Smart's "Pride & Ambition", Gregory Isaacs "One One Cocoa Fill Basket", K.C. White "No, No, No" and Lloyd Parks "Slaving". This set is very important because Buchanan's chant like style was very innovative and he set a style for the whole 70's. The set was recorded at: Dynamic Sounds (Kingston, JA), Randy's (Kingston, JA) and Harry J (Kingston, JA). Unmissable for its innovative force.
01. Screaming Target
02. Pride & Joy Rock
03. Be Careful
04. Tipper Tone Rock
05. Youth One Of These Fine Days
06. The Killer
07. Solomon A Gunday
08. Honesty
09. I Am Alright
10. Lee A Low
DREADLOCKS DREAD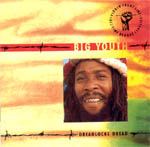 1975 - Frontline - studio - discs: 1
Tough Dj's toasting style here from Manley Augustus Buchanan (1949). This set was produced and arranged by Tony Robinson and engineered by Errol Thompson. Youth is backed here by Skin, Flesh and Bones Band. "Lightning Flash (Weak Heart Drop)" is a very dark dread and laid-back track based on the epic "Conquering Lion" rhythm and was conceived with Vivian Jackson (Yabby You). On "Marcus Garvey" Big Youth toasts on one of the most famous hits from Burning Spear. The second half of the set are dub tunes. The Rastafarian Youth took undoubtley the deejay style a step forward.
01. Train To Rhodesia
02. House Of Dreadlocks
03. Lightning Flash (Weak Heart Drop)
04. Natty Dread She Want
05. Some Like It Dread
06. Marcus Garvey Dread
07. Big Youth Special
08. Dread Organ
09. Black Man Message
10. You Don't Care
11. Moving Away
RIDE LIKE LIGHTNING - THE BEST OF BIG YOUTH 1972-1976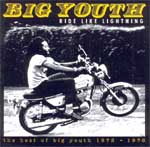 1972-1976 - Trojan - studio - discs: 2
This huge collection of Manley Augustus Buchanan's songs (fortyone tracks) covers the singer's hot years from 1972 to 1976. His first experience in the recording studio came in 1972 with a version of Errol Dunkley's "Movie Star", recut as "Movie Man", but the track failed to receive the right attention since the dancehall atmosphere was not that easy to translate in a studio environment. Again a version of an Errol Dunkley song ("Black Cinderella") was recorded ("The Best Big Youth"), but it did not capture Big Youth at full effect. Both songs produced by Jimmy Radway are not present here. The very young producer (nineteen at the time) Gussie Clarke was finally able to capture the tough street vibes of Buchanan. The first hit was "The Killer" over Horace Andy's "Skylarking" recorded in 1972. One year later (1973) he produced the "Screaming Target" debut set. Another success came straight after "The Killer" with "S. 90 Skank", a track produced by Keith Hudson referring to the acclaimed Honda S.90 bike and recorded over a Hudson strong rythm called "We Will Make It Up". A funny tale says that Hudson actually brought the bike inside the studio to record its roaring engine. From now on Big Youth was among the top toasters in Kingston and he recorded for some top producers as Lee Perry, Phil Pratt, Joe Gibbs, Augustus Pablo and Derrick Harriot. Even Prince Buster, always sceptical about the toasters, produced Youth. This incredible toaster brought a new approach to the genre. This style brought to the attention of the public by U Roy was besecally structured around responding to the lyrics of the original version. Youth moved further: adding social themes to the lyrics he brought to the toasting style a full credible status. In 1973 he founded his own labels: Negusa Negast and Augustus Buchanan. From 1973 to 1976 he was the top toaster in Jamaica and free from the restrictions imposed by the producers he was able to deliver strong and spiritual messages. In 1974 he even recorded a singing set: "Reggae Phenomenon". Tracks as "Give Praises" (over the Abyssinians), "Plead I Cause", "Hip-Ki-Do", "Riverton City", "Weeping In The Night" and "Reggae Phenomenon" fully demonstrates how the confident Youth approached a more classic sing style with ineresting results. Throughtout 1974 and 1975 Youth recorded again with some producers: Winston Riley, Bunny Lee, Yabby You and Jack Ruby. By the second half of the 70's toasters became less requested but he issued two highly deep strong tracks: "Wolf In Sheep's Clothing" (over Desmond Young's "Warning") and "Jim Squeachy". As the 80's approached new sounds were emerging with Dancehall on top. DJs as General Echo, Ranking Joe and Lone Ranger were bringing a new shape to the ten years old prectice of toasting. The golden years of Big Youth will be remembered forever.
NATTY DREAD UNIVERSAL 1973-1979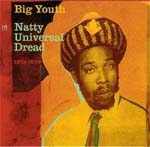 1973-1979 - Blood and Fire - studio - discs:3
This is a huge compilation. From every point of view. The British Blood and Fire label presents a three discs set with a total of fiftyone tracks! Fiftyone tracks from Ras Mr. Manley Augustus Buchanan that perfectly represent the high status of one of the greatest toaster and singjay that ever crossed the Jamaican musical universe. A large part of the tracks presented here defined the 70's toasting era. So this is an enormous and gorgeous opportunity to understand the importance of Big Youth efforts across a seven years time. This is "the definitive" Youth compilation for sure. The work made by the compilers Steve Barrow and Noel Hawkes stands among the more accurate labours of love concerning a Jamaican artist. With a thirtysix booklet full of every kind of informations about the artist, an accurate description of every track, and finally an almost collectors style packaging, this collection is well, ...great and therefore unmissable. What about the music? If you already know Big Youth here you will find a lot of alternate versions that will enlight you. If you do not you will start to understand why when talking about the 70's toasters - singjays his name is always on the front row. In any case if you already bought this triple set and since B&F label seems to have shot all its bullets and it is quite hard to see future release from them, make a copy of your discs and save the originals in a vault. This is the value of the music collected here. Now let us see what is released here. DISC ONE presents sixteen tracks from 1973. Here we are. "Chucky No Lucky" and "Waterhouse Rock" version the immortal "Rockfort Rock", cut for Joe Gibbs. "Hot Cross Bun" and "River Jordan" are Youth's first self produced singles. They version Lloyd Parks "Slaving". "Children Children" and "Mr. Buddy" are based on K.C. White version of Gene Chandler and Barbara Acklin's "Anywhere But Noware". "Hot Stock" and "Downtown Kingston Pollution" versions Carlton Manning's "Love Me Forever". On both tracks Youth sings (yes! it's incredible, and he is quite good too!) helped by Gregory Isaacs and The Heptones lead singer Leroy Sibbles. "Hell Is For Heroes" and "African Daughter" version Carlton & His Shoes version of the previous rhythm "Love Me Forever". "Things In The Light" versions Isaacs "Look Before You Leap". "Sky Juice" and "Not Long Ago" is based on Delroy Wilson's great "I Want To Love You". "Is Dread In A Babylon" and "I Pray Thee Continually" are based on Gregory Isaacs "Your Smiling Face" versioning the Paragons "Only A Smile". The first disc closes with "Streets In Africa" versions War's "The World Is A Ghetto" with the great Dennis Brown and The Heptones on harmony vocals. DISC TWO presents fourteen tracks from 1973 to 1975. Here we are. "Give Praises" versions the greatest Rastafari anthem "Satta Massagana" from the Abyssinians. "Mama Look" and "Reggae Phenomenon" version Dennis Brown's "Money In My Pocket". "Battle Of The Giants (Part 1)" and "Battle Of The Giants (Part 2)" are based on the "Daylighyt Saving Time / Energy Crisis" rhythm and both benefit from a world champions style encounter of Youth and U Roy on the microphone. Stellar. "Plead I Cause" again is based on the "Daylighyt Saving Time" rhythm. "Hip Ki Do" versions John Holt's "I'm Your Man". "Riverton City" is not clear were it comes from. "Love And Happiness" and "Weeping In The Night" are based on the Al Green song. The former is sung by Leroy Smart and the latter is a version from Youth. "Every Nigger Is A Star" versions Boris Gardiner's song with the I-Threes (Rita Marley, Judy Mowatt and Marcia Griffith) on backing vocals. "My Time" and "Natty Universal Dread" version Bob Andy's "My Time". The second disc closes with "Jim Screechy" versions Winston Riley "Stalag" rhythm. Finally DISC THREE presents twentyone tracks from 1975 to 1979. Here we are. "Messiah Garvey" is the original 7" mix version of the track based on Burning Spear's "Marcus Garvey". This version is a different cut of what appeared in the "Dreadlocks Dread" album. "Wolf In Sheep Clothing (Version 1)" and "Wolf In Sheep Clothing (Version 2)" version Desmond Young's "Warning". "Keep Your Dread" versions Ken Boothe's "Artibella". "I Light And I Salvation" is based on the "Salvation Light" rhythm. "Hit The Road Jack" merges Ray Charles song with the same title with the "Love Me Forever" rhythm. "Keep On Trying" is a duo with Leroy Smart. "Jah Man Of Syreen", "Dread High Ranking" and "Hotter Fire" are again based on "Keep On Trying". "Miss Lou Ring A Ding" and "Same Something" are based on John Holt's "Strange Things". "Ten Against One" and "River Boat" version the Impressions track with the same title. "Dread Is The Best" is based on Alexander Henry's "Please Be True". "Sugar Sugar" and "The Wise Sheep" are based on the Archies song, with the former featuring Junior Byles. "Jah Jah Love Them" versions Harold Melvin And The Blue Notes' "Wake Up Everybody". "The Upful One" versions the Righteous Flames' "Born To Be Loved". "Can't Take Wah Happen On A West" is not clear were it comes from. The disc closes with "Political Confusion" is based on the Jewels' "Love & Livity". So here we are with this incredible collection. Essential Big Youth!
Disc 1:
1. Chucky No Lucky
2. Waterhouse Rock
3. Hot Cross Bun
4. River Jordan
5. Children Children
6. Mr. Buddy
7. Hot Stock
8. Downtown Kingston Pollution
9. Hell Is For Heroes
10. African Daughter
11. Things In The Light
12. Sky Juice
13. Not Long Ago
14. Is Dread In A Babylon
15. I Pray Thee Continually
16. Streets In Africa
Disc 2:
1. Give Praises
2. Mama Look
3. Reggae Phenomenon
4. Battle Of The Giants Part 1
5. Battle Of The Giants Part 2
6. Plead I Cause
7. Hip Ki Do
8. Riverton City
9. Love And Happiness
10. Weeping In The Night
11. Every Nigger Is A Star
12. My Time
13. Natty Universal Dread
14. Jim Screechy
Disc 3:
1. Messiah Garvey (Extended)
2. Wolf In Sheep Clothing (Version 1)
3. Wolf In Sheep Clothing (Version 2)
4. Keep Your Dread
5. I Light And I Salvation
6. Hit The Road Jack
7. Leroy Smart & Big Youth - Keep On Trying
8. Jah Man Of Syreen
9. Dread High Ranking
10. Hotter Fire
11. Miss Lou Ring A Ding
12. Same Something
13. Dread Is The Best
14. Ten Against One
15. River Boat
16. Junior Byles & Big Youth - Sugar Sugar
17. The Wise Sheep
18. Jah Jah Love Them (Extended)
19. The Upful One
20. Can't Take Wah Happen On A West
21. Political Confusion