"Vital Dub" (also known as "Vital Dub Strictly Rockers") is actually the Dub version of the Mighty Diamonds classic album "The Right Time" with one missing track. With its "Vital Dub - Well Charged" print its could sound confusing, but this set is actually a Revolutionaries one. They were the Channel One Studio house band. This Studio was opened in 1973 by Ernest and Joseph "Joe Joe" Hookim. The main core of The Revolutionaries was formed by Sly Dunbar (bass); Robbie Shakespeare (drums) plus Ansel Collins, Errrol "Tarzan" Nelson and Ossie Hibbert (keyboards). These musicians were also members of Bunny Lee's The Aggrovators. Other members were also Radcliffe "Dougie" Bryan (guitar); Robbie Lynn (keyboards); Uziah "Sticky" Thompson (percussions) and Tommy McCook, Vin Gordon, Herman Marquis (horns). From time to time the bass was played by Bertram "Ranchie" McClean. The style they played was called "Rockers". The present release features "Ranchie", "Dougie", "Sticky", Ansel Collins and Ossie Hibbert, Herman Marquis and Tommy McCook, and Benbow. "Vital Dub" features "Roof Top Dub", "Ital Dub", "Fence Dub", "Ishens Dub", "Total Dub", "Merciful Dub", "Cell Block 11", "Killer Dub" "Blacka Blacka Dub". Keeping a faithful approach to the originals, the Dubs of "Vital Dub" find their force in the high quality of the "Right Time" album. A good set, especially if you appreciated the latter.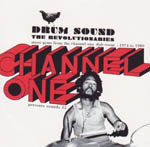 1974-1980 - Pressure Sounds - studio - discs: 1
Please refer to the Jo Jo Hookim's page for my comments on "Drum Sound ".