LINVAL THOMPSON (1954 - )
RIDE ON DREADLOCKS 1975-77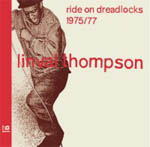 1975-1977 - Blood and Fire - studio - discs:1
Linval Thompson, born on October 2 1954, was one of the most prolific singers under Bunny Lee's production efforts. He gained a quite good success during the mid 70's Roots era. Thompson went to school with Jacob Miller but left with his parents for N.Y. before twenty. There with the help of Bunny Ruggs from Thirld World he recorded his first two 7" singles: "There Is No Other Woman" and "Good Gracious Woman". Back in Jamaica in 1973, Linval met Phill "Black" Pratt who produced his first Jamaican single called "Jah Jah Dreader Than Dread". In 1975 he cut a strong single for Lee "Scratch" Perry: "Natty Pressure Them". Linval was a friend of Johnny Clarke and thanks to him he got in contact with Lee. His first success came with "Don't Cut Off Your Dreadlocks" (1975) which was produced by Lee and recorded at King Tubby's Studio. Here in this compilation there is of course this hit plus a strong version from the great U Roy ("Joyful Locks"). Around that time (1975) Lee's most important hit makers were Clarke and Cornell Campbell. Very soon Thompson joyned them as a new interesting voice. Songs like "Ride On Dreadlocks", "Jah Jah The Conqueror", "A Big Big Girl", and "Cool Down Your Temper" were hits. All these tracks are available in this compilation. In 1977 he self produced his most famous album: "I Love Marijuana". Followed two great sets: "Six Babylon" and "Rocking Vibration". Linval most clearly recognisable influences were Clarke, Horace Andy and some aspects of Dennis Brown approach too. A dozen of hits followed but after that he started to be overshadowed by his rivals. But Linval did not gave up and started a new career as producer of himself and other singers laying the foundation for the new Dancehall sounds. Most of the times he used Roots Radics material to be sung by already acclaimed artists, in a way similar to that of the producer and friend "Junjo" Lawes. Among those singers I have to remember: the Wailing Souls, Freddie McGregor, The Viceroys and the Meditations. This compilation covers some of his most interesting hits plus their Dub versions put side to side with the originals. Linval was one of the pioneering singers of the Dancehall and this is a very well compiled set to approach him. And this thanks to the Blood and Fire label which always and professionally deliver very interesting material.
LINVAL THOMPSON & FRIENDS - ROCKERS FROM CHANNEL ONE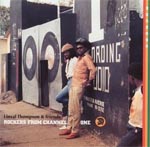 1978-1979 - Trojan - studio - discs:1
While working for Bunny Lee and other producers around 1975-1977, Linval Thompson released "Don't Cut Off Your Dreadlocks" (1976) for Lee. After this set Linval moved to Channel One were he recorded and produced for himself some of his best material with the support of the Studio band, The Revolutionaries. The core of the sound recorded there was made by Aston Barrett on bass and Leroy "Horsemouth" Wallace on drums, and the final touch was provided by King Tubby by the mixing board. In 1978 Linval released the "I Love Marijuana" album. In the mean time Linval started to produce different artists too. This very interesting compilation presents eight tracks from Linval and their versions from Ranking Dread, The Revolutionaries, Big Joe, Dawn & Christine and Trinity. The songs from Linval are: "Dreader Than Dread", "I Love Marijuana", "Africa Is For Blackman", "I Love Jah", the stellar "Never Push Your Brother" (maybe the best track here, with some interesting versions from Dawn & Christine "Holy Mount Zion"; The Revolutionaries "Shockin' Rock" and "Roots Man Dub" plus Trinity "Freedom Style"), "Love Is The Question", "Stop Loving" and "Lion & Tiger". This set wisely delivers some great originals with their counterparts, with the result of making us aware of Linval's production skills and the artists's involved visions. Rockers sounds and the art of versioning.
ROCKING VIBRATION / Includes: ROCKING VIBRATION (1979)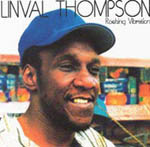 1975-1979 - Makasound - studio - discs:1
Nowadays Linval Thompson is mainly remembered for the his seminal efforts as producer during the beginning of the Dancehall era. But before this period he self produced his most famous albums: "I Love Marijuana", followed by two great sets: "Six Babylon" and "Rocking Vibration". The original "Rocking Vibration" album was released in 1979. The present release offers the opportunity to listen to the ten original songs plus eight extras. Let us start from the original set. Here follows the list: "Rocking Vibration (Get Together)", "Black Woman", "Freedom Fighter", "I Got To Have You", "Superstar", the stellar "More Power" (here presented in its wonderful extended version), "No More Problems", "No Confusion", the deep "Dangerous Position" and the highly frightening, fast and dark "Rasta Children". If considered alone, "Rocking Vibration" is a good set, quite cohesive and with a confident Linval on serious lyrichs. Then let us see what those from Makasound added (of course the compilers Roman Germa and Nicolas Maslowski). Here are the bonus tracks. The first song is the beautiful rocking and fast gem "Never Push Your Brother". Follows "Jah Jah Ah Do It". The style is the same of the previous track, here spiced with some musical smoking clouds. The third is "Super Star", a joyful song. Follows "Just Another Girl". This was written by Ken Boothe. The fifth bonus is another gem. "Mr Bossman" (extended version). The following track, called "Don't Push Me Around", is a toasters version featuring Ranking Trevor. The sixth song is "Give Thanks & Praises". The final bonus track is "Natty Pressure Them". This strong song was cut at the legendary Lee "Scratch" Perry's Black Ark in 1975. All the tracks of this re-issue were written and produced by Thompson, with the exception of "Natty Pressure Them" (produced by Perry and written by Perry and Thompson), and "Just Another Girl" (written by Boothe). With the exception of the song for Perry, all the other tracks were recorded at Channel One and mixed at King Tubby's. The list of the engineers reads: Scientist, Tubby, Brad Osborne, Douglas Levy and Perry. The musicians involved in the original album were: Robbie Shakespeare (bass); Sly Dumbar (drums); Earl "Chinna" Smith (guitar); Winston Wright (organ); Ossie Hibbert (piano) and Skully on percussions (also known as Mikey Spratt, Zoots Scully Simms, Scollie, Zoot Sims, Skitter). The musicians involved in the other tracks were: Aston "Familyman" Barrett and Lloyd Parks (bass); Carlton "Santa" Davis (drums); Tony Chin (guitar); Ansel Collins (piano); Brad Osborne (percussions) and The Townchanters (backing voclas); plus some of the original album. A good album as "Rocking Vibration" with at least four very good extras as commented above make this re-release something not to be missed.
COOL DOWN / Includes: DON'T CUT OFF YOUR DREADLOCKS (1975)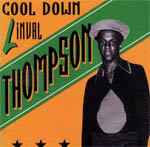 1975-1976 - Planet Vibe - studio - discs:1
Linval Thompson's first big hit was "Dont You Cut Off Your Dreadlocks", cut for Bunny "Striker" Lee in 1975. Their collaborations were released as Linval's debut album. The Jamaican set had the same name of the single, and was subsequently released in the U.S. as "Cool Down". This re-release which is not the American original release presents the following tracks: "Black Princess Lady", the deep and intense "Blood Gonna Run", the sulfurous "Money Money", the classic "Dont Trouble Trouble", its Dub counterpart from 1976 "Double Trouble Dub", "Cool Down Your Temper", "Jah Jah The Conqueror", "Big Big Girl", "No Escape", "Ride On Natty Dread", "Jezebel Woman", the engaging "Long Long Dreadlocks", the classic "Dont You Cut Off Your Dreadlocks" and its Dub version "A King Version". The original set contained twelve songs. Linval was twentyone years old when he cut these songs, and some of them are extremely powerful. The set is a little bit repetitive, as if Lee didn't want to jeopardize the new and quite fast growing success of Linval. The sound is pure Lee plus the Aggrovators of that period. And of course there is nothing to complain about it. That was the moment for Johnny Clarke and Cornell Campbell and Lee added Linval to his portfolio as the right and succesful move. Lee produced and King Tubby engineered. Recorded at Channel One, the set presents The Aggrovators strong as ever: Carlton "Santa" Davis (drums), Robbie Shakespeare (bass), Earl "Chinna" Smith (lead guitar), Tony Chin (rhythm guitar), Ossie Hibbert and Augustus Pablo (organ), Bernard "Touter" Harvey, Ossie Hibbert and Augustus Pablo (piano), Tommy McCook, Bobby Ellis and Lennox Brown (horns).