BLACK UHURU
BLACK SOUNDS OF FREEDOM / Includes: LOVE CRISIS (1977) and BLACK SOUNDS OF FREEDOM (1981)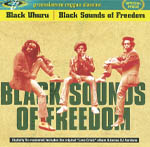 1977-1981 - Greensleeves - studio - discs: 1
Before saying anything about the quality of the music in this CD, let us underline a few things. This release from the Greensleeves label contains two albums plus three songs (versions) from U-Black. Here the main set is the Black Uhuru debut album "Love Crisis" (1977)! The first core of the group was formed by Derek "Duckie" Simpson, Don Carlos and Rudolph "Garth" Dennis. Maybe their best recordings were "Going To Zion", recorded for Clive Chin at Randy's but only released many years later; and the cover version of Curtis Mayfield's "Romancing To The Folk Song", renamed "Folk Song" and recorded for Tommy Cowan. After these recordings Don Carlos went solo and Dennis joined the Wailing Souls. Derek "Duckie" Simpson was joined by Errol Nelson (formerly a member of The Jayes and The Royals) and Michael Rose as lead singer. These are the components of Black Uhuru when they recorded "Love Crisis". They went to Prince Jammy to deal a recording session. At that time Prince was still the resident engineer at King Tubby's studio but in the meantime he was looking for working alone. Jammy understood immediately the potential of this harmony group and a deal was made to record an entite LP. They recorded at Harry J Studio with Sylvian Morris at the controls. The top musicians employed for this small masterpiece were: Sly Dunbar & Santa Davis (drums), Robbie Shakespeare (bass), Earl "Chinna" Smith (guitar), Keith Sterling (piano) and Winston Wright (organ, clavinet and harpsicord). After this Jammy moved the tapes at King Tubby's Studio to mix by himself the whole set. This set was not particularly acclaimed and it did not reach the deserved success but now we are able to catch its full strength. Pure harmonising over beautiful classic Roots music. The second album in this CD is the remix of the debut set, renamed "Black Sounds Of Freedom" (1981). Prince Jammy remixed "Love Crisis" with the aim to reach a wider audience. The material on which Jammy worked on was first class Roots but the overdubs do not improve the quality of the debut set. From my point of view the remix lacks the power of the original. The aim was to repolish the original set but the result was scratching what was perfectly shining. For this reason I put a double rating: three and a half stars for "Black Sounds Of Freedom" and four and a half stars for "Love Crisis". The Greensleeves release adds three bonus tracks from U-Black. At the end "Love Crisis" is almost a masterpiece and thanks to Greensleeves we have the chance to listen to it and its counterpart straight on one CD. "Black Uhuru" means "freedom" in Swahili. Free the Roots with the pureness of "Love Crisis" (five stars)!
"Love Crisis" album:
1. Crisis For Love
2. Satan Army Band
3. Tonight Is The Night To Unite
4. Eden Out Deh
5. Sorry For That Man
6. I Love King Selassie
7. Natural Mystic
8. Hard Ground
9. African Love
10. Willow Tree
BLACK UHURU / Also known as "GUESS WHO'S COMING TO DINNER"

1979 - Virgin - studio - discs: 1
In 1979 after Errol Nelson quit Black Uhuru, the group lineup was formed by Michael Rose, Derrick "Ducky" Simpson and the American sociologist turned singer Sandra "Puma" Jones (1953 - 1990). In that year a six tracks set was recorded and released called "Showcase". This original set presented these songs: "Leaving To Zion", "General Penitentiary", "Guess Who's Coming To Dinner", "Abortion", "Natural Reggae Beat" and "Plastic Smile". Adding the track called "Shine Eye Gal" the original "Showcase" album was re-released on different labels as "Black Uhuru" and "Guess Who's Coming To Dinner". So here we are with a straight seven tracks set produced by Robbie Shakespeare and Sly Dunbar. The musicians employed were: Sly Dunbar (drums), Robbie Shakespeare (bass), Robbie Shakespeare and Radcliff Byan (guitar), Keith Sterling and Winston Wright (organ). With the vocals and the Dubs flowing back to back (that is the reason for the original title), what is delivered here maybe could be considered the best Black Uhuru. After this set only some tracks reached this level but not an entire album did the same. Direct, uncompromising, and well balanced "Black Uhuru" is some sort of a classic inside the group career and generally the late 70's releases.
1. Shine Eye Gal
2. Leaving To Zion
3. General Penitentiary
4. Guess Who's Coming To Dinner
5. Abortion
6. Natural Reggae Beat
7. Plastic Smile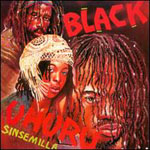 1980 - Island - studio - discs: 1
This third version of Black Uhuru is formed by Michael Rose, Derrick "Ducky" Simpson and Puma Jones. The group was founded around 1977 by Simpson, along with Rudolph "Garth" Dennis and Don Carlos. Later Errol Nelson and Michael Rose joined in after the departure of Rudolph "Garth" Dennis and Don Carlos. The main mood was built around some sort of progressive sounds. This attitude was basecally adopted from the second set "Showcase", since the first album "Love Crisis" (1977) has a totally different approach. By the subsequent set "Showcase" the group was formed by Rose, Simpson and Jones. The american born Jones was in Jamaica for sociology studies, but the vibes had a particular effect on her. She quit the studies and joined Black Uhuru. The "Showcase" album (1979) set them under attention. The group begun to record and tour with Sly Dumbar and Robbie Shakespeare. "Sinsemilla" is their third album. It is not easy to describe Black Uhuru. As said above there is some sort of progressive mood but at the same time they are tighten to the idea of a deep Roots sound. This strange texture could be fascinating or unimpressing. I am not such a Black Uhuru fan and I find most of their tracks too much experimental without being enlightning. There is a rare moment of pleasure: "Vampire". This is a gem. But it is not enough even for a concise eight tracks album. This album was recorded at Channel One, Kingston and was produced by Sly & Robbie. Ansell Collins on piano and organ is marvelous.
RED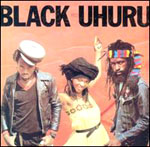 1981 - Island - studio - discs: 1
This set from 1981 puts Black Uhuru a step foreward of the Sinsemilla album. The whole impression is of an album which is more mature and confident of the style developed since the beginning in 1977. Here that mix of deep Roots and some sort of prograssive sound are developed in a more rich style. Listen to the hypnotic-jazzy "Journey" and you get what I mean. On the contrary, the so called hits like "Youth Of Eglington" and "Sponji Reggae" sound conventional and not inspired and inspiring at all. The set is short: only eight songs. Putting aside "Youth" and "Sponji" not all of the rest is particularly interesting. Of the six tracks left "Journey", as already stated, is probably the best. After that I save "Puff She Puff", even if - again - the feeling is of something already heard from them. Sly & Robbie again produce. The set was recorded at Channel One, Kingston.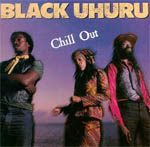 1982 - Island - studio - discs: 1
Black Uhuru 1982 "Chill Out" is an album that follows the same mood of "Red" from the previous year. The structure of the albums is the same and the music works again on the same level. And then... why changing something when it works? What I must say is that (again) the are not particularly interesting peaks. Maybe the only one is "Wicked Act". The rest seems pretty innocuous. So at the end this is a coherent Black Uhuru set as all the others. As to say that with these kind of albums you will not find bad surprises. That's all.