Delroy Wilson was born in Kingston in 1948. He started to sing when he was very young and at 12 (in 1960) he visited Clement "Coxsone" Dodd's Studio One. He did not received the expected reception. After two years, in 1962, Wilson went back to Dodd. He recorded "If I Had A Beautiful Baby", a song for Dodd's Sound System, but it did not get much response. By the end of 1962, early 1964, Wilson recorded three tracks aimed to embarass Dodd's rival Prince Buster. The songs were "Prince Pharaoh", "Spit In The Sky" and "Joe Liges". After those tracks he kept recording Ska for Dodd with success: he was the first baby star. In 1966 Ska was slowly drifting to Rock Steady. After the Skatalites' enormous success with Dodd, the house band at Studio One were the Soul Vendors. This band backed Wilson through 1967 on Rock Steady songs. Most of the tracks Wilson recorded at Studio One were backed by them. After these recordings he moved elsewere, recording for Bunny Lee, Sonia Pottinger, Keith Hudson and Leslie Kong. In 1969 Dodd released "Original Twelve: The Best Of Delroy Wilson": a Rock Steady filled album that showed Wilson talent. This edition of that work includes six bonus tracks from the same period. The gems are the slow "Conquer Me" (1968), the classic and beautiful "I Don't Know Why" (1968) and the dark "Run Run" (1970). This is one of those sets to check out if you are interested in what happened immediately before the Early Reggae era.
DUB PLATE STYLE / Includes: TWENTY GOLDEN HITS (1977)
* * * /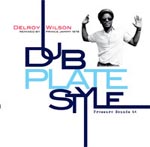 1977 - Pressure Sounds - studio - discs: 1
This twenty tracks album presents already known material from the great and late Delroy Wilson. But the big difference from what can be found elsewhere is that all these tracks were mixed by Lloyd "Prince Jammy" James. It seems that these remixes were aimed to be used by the Sound System, this explains their rawer atmospheres. These recordings mixed at King Tubby's and produced by Bunny Lee were given to Count Shelly to be released. In early 1978 "Twenty Golden Hits" appeared on Shelly's London based Third World label with no proper notes. It seems that this set was never released in Jamaica. The album quickly disappeared. Here we have the opportunity to discover this obscure set. The Prince Jammy treatement is great. He reduced the tracks to thier essential bone, with the voice appering dry and immediate. A fine work that will be for sure appreciated by the hardcore Reggae listeners. The material was cut at Channel One (Ernest Hookim engineers), Dynamic Sounds Recording Studio (Carlton Lee engineers), Harry J Recording Studio (Sylvan Morris engineers) and Randy's Studio 17 (Errol "Errol T" Thompson engineers). Later all the tapes were brought to Tubby's. The top gems are "A Bright And Sunny Day", "Can I Change My Mind" (stellar tune here !), "Find Yourself Another Girl", "Ms. Grace", "Living In The Foot Steps Of Another Man", "Better Must Come", "Love Uprising", and "Conquer Me". The list of the players is huge, it reads The Aggrovators, The Wailers plus other top names. Dedicated to those that are easly fitting in discovering new soundscapes of something already known but presented in a totally new shape.