SATTA MASSAGANA / Includes: FORWARD ON TO ZION (1976)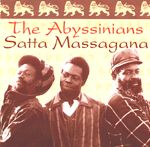 VARIOUS - Heartbeat - studio - discs: 1
The Abyssinians are Bernard Collins, Donald Manning and Linford Manning. There is no other way to describe this compilation album as magnificent. This is one of the greatest sets ever recorded in the history of Reggae, and probably inside the whole history of Jamaican music. The tune "Satta Massagana" was recorded in 1969 (!). Coxsone Dodd refused to release it as too radical for the time. Two years later Abyssinians released it on their own Clinch label and the history of reggae proved that Dodd was wrong. The set is a compilation of tunes from the debut album "Forward On To Zion" (1976) plus the last four tracks. The list of the original album includes: "Declaration Of Rights", "Good Lord", "Forward On To Zion", "Know Jah Today", "Abendigo", "Y Mas Gan", "Black Man's Strain", "Sattamasagana", "I And I" and "African Race". The original material was produced by The Abyssinians and Clive Hunt and recorded at Harry J's and Joe Gibbs. The list of the musicians includes Boo Richards, Leroy "Horsemouth" Wallace and Lowell Charles "Sly" Dunbar (drums), Val Douglas & Robbie Shakespeare (bass), Earl "Chinna"Smith and Mickie Chung (guitar), Clive Hunt, Tyrone Downie and Geoffrey Chung (keyboards), Jerome Francis, Llewellyn Chang and Clive Hunt (horns), Clive Hunt (flute and funde). All the material is filled with Rastafarian spirituality as the main force guideing them. This is First Class - with capital letters - Roots Reggae; and some of the best around. Sometimes there is no need to express ourself with one thousand words. The music speaks by itself. Give Thanks. Continually. Jah Rastafari.
CD re-release with bonus tracks (1993):
1. Declaration Of Rights
2. The Good Lord
3. Forward Unto Zion
4. Know Jah Today
5. Abendigo
6. Y Mas Gan
7. Black Man's Strain
8. Satta Massagana
9. I And I
10. African Race
11. Leggo Beast *
12. Peculiar Number *
13. Reason Time *
14. There Is No End *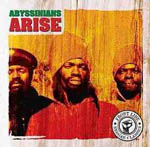 1973 - Frontline - studio - discs: 1
"Arise" followed the "Satta" compilation and that was a tough task indeed. Considering that the previous compilation/album is approached as an icon in Roots Reggae by historians and fans, it is pretty obvious that "Arise" seems at the first hearing very inferior. Actually is not bad at all! Maybe if "Satta" was never recorded this set would be considered a classic itself. Their trademark vocal-group harmonies are strong as always and they fit straight in this hard and soft mixture of Roots sounds. My preferred track are "Hey You" and "Wicked Man". Respect!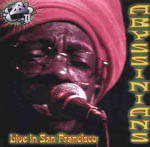 1999 - Multimedia Inc. - live - discs: 1
Here we are in San Francisco on stge. It seems that this show was recorded at the Maritime Hall and the precise date is not clear but I suppose that this set belongs to the "Reunion" album (1998) tour. The title tracks are quite confused and confusing; but at the end and after all it does not matter. There is even an incredible mistake by the compiler: "19.95 plus Tax" is repeated twice: not two different versions but the same track repeated twice; one after another. But there is not so much live material available in the record shops (in general and sadly the Abyssinians have been under recorded), so it is a real pleasure to have the chance to listen to the Abyssinians live on CD. Now let's talk about this release. The music is, well... the classics from Abyssinians. The supporting band plays pretty fine and the sound is engineered and recorded in the right way. What you cannot miss here a couple of acts which stand above the others: the great and magnificent "Abendigo" which stands as one of their most powerful songs ever and "Satta Massagana" which is The Rastafari/Roots Anthem: thia is a very long versio of 19:54 minutes! Maybe this not the perfect Abyssinians live set but as stated before this is the only one available up to now. I hope that an official release will come out as soon as possilbe. In the mean time enjoy this! Jah Bless!
TREE OF SATTA - VOL.1 (WITH FRIENDS)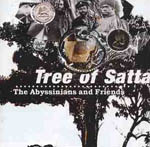 VARIOUS - Blood and Fire - studio - discs: 1
First of all this is a "riddim" album. But since the importance of the original song and the fact that this compilation contains some alternate tracks of it, I decided to file it here. The Abyssinians pay tribute to The Abyssinians most renowned song: the greatest and immortal Rasta anthem "Satta Massa Gana". The set starts with the original March 1969 cut (a different one appears in the epic "Satta Massa Gana" compilation/album). Some of the best versions are compiled here by Bernard Collins, one of the "The Abyssinians" founders. In 2004 the original members choose for some newer voices and this is it: a 35 years voyage around "Satta". Due to the fact that "Satta" is such a powerful song it is almost impossible to say which version is better than the other. It all depends on your taste and maybe your mood. Some would go for Big Youth, some would go for Tony Tuff (maybe my favourite beside the original versions). "Satta" is the most covered tune in the history of Reggae. This album only proves one thing: The Abyssinians created a highly classic tune. And this happens once in a life time. What is missing here is a full complete faithful cover version of the original "Satta". It would be such an interesting experience (or a bad one... who knows) to hear some of the New Conscious Reggae artists to sing a true cover version. This will never happen: Jamaicans won't do that. They go forward. "Satta Massa Gana" is here versioned by Bongo Herman,
Big Youth
, Lloyd Chambers,
Prince Far I
, Bernard Collins (alone),
Dillinger
,
Tommy McCook
,
U Roy
,
Luciano
,
Natural Black
, Yami Bolo,
Capleton
, Tony Tuff,
Ernest Ranglin
, Jah Mali,
Anthony B
and finally by Dean Fraser. All different, all the same stellar rhythm. Give thanks.