Glenmore Lloyd Brown was born in Kingston on 1944. By the late 60's he sang with the Sonny Bradshaw's jazz group. Later he sang as part of a duo. Between 1966 and 1967 he recorded extensively with Lloyd Robinson for "Coxsone" Dod, Derrick Harriott, Sonia Pottinger and Duke Reid. In 1968 he self produced a few tracks including "Skinny Leg Girl", "Girl You Cold", "Live Like A King" (all with Hopeton Lewis) and a cover of Sam & Dave's "Soul Man". During the same period he also recorded with Dave Barker for Dodd and Harry J. In 1970 he cut the album "Collie & Wine" for Leslie Kong. In the beginning of the 70's Brown started a business with a Kingston jewellery shop owner called M.G. Mahtani. The latter financed the manufacture of a series of singles released under different labels as Dwyer, Shalimar, God Son and Pantomine. In 1972 Glen produced a successful hit with a melodica instrumental duet with Joe White called "Merry Up" (the melodica was played by Glen). Please see the second compilation below for this track. During this time he also produced the immortal "Dirty Harry" rhythm by the saxophonost Richard Hall. This huge hit was resumed again and again as deejay, vocal, instrumental and toaster's versions. The mixing was always done at King Tubby's Waterhouse studio. Actually Tubby's treatements were some of the first he released for commercial use. During the 70's Glen recorded artists as I Roy, Bobby Ellis, Tommy McCook, Prince Jazzbo, Big Youth, Roman Stewart, Gregory Isaacs, Johnnie Clarke, Keith Poppin, Tinga Stewart, Wayne Jarrett and Sylford Walker, to name a few. This collection in fact presents eight versions of this strong rhythm plus of course the original single. These are the tracks presented: "Dirty Harry" (Richard Hall), "Realise" (Glen Brown & Ritchie Mc Donald), "Realise Version" (Glen Brown and Richie McDonald from the Chosen Few), "Determination Skank" (Bobby Ellis & Tommy McCook & Richard Hall), "Tel Aviv Drums" (Glen Brown), "The Winner" (Glen Brown), "Sunshine Showdown" (Glen Brown), "Rasta On Sunday" (I Roy) and "Mr. Harry Skank" (Prince Jazzbo). The collection continues with the hyper-stellar "Never Too Young To Learn" by Roman Stewart, followed by two very strong versions by Big Youth called "Opportunity Rock" and "Dubble Attack" respectively. Follows "Take A Step" by Glen. Then it is time for the "Cool Ruler" (Gregory Isaacs of course) with "One-One Cocoa Fill Basket" and its version called "Crisp As A Ball" by Glen. The collection closes with two gems by Brown: "Save Our Nation" and "Away With The Bad". Do not forget this often overlooked great artist and producer. He was behind some wonderful music that emerged in the 70's. Rythm master as stated on the cover? For sure!
GLEN BROWN & FRIENDS - RHYTHM MASTER VOLUME TWO
* * * /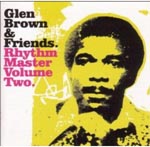 1971-1976 - Hot Pot- studio - discs:1
Even if less interesting than Rhythm Master Volume One, this second part is able to prove the great and singular talent of Glen Brown. The collection opens with the Glen Brown's instrumental "2 Wedden Skank" (with Glen playing the melodica and the introduction by deejay Berry Simpson). If this powerful track seems enough sophisticated, things get even darker with three following versions. "Do You Thing", "Pantomine Rock" and I Roy's "Brother Toby Is A Movie From London". The first offers Glen in a Soul - Deep Roots mood and a piano almost on the background that underlines the rhythm. The second presents an incredible almost off-key guitar which punctualizes the refrain. The first and the second are dread and highly hypnotic, and the third presents the toaster shining as usual. Then it is time for Brown and Joe White's classic rhythm "Merry Up". Two versions follow: "Sgt Crackers" (again from Brown) and "More Music" (from Bobby Ellis and Tommy McCook). Follows the wonderful "I'm Your Puppet" and a version called "No More Slavery" (both by Glen). The remaining seven tracks are indeed less captivating. The list includes "High Holborn St Song" (Glen Brown), "Meaning Of One" (Prince Jazzbo), "School Call" (Glen Brown), "Really Got A Hold On Me" (Johnny Clarke), "Brand New Me" (Tinga Stewart), "Get Together" (Keith Poppin) and "Spider To The Fly" (Big Youth). The present collection should not be overlookd. The first half is stellar. And it is absolutely worth checking it out.