"Good Vibes" is a collection of Horace Andy material which presents ten tracks cut between 1975 and 1980. All ten tracks are followed by their Dub version. The collection opens with "Reggae Rythm - Its Gone Internationally". The second track, "Serious Thing - A Serious Version" is a version of a song by John Holt and was recorded for Bunny Lee. Follows the immortal "Skylarking - A Better Version", and old song originally cut for Clement "Coxsone" Dodd. The fourth track is "Youths Of Today - Jah Youths", and was cut for Everton DaSilva with the Dub version from Prince Jammy. The fifth track is called "Dont Let Problems Get You Down - No Problem". This song was originally cut early in the 70's for Leonard Chin and was called "Problems". This version released in 1978 was also cut for DaSilva. The sixth track, "Mr. Bassie Discomix", was produced by DaSilva and is a tribute to the bassist Leroy Sibbles member and co-founder of The Heptones. This tracks was previously cut for "Coxsone" Dodd in the early 70's. The seventh track, called "Pure Ranking Discomix", was also cut for Lee in 1976 and one year later it became the title track of an LP. The version presented here is a 12" mixed by King Tubby and Prince Jammy in 1978. Follows "Good Vibes - Dub Vibes", recorded in 1978. The nineth track is "Control Yourself - Version Under Control", followed by "Ital Vital - Ital Ites Dubwise". Both tracks were cut by the closing of the decade. "Ital Vital" is a version of Freddie McKay's "Rockabye Woman". This a collection that provides the right perspective on what Horace was doing in the second half of the 70's. With two discomixes and eight Dubs of the originals, "Good Vibes" delivers the strong approach of King Tubby and Prince Jammy by the board. Along with the "In The Light" set cut for Everton DaSilva in 1977 (and reissued by Blood And Fire along with its Dub version as "In The Light / In The Light Dub") and the "You Are My Angel" cut for Bunny Lee in 1973, "Good Vibes" is quite essential for the Horace Andy fans.
IN THE LIGHT / IN THE LIGHT DUB
* * * / - * * * *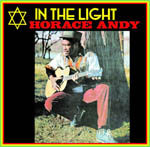 1977 - Blood and Fire - studio - discs:1
In 1977 Horace Andy met the Queens' based (N.Y.) producer Everton DaSilva. Considered a classic, "In The Light" was highly built around Horace' intentions. Most of the set was cut in Jamaica at Harry J's with Major Little and Sylvan Morris engineering. The list of the musicians reads some of the top names around at the time. Here we are: Wayne Jarrett and Janice (backing vocals), Horsemouth Wallace and Jah Malla (drums), Michael Taylor and Leroy Sibbles (from The Heptones) (bass), Andy Bassford (lead guitar), Privy Dread (rhythm guitar), Bobby Kalphat, Michael Taylor, Bernard Touter Harvey and Augustus Pablo (keyboards), Charles Bashford, Dirty Harry, Tommy McCook and Don D. Junior (horns ), and Sylvan Morris, Everton Da Silva, Clayton Downie, Scully Simms and Horace Hinds (percussions). From my point of view these are the top five stars songs: "Do You Love My Music", "Hey There Woman", "Government Land", "Problems", "If I". The remaining five tracks are very inferior, missing the powerful Roots force that is expected. Or to be more precise, Roots is also in there but the emotional side is far away. At the end the set is not as cohesive as it is commented elsewere. But once you go for the tracks mentioned above, some wonderful music will be found. The direct "B-side" of the whole set is the "In The Light Dub" album. Mixed at King Tubby's by Prince Jammy, this is a very good Dub set. Edgy and quite dark, it is able to uplift the lower peaks of the vocal album. This is what was expected from Jammy, and this is what is delivered here: powerful and personal vision of Dub. In 1979 Everton DaSilva was murdered in New York. Even if they worked together for some other singles, this is the statement of their meeting. Very strong on some tracks, less interesting on others, "In The Light" remains in any case a seminal album since it presents the encounter of Horace with DaSilva. On the other side and metaphorically speaking the "B-side" can be actually considered as that, "In The Light Dub" is even stronger. Dub exceedes the originals? Not exactly. The original top songs of the vocal album remain strong, what is highly refreshed are the lower efforts. Three and a half stars for "In The Light", and four for "In The Light Dub".
YOU ARE MY ANGEL
* * * *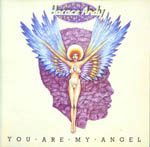 1973 - Trojan - studio - discs:1
"You Are My Angel" is half of a masterpiece. This twelve tracks set from 1973 offers six five stars songs, plus other six which seem inferior if compared to the previous. The list of the gems reads "Thank You Lord", "I'll Forgive You", "You Are My Angel", "Keep On Trying", "Ain't No Sunshine" and "Can I Change Your Mind". The other songs are "Don't Break Your Promise", "Dream Lover", "John Saw Them Coming", "Riding For A Fall", "Rain From The Skies" and "I'm Not A Know It All". The general quality is more than good, and what stated above was thought only to distinguish the best from the rest. At the end this album is full of classics. The album was recorded at King Tubby's and produced by Bunny Lee.
EXCLUSIVELY
* * * * /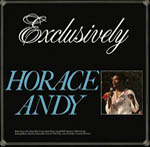 1982 - Wackie's - studio - discs:1
As the 70's were fading Horace Andy cut some early Dancehall oriented material that was released as the "Pure Ranking" album in 1978. Mixed at King Tubby's and produced by Tubby, Brad Osbourne and Horace himself, this set proved that he was quite comfortable with the emerging sounds. Four years later in 1982 Andy moved to New York City to record with the Jamaican expatriate and producer Lloyd "Bullwackie" Barnes what was called the "Dance Hall Style" album. That set delivered six tracks: "Money Money", "Lonely Woman", "Cuss Cuss", "Stop The Fuss", "Spying Glass" and "Lets Live In Love ". It was produced by "Bullwackie", Noel "Junior" Delahaye and Douglas "Prince" Levy. The set recorded at "Bullwackie"'s Wackie's Studio in Bronx became a classic and since the whole quality is very high it is quite easy to understand why. The personnel involved was this: Fabian Cooke, Henry "Snowhite" Seth and Junior Delahaye (drums); Jah T, Horace Andy and Myrie Dread (bass); Horace Andy and Jah T (rhythm and lead guitars); Myrie Dread and Owen "Fox" Stewart (organ); "Ras Menilik" Dacosta (percussions). A revised edition of this set appeared in the UK called "Exclusively" adding some extra tracks and new mixes. So here we are. The playlist reads: "Bob Lives On", "Stop The Fuss", "Love Him", "Good Will Survive", "Take It Easy", "Eating Mess", "Musical Episode", "Live In The City", "Live In Unity" and "Lonely Woman". The present set is a surprise. Powerful, and sometimes even meditative, by the first approach "Exclusively" sounds as Dancehall. But it doesn't take a long time to understand that the unique Horace' style makes the difference. The final result is far from being conventional and Andy's approach to the genre brings a totally different atmosphere to what we would expect.
GET WISE
* * * /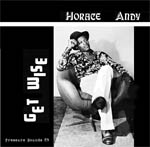 1972-1974 - Pressure Sounds - studio - discs:1
The "Get Wise" album was made collecting a series of singles that Horace Andy recorded for the producer Phil Pratt between 1972 and 1974. Released in 1975 in Jamaica was unavailable ever since. The tracks were cut in different studios. The list includes Channel One (eng. Ernest Hookim), the Black Ark (eng. Lee "Scratch" Perry), Dynamic Sound (eng. Carlton Lee) and Randy's (eng. Errol Thompson). The list of the various musicians emplyed includes Lowell "Sly" Dumbar, Leroy "Horsemouth" Wallace, Carlton "Santa" Davis (drums); Aston "Familyman" Barret, Robbie Shakespeare, George "Fully" Fullwood (bass); Earl "Chinna" Smith, Duggie Bryan, Eric "Bingy Bunny" Lamont, Tony Chin (guitar); Bobby Kalphat, Ansel Collins, Bernard "Touter" Harvey (keyboards); Lloyd Willis (piano); Jimmy London, Keith Poppin, Al Campbell, Phil Pratt (backing vocals). There are some classics here and some stellar tracks as well. The best track is indeed "Let Your Teardrops Fall" a single originally cut by Ken Boothe at Studio One. Another killer tune is "Roots Of All Evil". Sensual, terrifyng, dread, deep. It's counterpart is the toasting version from Jah Stitch called "Evilest Thing". To add more there is a Dub version called "Evilest Thing Version Phil Pratt Allstars".
01. 80% Badness
02. I Don't Want To Be Outside
03. Feel Good
04. Youths Of Today
05. Today Youth (Horns Cut)
06. Get Wise
07. Wise Dub Phil Pratt Allstars
08. Holy Mount Zion
09. Let Your Teardrops Fall
10. Sexy Jean
11. Roots Of All Evil
12. Evilest Thing - Jah Stitch
13. Evilest Thing Version Phil Pratt Allstars
14. I Will Forgive You
15. Tag Along *
16. I May Never See My Baby *