I-ROY (b. 1944 - † 1999)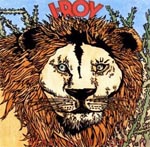 1977 - Frontline - studio - discs:1
Roy Samuel Reid (born on 28 June 1944 in St. Thomas parish) began toasting as I-Roy in 1966. As he moved to Kingston and then Spanish Town, he worked for the top Sound Systems: Son's Junior Sound System, Rudolph "Ruddy" Redwood's Supreme Ruler Of Sound and King Tubby's Home Town Hi-Fi, among the others. Rudolph "Ruddy" Redwood was the first to cut custom versions of Duke Reid's Rock Steady hit singles with the enginner Byron Smith. These cuts introduced the practice of the "remixes", laying the foundation for the innovations brought by King Tubby: Dubs! In 1970 the stellar U-Roy became the top toaster with three huge hits: "Wake The Town", "This Station Rule The Nation" and "Wear You To The Ball". Things had change forever. His first recordings were released in 1970 for the producer Harry Mudie. Tracks like "Musical Pleasure", "Drifter" and "Heart Don't Leap" were highly acclaimed on their release. I-Roy recorded for Harry Mudie, Bunny "Striker" Lee, Joseph Hoo Kim and Joe Gibbs among the others. The "version to version, chapter to chapter" attitude of the producers perfectly fit I-Roy vocal and lyrical skills. And of course the previous years at the microphone in the Sound Systems helped him to develop his own unique style. The real success came with the nineteen years old producer Augustus "Gussie" Clarke. He produced a series of hit singles and I-Roy's debut set "Presenting I-Roy" (1973). The present set, produced by Harry Johnson and I-Roy himself, was mixed by Sylvan Morris and recorded at Harry J Studios. He is backed by some top "Rockers" musicians. Maybe this is not I-Roy best effort but it is worth listening. Eleven years after his first cuts, I-Roy was still able to deliver some interesting vibes. The rocking track, and maybe the best, is "Move Up Roots Man".
DON'T CHECK ME WITH NO LIGHTWEIGHT STUFF (1972-75)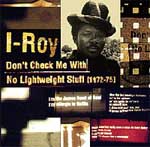 1972-1975 - Blood and Fire - studio - discs:1
This release from the British Blood & Fire label presents sixteen cuts from the great I-Roy. Please refer above too for some quick informations about his career. His first recordings were released in 1970 for the producer Harry Mudie: "Musical Pleasure", "Drifter" and "Heart Don't Leap". Between 1972 and 1975 I-Roy cut maybe his best material. During these years he cut for almost all the top producers of Jamaica. In the meanwhile he was the number one deejay for King Tubby's Home Town Hi-Fi Sound System. In 1973 he played in London for Sir Coxsone. In the same year his full length debut was released: "Presenting I-Roy", produced by the young Gussie Clarke. This set was followed by a second LP: the self produced "Hell & Sorrow". In 1974 he was back in Jamaica. In 1975 the Pete Weston's produced "Truth & Rights" set was released. By that time things started to change. U-Roy set his own Sound, Stur-Gav Hi-Fi. Ranking Joe was getting more and more attention. King Tubby's Sound was almost gone and of course Big Youth was already a star. I-Roy hit with "Welding" for Channel One's owner Jo Jo Hookim, and became the in house producer. The present set offers a range of top tracks from one of the greatest toasters from Jamaica. Here follows the list of the tracks with their originals. "Sidewalk Killer" versions "Sidewalk Doctor" by Tommy McCook; "Hot Stuff" versions omonimous track by Keith Hudson; "Buck And The Preacher" versions "Leggo Beast" originally by Roy Shirley and called "Hold Them"; "Ken Boothe Special" versions Boothe's "Moving Away" and "Puppet On A String"; "Black Talk" versions "Your Feeling And Mine" again by Ken Boothe; "Look A Boom" versions the Heptones "Tripe Girl"; "Don't Get Weary Joe Frasier" versions "Don't Get Weary" by the Melodians Tony Brevett; "Sound Education" versions "Black Cinderella" by Errol Dunkley; "Noisy Place" versions "Quiet Place" by The Paragons; "Fire Burn" versions an instrumental by the Soul Vendors; "Sufferer's Psalm" versions again "Swing Easy"; "Superfly" versions "Give Me Your Love" by Junior Murvin; "Hospital Trolley" versions the "Java" rhythm (Augustus Pablo could probably be the melodica player); "Double Warning" versions "Warning" by Desmond Young (the same song was versioned in 1975 by Big Youth as "Wolf In Sheep Clothing"); "Holy Satta" versions the immortal "Satta Massagana" by the Abyssinians; and finally "Straight To The Heathen Head" versions Bob Marley's "Talking Blues". These tracks were produced by Bunny Lee, Jimmy Radway, Rudolph Redwood, Errol Thompson, Clive Chin, Pete Weston, Winston Edwards, Keith Hudson and I Roy. The tracks were voiced and mixed by Errol Thompson at Randy's Studio; and by King Tubby at King Tubby's Studio.
GUSSIE PRESENTING I ROY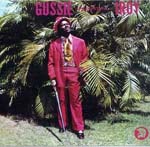 1973 - Trojan - studio - discs:1
"Gussie Presenting I Roy" is the debut album of I Roy. After gaining a lot of experience at the microphone of various Sound Systems (Son's Junior Sound System, Rudolph "Ruddy" Redwood's Supreme Ruler Of Sound and King Tubby's Home Town Hi-Fi), Roy Samuel Reid entered for the first time in a recording studio in late 1970. For Harry Mudie he recorded "Musical Pleasure", "Heart Don't Leap", "It May Sound Silly" and "Drifter". Initially influenced by Dennis Alcapone, he soon developed his own style. Around 1972 Bunny "Striker" Lee introduced I Roy to King Tubby after U Roy was in the U.K. on tour with Roy Shirley and Max Romeo. Legend has it that I Roy beat Big Youth in a sound clash and this made a big impact especially with U Roy being not present at the time. In 1973 the young Gussie Clarke released Big Youth's "Screaming Target" and soon after the present set was released. Along with "Screaming Target", U Roy's "Version Galore" and Dennis Alcapone's "Forever Version", the present album is considered a landmark that established the deejay era. But who was Gussie Clarke? Born around 1953 in the Parish of St. Mary, he soon moved to Kingston were the recorded U Roy's "The Higher The Mountain". Gussie started his Gussie & Puppy Records label, opening a small studio too. "Gussie Presenting I Roy" was released and I Roy moved to London a couple of times. Back in Jamaica in 1974 his hits started to flow, recording with almost everybody. The sources on which the tracks presented here were based are of course many and different. The original Lp contained twelve songs. "Red, Gold And Green" reprises Ken Boothe alternative Jamaican National Anthem. "Pusher Man" updates Alton Ellis' "I'm Just A Guy". "Black Man Time" is a beautiful song originally written by Lloyd Parks that here particularly shines thanks to the incredible violin of "White Rum" Raymond. "Smile Like An Angel" recuts the song with the same title from Bop & The Beltones. "Peace" recuts "Something Special" from Roland Alphonso. "Coxsone Affair" versions Dennis Brown's "In Their Own Way". "Screw Face" is a recut of Augustus Pablo's "Frozen Dub", originally based on the Soul Vendors "Frozen Soul". "First Cut Is The Deepest" versions a K.C. White song that was based on a track cut by Norma Frazier who originally versioned a Cat Stevens song. "Melinda" updates Alton Ellis' "Breaking Up". "Tourism Is My Business" versions Gregory Isaacs recut of the Paragons "My Satisfaction". "Tripe Girl" is based on the Heptones song with the same title. Finally "Cow Town Skank" is a self produced track with King Tubby mixing. These are the original twelve songs of the original set. This edition adds eleven (!) bonus tracks. Here is the list. "Sudden Flight", "Rival Warfare" and "Presenting I Roy" all version in a different style a rhythm called "Anywhere But Nowhere" which was recorded by Gene Chandler and later recut by K.C. White. "Education For Free" versions the Errol Dunkley update of Delroy Wilson's "I Love The Way You Walk". "Leggo Beast" versions Roman Stewart's "Try Me". "Magnificent Seven" is based on the immortal K.C. White's "No, No, No". "High Jacking" versions the great Horace Andy's "Skylarking". "Burning Passion" and "King And The Pauper" version Gregory Isaacs recut of Dobby Dobson "Loving Pauper". Finally "Clappers Tail" and "Live And Learn" is a recut of Ken Boothe's "Just Another Girl". The material presented here is the right start to appreciate I Roy musical and lyrical efforts. This is a basic step to understand the toasters music.
MUSICAL SHARK ATTACK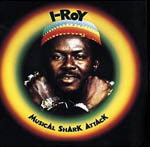 1976 - Virgin - studio - discs:1
When by the mid 70's toasters were at their peak, I Roy was of course there stronger than ever. Around the time when this set was cut, he was highly involved with Joseph Hoo Kim' Channel One Studio, where Sly & Robbie's the Revolutionaries band were hitting Jamaica with their "Rockers" sound. Roy Samuel Reid's "Musical Shark Attack", is a quite powerful set indeed. I Roy delivers a very highly confident approach to the tough rhythms used. The eleven tracks flow easily with no low peaks at all. The Revolutionaries, in perfect communion with the vocals, deliver a special background that very often tends to be highly Dub oriented. The result is really good. Listen to the top track here, "Jamboree", to understand and appreciate their unique and unmissable support. Other peaks here are "Semi Classical Natty Dread", the title track "Musical Shark Attack", "Drum Sound", the fast "Is Love I Deal With", "Run For Your Life". Rock it, Roy, rock it. Yeah!