This set from Keith "Chubby" Byles Junior (b. 1948) is his debut with all managed by the great Lee "Scratch" Perry. This first album presents the talent of Byles and Perry in an unique mix of technique and vibes. Junior Byles started his career with the vocal trio The Versatiles, along with Louis Davis and Earl Dudley. Some recordings were cut for the producer Joe Gibbs with Lee Perry supervising them. In 1970 Byles went for a solo career and he turned to Scratch. The debut single "What's The World Coming To" (aka "Demonstration" and backed by "Live As One") was recorded for Scratch in 1970. A couple of songs followed: "Beat Down Babylon" (1971), "A Place Called Africa" (1972) and "(Festival) Da Da" (1972). During the 1970 general elections Byles provided support to the Michael Manley's PNP party with "Pharoah Hiding", "Joshua's Desire" and "King of Babylon". He was not the only artist to express musically his support for the PNP. The most notable singles were "Better Must Come", from Delroy Wilson; "Let The Power Fall", from Max Romeo; "Rod Of Correction", from Clancy Eccles; and "Hiding The Riverside", from Niney The Observer. The Byles contributions were structured on the metaphorical figure of Michael Manley seen as the prophet Jashua fighting against King Nebuchanezzer, the oppressor from Babylon. This release presents the entire "Beat Down Babylon" (released in 1972), plus thirteen songs cut for Lee Perry. The original ten tracks of the album are: "(Festival) Da Da", "I've Got A Feeling", "Don't Know Why", "Demonstration", "Coming Again", "Beat Down Babylon", "A Place Called Africa", "Joshua's Desire", "A Matter Of Time" and "Poor Chubby". The added material is far from being less interesting than what was choosed to appear in the debut set. Actually, along with the original set, they represent some of the best material Junior ever cut. The thirteen tracks are: "Fun and Games/Motion Dub", "Pretty Fe True/Pretty Dub", "King of Babylon", "Pharaoh Hiding", "Hail to Power", "Fever", "Auntie Lulu", "When Will Better Come", "The Thanks We Get", Mumbling & Grumbling"", "Curley Locks", "Dreader Locks" and "The Long Way". Byles' material is a corner stone inside the first half of the 70's but some severe mental problems - he attempted suicide after hearing about the death of H.I.M. Haile Selassie and entered the Bellevue Hospital - curtailed his career during the latter half of the 1970's. This is a great first album peppered by the musical genius of Lee "Scratch" Perry.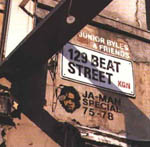 1975-1978 - Blood and Fire - studio - discs:1
Please refer to the Dudley Swaby's page for my comments on "Junior Byles and Friends - 129 Beat Street - Ja-Man Special 75-78".