JUDY MOWATT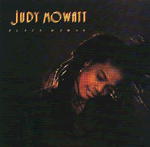 1978 - Shanachie - studio - discs: 1
The gorgeous and beautiful Judy Mowatt was a member of the Bob Marley backing vocals group the I-Threes but she recorded a couple of albums alone too. This is not only her best but it is probably the best Roots Reggae album from a female artist. Six on ten songs here were written by Judy. The ten songs set opens with "Strength To Go Through". This song written by herself is an airy tune that puts Judy vocals on front in a very confident way. Then she covers one of the three songs of the set from Marley: the stellar "Concrete Jungle". This is a really beautiful version: light and deep at the same time. Follows the rootsy "Slave Queen" with a dancing mood. This is another song written by her. The second tune from the Wailers is "Put It On". The horns open and set the right mood from the first notes. Anything is under the original version. Freddie McGregor's "Zion Chant" is a dreaming tune filled with a sophisticated texture of instruments. This song closes the first side. Side two opens with the title track: "Black Woman". This is the best Roots song from a female voice ever recorded. This is a strong and precise statement of what means being Black and Woman. Follows Bob's "Down In The Valley". Again the version is very powerful and is maybe the best version recorded upto date. "Joseph" is another song from Judy and is a heart breaking tribute to Bob Marley. Next comes Judy's "Many Are Called". This a very mellow tune and maybe the less indicated here. Another Judy's tune closes the set: "Sister's Chant". This is a gospel-like tune that places this album without any doubts among the best. This incredible set was recorded at Harry J Studio, Dynamic and Channel One. It was personally mixed by Judy and Freddie McGregor. It was produced by Judy and many of the songs were arranged by herself including "Black Woman". The musicians are first class artists. The best female voice in Jamaica is Judy Mowatt.
1. Strength To Go Through
2. Concrete Jungle
3. Slave Queen
4. Put It On
5. Zion Chant
6. Black Woman
7. Down In The Valley
8. Joseph
9. Many Are Called
10. Siters Chant
ONLY A WOMAN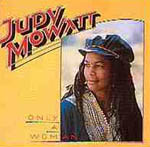 VARIOUS - studio - discs: 1
This compilation of late 70's - early 80's songs from Judy Mowatt do not reach the level of "Black Woman". But considering the top quality of that album is pretty obvious that everything else stands below it. What stands on the same level is the pureness of her unique marvellous voice. Here the beautiful Judy goes from Roots to Lovers to almost Soul songs as it would be the simplest thing to do. Among the ten songs listen for a heart breaking "Trade Winds" and you understand that Judy was and after all these years maybe still is one of the major forces between the female singers that Jamaica gave birth to. The Roots rocking of "Think" is one of the best tracks here: listen how she harmonises and let the vibes flow. "On Your Mark" is a typical Judy Mowatt tune: quite easy Roots style supported by a highly confident approach on the singing side. The joyful "Big Woman" is a tune that I might have enjoyed in a Negril bar by the beach twentyfive years ago... but it works even today if you are looking for a simple smiley tune. The set closes with a beautiful slow Rastafari song: "King Of Kings". Enjoy this set without expect too much from the music (this is not the "Black Woman" album). Concentrate instead on Judy voice, close your eyes and start to relax thinking that your favorite spot in Jamaica is not so far away. This is a self produced album recorded at Channel One, Aquarious and Tuff Gong. Bless beautiful Empress!
SING OUR OWN SONG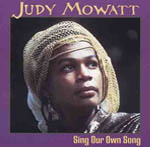 VARIOUS - studio - discs: 1
This compilation covers the more mainstream oriented songs of Judy Mowatt. For this reason I suggest that anyone interested in Judy Mowatt should start with her masterpiece "Black Woman" and then move to other stuff. Talking about her over the top album here there are two tracks taken from there: "Many Are Called" (which is the low point in "Black Woman") and the meditative (and stronger) "Sister's Chant". The rest of this compilation is not such good. With the exception of "King Of Kings".