Horace Swaby was born in Kingston, Jamaica in 1953. He practised the piano since he was young with his friend, and Wailers future keyboard player, Tyrone Downie. Around mid-late 60's he operated a small sound system with his brother Garth called Rockers. The main source was Studio One material. The passion for Coxsone Dodd's material led Horace to Studio One in Brentford Road. The audition was not a success and the material was never released. Things changed when he approached the producer Herman Chin-Loy in his Aquarius record shop. Once Chin-Loy heard the melodica, he booked the Randy's Studio. Two songs were recorded there in 1971: "Higgi Higgi" (based on The Heptones "Why Did You Leave" hit) and "East Of The River Nile". This tune, present here, will set the mood for the future Horace sound: the "Far East" one. Thanks to Chin-Loy the melodica appeared for the first time (!) in a track. He changed Horace name to the exotic Augustus Pablo and this brought even more mistery around the releases. Augustus recorded some more tracks and in 1973 he recorded "Java" for Clive Chin (son of the proprietor of Randy's record store and studio, Vincent Chin). "Java" was a hit and from that moment on this new instrument in Reggae became more used in the sessions. From 1971 to 1977 Pablo recorded with the top producers and set his own Rockers label too. The top producers were: Keith Hudson, Dennis "Alcapone" Smith, Lee Perry, Joe Gibbs (actually one tune only)... just to name a few. He recorded at the Black Ark, Dynamics, Federal King Tubby's and Randy's. He also recorded Jacob Miller, Hugh Mundell and others. After 1976 he almost quit recording for other producers. Pablo died from Myasthemia Gravis, a nervous disorder. For my ears some of this material needs quite a time to be appreciated. Lee Perry recordings at the Black Ark are quite interesting, but they are not the only one. "I Am Alright", with the singing of Gregory Isaacs and the production of Augustus "Gussie" Clarke, cannot be missed. "Bedroom Mazurka" features the producer Derrick Harriot and Fay Bennett in a sexy meeting: a lovely (and love) tune, for sure! This compilation (twentyone tracks) provides some interesting material from one of the cutting edge artists of the 70's.
This selection contains some of the best self produced instrumentals from Mr. Horace Swaby. Here he employed some Studio One rhythms plus some new material written by himself. As could be expected the edgy visions of Pablo need some time to be appreciated at full effect. The general mood is basecally Dub sounds with the addition of the rich textures provided by Augustus melodica. In any case the result is a unique sound that hardly resembles that one of someone else. Augustus Pablo is joyned for the vocals by some friends in a couple of tunes. The guests are Dillinger and Clive, Paul K., Hugh Mundell. The instruments are played by the Barrett brothers (drums and bass), Earl "Chinna" Smith (guitar) and Dirty Harry (tenor sax), with Augustus melodica, organ, piano and clavinet weaveing it all. The tracks were recorded at Dynamic Sounds and Channel One. Once the tracks were cut Augustus headed for King Tubby's Studio were the owner himself with Philip Smart and Prince Jammy turned them in pure Dub. These instrumentals are the result of both Augustus and King Tubby's visionary genius. This Dub set, along with "King Tubby Meets The Rockers Uptown", is considered a classic.
KING TUBBY MEETS ROCKERS UPTOWN
* * * *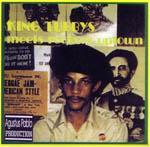 1972-1975 - Jet Star - studio - discs: 1
Please refer to the King Tubby's page for my comments on "King Tubbys Meets Rockers Uptown".
EASTMAN DUB
* * *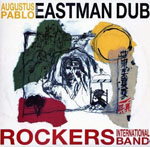 1978 - Greensleves - studio - discs:1
This album is the Dub version of Tetrack's "Let's Get Started" (1978). It remained in Augustus Pablo's vaults for ten years before it was released in 1988 by the british Greensleeves label. The set was mixed by Sylvan Morris at Channel One and collects seven Dubs to the originals vocla tracks plus two extra Dubs. There is classic Augustus Pablo's approach here but the year is 1978 so the general atmosphere reflects the moment with the heavy bass lines and patterns put on front. It's worth listening along with Tetrack's set to better appreciate it.
Note: this re-release is part of Tetrack's ""Let's Get Started" CD issued in 2018.
01. Only Jah Jah Dub
02. Eastman Dub
03. Look Within Dub
04. Isn't It Time Dub
05. It Up To Jah Dub
06. Big Yard Connection
07. African Dub
08. Original Scientist
09. Corner Stone (Chapter 3)