Keith Hudson (1946 - 1984) was basecally a producer. He took the controls for some of the great deejays and singers of the first half of the 70's. Among them U-Roy, Alcapone, I-Roy and Big Youth. In 1979 he moved to NYC. Here comes this album. This an album that could take some time to be appreciated. But after some listenings the raw voice and the rythms take the deserved effect. Most of the songs were recorded in Jamaica at Randy's and Channel One Studios. "Bloody Eyes" is a song inna Lovers mood except for the lyrics. "I Broke The Comb" shows clearly on which side Hudson stayed: the Rastfarian one. "I'm Not Satisfied" with the repeated lines "...we need/love Rastfari" is even more expicit. "Jonah" is a sort of slow Roots spiral. The set closes with "Nah Skin Up", an interesting experiment of Roots with 80's type sound effects. The Greensleeves edition contains a booklet with the words of the songs. And this happens only once in a million.
"Nuh Skin Up" (aka "Nuh Skin Up Dub") was originally released by Joint International, New York, U.S.A. in 1979. This Keith Hudson set s closely linked to Junior Walker. Let us see who's this man. Born in Kingston, Junior studied at High School and was employed at Barclays Bank. Growing as a Rastafarian, he met Keith for the first time in 1974 when the latter released his "Flesh Of My Skin, Blood Of My Blood" set. In the meantime Walker used to provide some singles to some friend's Sound System called El Conquistador. One of those singles was "Hunting" from "Flesh Of My Skin, Blood Of My Blood". When Keith met Junior he had some financial problems but Junior instead of loaning some money through the bank, he preferred to start buying regularly from Keith. This brought to a sincere friendship. Slowly Walker was introduced to Keith's artists friends: more and more he was getting involved in the music scene. In the meantime Walker was a regular at the Sound System. At some point he was such involved in music that he insisted that Keith had to put together a Dub album. As a start Walker suggested some of tracks: Big Youth's "S90/Ace90 Skank", Horace Andy's "Don't Think About Me / I'm Alright" where some of these. Some other tracks were cut in the studio and the result was the "Pick A Dub" album from 1974. Walker name did not appeared on the print since at that time he was still working in the bank and he was not allowed to have two jobs simultaneously. In 1976 Keith was moving between Kingston, London and New York. The following year he released the "Rasta Communication" set and its Dub counterpart called "Brand". In 1979 Walker also moved to New York where the two started Joint International record company. "Nuh Skin Up" was released. Sadly Keith was diagnosed with lung cancer and died on November 14th, 1984. This re-releaese presents all the nine tracks of the original set: "Ire Ire", "Troubles", "Dreadful Words Dub", "Nuh Skin Up Dub", "Mercy", "Bad Things Dub", Keeping Us Together"", "Desiree Dub" and "No Commitment". Two bonus tracks are added: "Words Dub" and "Bad Things Dub (Version 2)". The music is provided by The Soul Syndicate. Or to be more precise by: Carlton "Santa" Davis (drums), George "Fully" Fullwood and Robbie Shakespeare (bass), Earl "Chinna" Smith and Tony Chin (guitar) and George Fully Fullwood, Touter Harvey and Keith Sterling on keyboards. With some very heavy Dubs filled by Roots, "Nuh Skin Up" is some sort of a classic inside the late 70's musical Dub scene. Not all the tracks will be enlightning but those more powerful are amazing for being scarce of particular effects from the board. Or as it should be said the using of the effects is accurate and never exceedes to become mannerism. Their force lies in their deep and sometimes dark attitude which delivers what Dub should be: a process of deconstruction with the final result of delivering something that is forceful enough to breath alone as a totally new musical entity.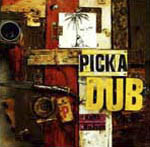 1974 - Blood and Fire - studio - discs:1
Around 1973 Herman Chin-Loy's "Aquarius Dub", Prince Buster's "The Message", Clive Chin's "Java Java Java Java", Joe Gibbs' "Dub Serial" and Lee Perry's stellar "Upsetters 14 Dub Blackboard Jungle" were released, all of them reclaiming the status of first Dub set. A year leter King Tubby started also to cut some innovative instrumentals. Dub was in the air and Keith Hudson did not wait to join the arena. Released in 1974 "Pick A Dub" was one of the first entirely Dub oriented albums to be released in Jamaica and the first in the UK. Kudson was highly encouraged by his friend Junior Walker (please see the comments above on the "Nuh Skin Up" set for more details) to put together the present album. Keith employed top musicians: Carlton Barrett (drums), Aston Barrett (bass), Earl "Chinna" Smith (guitar), Augustus Pablo (melodica) and The Soul Syndicate as the backing band. Some classics are here redeveloped: Big Youth's "S.90 Skank" (originally a Hudson rythm called "We Will Make It Up") becomes "Pick A Dub"; the Abyssinians "Declaration Of Rights" and "Satta Massagana" become "Black Right" and "Satia". Horace Andy' "I'm All Right" is versioned keeping its title. It seems that Walker was responsible for the inclusion of the tracks originally from Big Youth and Andy. Particularly interesting for the Dub fans, this set is in any case worth listening even for those that are not totally involved in Dub since it presents the very early Hudson efforts in this highly innovative genre. "Pick A Dub" offers some quite sharp and "simple" tracks (as quite few Dub innovations were in the beginning) but also presents some very interesting soundscapes that clearly anticipate further musical discoveries by Hudson. The album, produced by Keith Hudson and Aston Barrett, was cut and mixed at Harry J.
PLAYING IT COOL & PLAYING IT RIGHT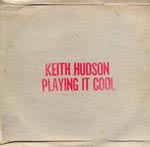 1981 - Basic Replay - studio - discs:1
In 1979 Keith Hudson moved to New York to continue his career far from Kingston. In conjuction with Wackie's Lloyd "Bullwackie" Barnes, he released the present album for an American label called Joint International. The twelve tracks are actually six, with each song followed by its Dub version. The set opens with the powerful "Playing It Cool / Playing It Right Dub" and it is followed by "Trust & Believe / In I Dub". The Dub treatement of the second song is quite better than the voiced version. The following tracks are called "California / By Night Dub". The result is quite a masterpiece, mesmerizing with its bluesy guitar on the background and some stromg supporting female backing voices that enter sweetly and fade out off-beat each time they come to support the sophisticated musical patterns. "Not Good For Us / Formula Dub" are another small gem of this short set. The piano sets the mood for a simple but effective composition that shines with the overimpositions of different vocal tracks all along the song. In the Dub version the piano is treated so to fade in and out of the mix, with echoes that thrill. Follows "Be What You Want To Be / Be Good Dub", punctuated by the percussions as in a disturbing dream. The set closes with "Can't Do Without You / Still Need You Dub". On a quite conventional song, Keith builds another uneasy piece. Here again the Dub is better than the original. This set is actually complicated. In thirty minutes, Hudson delivers a strange set. Literally half confusing, half masterpiece, this set needs an accurate listening. If considered globally it is not that great (that's why only three and a half stars), but focus on the gems commented above. Strange, obscure and difficult to appreciate if not with the right attention and mood, Playing It Cool delivers here and there some wonderful musical landscapes.