RANKING JOE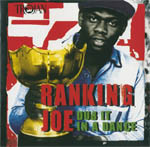 1980 - Trojan - studio - discs:1
Jamaican pioneering deejay started back in the late 50's and early 60's. The following generation did not only performed with the Sound Systems but moved to the studios too. The radically new material that was recorded was some sort of live performance brough from the street to the studio facilities. Joseph "Ranking Joe" Jackson was born in 1959 in Kingston. His father owned a small Sound System and the young Joseph liked to practice over his father's sets. Joseph started to perform with some bigger Sounds and changed his name in Little Joe. His recording debut came in 1975 at Studio One under Coxsone Dodd with a version of Larry Marshall's "Mean Girl" called "Gun Court". This experience continued with Bunny Lee, Lloydie Slim and Pete Weston. In 1977 he released his debut "The Best Of Ranking Joe". He recorded for Joe Gibbs, Sly & Robbie and Sugar Minott. In the meantime he never quit his activity with the Sound Systems. Firstly with "Roy Symbolic (The Bionic) Hi Fi" and later with U-Roy "Stur Gav Hi Fi". The singer Errol Dunkley toured the UK in 1980 with "Roy Symbolic (The Bionic) Hi Fi" and this brough huge success to Joe. This original Trojan release was supervised Dave Hendley, a Trojan employee, who decided that the tracks released during Joe's UK tour deserved the right exposure. The material is a mixture of raw Roots and tough slackness. With the latter really enjoyable. There is a lot of descriptions of sex intercourse, but if you get it through the right perspective you cannot stop smiling. This is a good example of what Joe was able to deliver through a mic in a studio... without speaking of his powerful live Sound System performances, which are not available here. Joe shines in any case.
ZION HIGH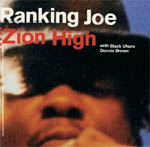 1979 - Blood and Fire - studio - discs:1
In 1979 Joseph "Ranking Joe" Jackson met the great Dennis Brown, a long time friend. Brown was working for his own label DEB Productions and asked Joe to make an album for him. Brown was an admirer of Joe's deejay style skills and at the same time Joe often used Brown material for his shows as pre releases. Their first collaboration was a version of the classic Heptones "Party Time". The result of a bigger work was the release of the "Round The World" full length set (1979). The set was cut at King Tubby's with the King hiself and Scientist by the mixing board. The set was recorded straight in two (!) hours, and its fresh sound is really like a Sound System live session. This reissue from Blood and Fire label of the original "Round The World" lacks the song "Sugar" but adds some other very interesting material. The songs from the original set are: "Zion High", "Fire", "Love Jah", "Rent Man", "Carpenter", "Wood For My Fire", "A Fish For You" and "Slave Driver". The bonus song from Joe is " Round The World". Four great songs from Dennis Brown are added: a version of "Home Sweet Home", "Bubbling Fountain", "A Cup Of Tea" and "Slave Driver". But there is something more with two songs from Black Uhuru: "Rent Man" and "Wood For My Fire". Joe tracks are sharp and powerful as his distinctive deejay style vocals. Without any doubts he is one of the strogest voices of this genre in the late 70's early 80's. The other material is also very interesting since here we are given the possibility to listen to some others musical counterparts. Dennis Brown shines as expected and Black Uhuru deliver some strong versions too. This is an interesting set for the deejay style fans and a good chance to listen to some very good Roots material from Dennis Brown and Black Uhuru.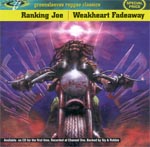 1978 - Greensleeves - studio - discs:1
This set produced by Joseph Hookim and recorded at Channel One (Ernest Hookim, Stanley "Barnabas" Bryan and Les McKenzie engineer) presents a couple of great deejay style tracks from Ranking Joe. Supported by a set of strong musicians his own compositions are structured over citations of different tracks. His sing-jay is a continuous texture that reach a powerful effect even over instrumentals that are not particularly interesting. The most powerful example of Joe ability to rewrite a strong track is "Weakheart Fadeaway" versioning Junior Byles "Fade Away". The rest as stated is less impressive, with the exemption of the engaging "Rock Pon The Rock", "A Dread Earthquake" and "Natty Dread A Trademan". Not all the tracks are interesting but it is a set to check in any case.