ALTON ELLIS (b. 1935 - † 2008
MANY MOODS OF ALTON ELLIS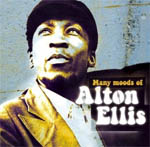 1972-1983 - Makasound - studio - discs:1
Alton Ellis (1935 - 2008) was there since the beginning. He was a corner stone inside the History of the Jamaican Music. In 1956 (some sources say 1959 and 1961) Clement "Coxsone" Dodd cut his first commercially oriented session at Federal: Alton and his partner Eddy Perkins were there with Clue J's Blues Blasters backing them. The song was called "Muriel". The studio worked by one track only. No mixing, nothing. A microphone in the centre of the room. That is how they worked those day, a long long time ago. During the Rocksteady era Alton reached the deserved success with his anti-rudie songs. With his band the Flames (Alton, Winston Jarrett and Eggar Gordon) he cut five classics for Duke Reid: "Don't Trouble People", "Dance Crasher", "Cry Tough" (featuring Lloyd Chambers), "Blessings Of Love" and "The Preacher". Soon after Alton turned to American Soul influenced sounds. In 1967 Alton was on tour in England with Ken Boothe and The Soul Vendors. He was back in 1970, and in 1975 he settled there. His anti-rudie anthems will surface again with "Big Bad Boy" for Keith Hudson. After Reid Alton cut some strong material for Dodd again. "African Descendants", "Set A Better Example" and "Blackish White" were all hits. In 1970 the strong "Sunday Coming" album was released. This is considered one of his best efforts. After the succesful decade of the 70's Alton career not not over at all. In the late 70's - early 80's he cut succesfully for Henry "Junjo" Lawes and later for King Jammy too. "Many Moods Of Alton Ellis" is a compilation originally released in 1980 by the Tele-Tech label. That release contained twelve tracks cut between 1978 and 1980. Ten tracks can be found in this re-issue from Makasound: "Black My Experience", "Rise And Fall", "Ain't No Music", "No Man Is Perfect", "Pure Sorrow", "Bless You", "Inside My Soul", "The Humble Will Stumble", "Mr. Skabina" and "The Children Are Crying". The original set also included the versions of two tracks. Those versions were "Rise Version" and "No Man Version". Both were omitted in the present re-issue, but seven bonus tracks were added. This is the list: "Black On Black", "I'll Take Your Hand", "Loving You", "If I Could Rule The World (Extended)", "It's Hard To Be A Lover (Extended)", "Stronger Cut (Version 1)" and "Stronger Cut (Version 2)". At the end the re-issue spreads from 1972 to 1983. The original set was produced by Earl Morgan, with Lee Perry, Prince Jammy and Scientist engineering. The players involved were: Sly Dunbar and Carlton "Santa" Davis (drums); Lloyd Parks, Leroy Sibbles (member of the Heptones) and Boris Gardiner (bass); Bo Peep and Eric "Bingy Bunny" Lamont (rhythm guitar); Ranchie and Ricker Bacaka (lead guitar); Ansel Collins and Winston Wright (organ); Vin Gordon (trombone); Headley Benett (tenor sax); Bobby Ellis (trumpet); Alton Ellis, Sticky, Scully Simms (aka Skully, Mikey Spratt, Zoots Scully Simms, Scollie, Zoot Sims, Skitter) and Bongo Herman (percussions). The backing vocals were provided by The Heptones and Johnny Clarke. Shifting between American Soul and R&B on one side, and Roots on the other, Alton Ellis' music always shines.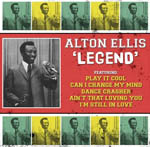 1965-1973 - Attack Records - studio - discs:1
Mainly based around the Ska and Rocksteady era of the great Alton Ellis' career, this double CDs compilation presents a lot of classics without the proper package. The leaflet comprises only the titles and therefore there is no indication about the songs' details as recording year, producer, recording studio and so on. This is quite stressful and since I'm not an expert of Ellis it took some time and some search to try to compile a basic description for this quite obscure release. I only succeded partially. A lot of the tracks collected here were cut and released but most of the time they were recut for the same producer or others after a short amount of time. In some case they will be reprised even after some years. Therefore I cannot swear that the dates I found are correct. Both CDs presents fifteen tracks each. Let us start with Disc One. The first song is "Play It Cool", it is the first track cut for Bunny Lee and it was recorded in 1972. Follows " Ain't That Loving You", a song originally by Johnnie Taylor and cut for Duke Reid in 1967. The third is "Baby I Love You", was released and cut in 1967 previously to the "Greatest Hits" set (also known as "Cry Tough") from 1973. Follows a wonderful gem: the stellar "Can I Change My Mind", cut for Coxsone Dodd in 1969. The fifth track is "Remember That Sunday" from 1967 and cut for Reid. Follows " Dance Crasher" from 1965. Thai is pure classic Ska! The seventh song is "Why Do Birds" (also known as "Why Do Birds Follow Spring") a delicate melody from 1967 and cut for The Duke. Follows "Get Ready" from 1967. After that comes "Willow Tree", cut for Reid in 1967. Follows " La La Means I Love You" a song from 1968, cut for The Duke and based on the Delfonic's hit. The eleventh song is "Breaking Up" from 1967. Follows "Can't Stop Now" from 1967 and cut for Reid. The thirteenth song is "Come Rolling" (also known as "All My Tears Come Rolling ") from 1967. Follows the stellar " I'm Still In Love", originally cut in 1967 and later recut in 1978 as "Uptown Top Ranking" by Althea And Donna. The track presented here is not the original from '67. The disc closes with "What A Dillusion", and listening to the style it could be a version from mid 70's. Disc Two opens with "Black Mans Word". This is probably cut later in Ellis' career. Follows the classic "Cry Tuff" cut for The Duke in 1967. This track was directed to the 60's Kingston gunman Busby and features Lloyd Chambers. Follows "Why Did You Leave" from 1967. The fourth song is " Girl I've Got A Date". This song actually set Alton as a hit maker, it was cut in 1967 for Reid. Follows "Carry My Name" sounds quite obscure. The sixth song is " If I Ruled The World" was cut in 1967, but this version seems younger. Follows the classic "Don't Trouble People" cut for The Duke. The eighth song is "Thank The Lord" (also known as "The Preacher"), cut the first time in 1963 and reprised twicely during the two following years. Follows "How Can I Find" from 1968 and cut for Reid. After that comes the classic " Duke Of Earl", a song cut for Reid in 1966. From now on the quality of this compilation is almost absent. Follows "Reggae Is My Thing" which comes from the late part of Ellis' career and has a very bad quality. Skip. The twelveth song is "Room Full Of Tears", with unknown credentials. Follows "Someday". The next track is "I'm Just A Guy", a song originally cut in 1967 for Reid. The version here should be that one recut with Phyllis Dillon in the 70's. The disc closes with "Muriel". But this is not the original that Alton and Eddy (Parkins) cut in 1959 for Dodd. Unfortunately this is just a mellow version from I do not know when. At the end this compilation collects great tracks but is a mess. There is no chronological sense. Inesplicably obscure and considering that I had to check all my books and also more than a website to try to get the informations required, this release can be easly substituted by a few more around. Almost all is great but this is not what the unique and soulful voice of Alton deserves.
SINGS ROCK AND SOUL
* * * *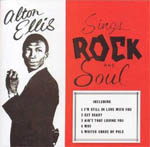 1967 - Coxsone - studio - discs:1
Along with the seminal collection from 1967 called "Mr Soul Of Jamaica" containing the best recordings made for Duke Reid's Tresure Isle, "Sings Rock And Soul" is the another strong classic collection to look for. Presenting some material recorded for Clement "Sir Coxsone" Dodd around the same time he was cutting for The Duke, this set also collects some wonderful songs. The list of this twelve tracks release includes "I'm Just A Guy", "Let Him Try", "Ain't That Loving You", "So Much Love", "Whiter Shade Of Pale", "Massachusetts", "Get Ready", "I'm Still In Love" (the classic original on which Althea & Donna delivered their "Uptown Top Ranking" hit), "Never Love Again", "Mad Mad Mad", "Baby Now That I Found You" and "Why". Two tracks were clearly aimed to reach also those not directly linked with the sounds that were around at the time. As a matter of fact "Whiter Shade Of Pale" by the British band Procol Harum and "Massachusetts" by the Bee Gees (both from 1967) seem quite out of context. They are not that bad but if we exclude them from the whole picture we are going for sure to consider this release as a classic containing a lot of masterpieces. Great album.