Ernest and his brother Jo Jo Hookim opened their Studio at 29 Maxfield Avenue, Kingston in 1972. The premises were called Channel One and the main intention was to use it for themselfs. Their first mixing board was a four track API desk. Some Jamaican living in New York named Bill Garnett flew to Kingston and spent two weeks to set the equipment. Once the sound was right, the Hookims hired Ranking Barnabas (also known as Barnie Bass or Stanley Bryan) to work along with Ernest as engineer. The house band were the Revolutionaries. The rest, well, it's history. The present collection presents Dubs taken from singles. Let us trace, where is possible, some informations on the material featured here. "Ballistic Affair" features the same rhythm of "Eastman Skank"; "Speak Easy" is based on "In Cold Blood"; "Natty A General" and "CB 200" are based on Dillinger's; "Woman Is Like A Shadow" is of course by The Meditations; "Fire Bun" by Dillinger was based on Delroy Wilson's version of The Spinners' "It's A Shame". The stongest tracks collected here are "Ragnampaiza Version", "Jail House Version", "Dance Dis Ya Festival Version", "King Of The Minstrels", "Have Mercy Version", "Rema Skank" (12" version), "Counter Attack". This is a good place to start appreciating the Channel One sound.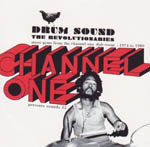 1974-1980 - Pressure Sounds - studio - discs: 1
Credited to The Revolutionaries, "Drum Sound" is actually some sort of "part two" of the above release from Pressure Sounds label: "Channel One - Maxfield Avenue Breakdown". Therefore I decided to file it here since the Hookim brothers were responsible for the material collected here. The tracks recorded at Channel One were released on these labels: Well Charge, Disco Mix and Channel One. The singles were followed on the b-side by their Dub version. Here are collected sixteen Dubs based on those singles. The CD opens with the stellar "Kunta Kinte Version One". This Dub is based on a speed up recording by Creole named "Beware Of Your Enemies". Fast, hypnotic and mesmerizing this is a great Dub plate. Follows "Hotter Fire Version", a Ranking Trevor deejay version of the great "Them Never Love Poor Marcus" by The Mighty Diamonds. The third track, "A Who Say Version Two", is based on Ernest Wilson's "I Know Myself". The never ending refrain is provided by Althea & Donna. Follows a version of the immortal "Fade Away" by Junior Byles, here named " Rootes Dub", and based on I-Roy's "Rootes Man". The fifth track is "Pride & Ambition Dub". The Dub is based on Leroy Smart' "Pride & Ambition", a song originally cut for Gussie Clarke and released by Bob Marley's Tuff Gong label. Follows "Dunkirk", a track based on Horace Andy's single. The seventh Dub is called "War Version". Based on the Wailing Souls' "War" single. Follows "Thinking Version", based on The Tamlins single called "Thinking". After this comes "Jah Creation Version", another cut originally from Creole and called "Jah Creation". That version was a reprise of The Heptones' "Love Without Feeling". The tenth track is called "Ride On Marcus Version", based on "Ride On Marcus" by the quite oscure The Enforcer. Follows "Swell Headed", which is a reprise of Burning Spear's same titled track that originally appeared in his "Rocking Time" set. The twelveth track, called "Catonine Version", is based on The Bassies' Studio One classic named "Things A Come Up To Bump". The following track is based on the classic Horace Andy's "Girl A Love You" ans here renamed as "Girl A Love You Version". The fourteenth Dub presented here is a must. " Tivoli Skank" is based on The Righteous Flames' "I Was Born To Be Loved". Follows a Dillinger rendering of The Mighty Diamonds' "I Need A Roof" called "Plantation Heights Version", which was originally a cut by Larry & Alvin at Studio One and called "Mean Girl". The compilation closes with "Back Weh Version", based on The Mighty Diamonds' "Back Weh". The material collected here was entirely produced by Joseph "Jo Jo" Hookim and engineered by Ernest Hookim and Barnabas. Here there are some couples of strong Dubs to be explored deeply. The rest even if it is a bit inferior, still epitomises the powerful sound of Channel One. The Hookims and The Revolutionaries delivered indeed some special atmosphere inside the 70's Dub environment. Here you can get some glimpses.