THE GLADIATORS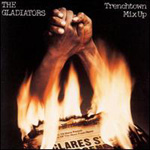 1977 - Frontline - studio - discs: 1
The Glagiators are Albert Griffiths - lead guitar & vocals, Clinton Fearon - rhythm guitar & vocals, Dellimore Sutherland - bass & vocals. This set - their debut - is almost a five star album. The sound is pretty new for The Gladiators. Here infact there is almost no trace of their former rural style - even if this is the most distinctive aspect of their sound in every album - and a Roots vibe comes to the surface. The new songs here are: "Know Yourself Mankind", "Eli Eli" and "Bellyfull". The rest of the material is formed by remakes of their previous Studio One tracks and some Marley covers. Among these "Soul Rebel" should be considered - from my point of view - one of the best versions of that track made in the 70's. And there are a lot around! The album was produced by Prince Tony Robinson and recorded at Joe Gibbs Studio, Kingston. The musical support was given by Lloyd Parks and Sly Dumbar. The set still deserves the status of most acclaimed album by The Gladiators. This is a debut album and it sounds keen and tough. Roots!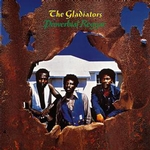 1978 - Frontline - studio - discs: 1
This ten songs second album from The Gladiators (1978) reaches a higher level than the previous "Trenchtown Mixup". Actually it is a perfect set. Here their "rural" style is absolutely gone and the main vibe, musically speaking, is more fluid and Roots, in a more concise way. The opening with "Jah Works" is the right choice to set the mood with a quite moving atmosphere. "The Best Thing In Life" follows on a slow floating rhythm: beautiful song. The third track is a classic: "Dread Locks The Time Is Now". "I had a vision last night / That I was walking on a street of gold / This street that I saw, is where I 'n' I should had been / So let you unite and stand up, fight for our rights" this is how this song starts. A parable in two lines. This is a circle tune... as I like to call them: it spins on itself in a neverending pressure. The rest are beautiful and deep lyrics calling up the Rastafari bredren. "Marvel Not" and "Stick A Bush" are classics. "Stop Before You Go" with its vibes is a reasoning tune in a backyard in 1978. Things get serious with "Can You Imagine How I Feel": this is Roots Reggae!!! And now we call it "from the Foundation", even if it is a song recorded in 1978! This set was recorded at Harry J (Kingston, JA) and at Joe Gibbs (Kingston, JA). It was mixed by Errol Thompson and produced by Tony Robinson. The musicians were: Sly Dunbar (drums), Clinton Fearon (bass), Gallimore Sutherland (rhythm guitar), Albert Griffiths (lead guitar), Ansel Collins (keyboards), Wire Lindo (synthesiser) and Sticky (percussions). Classic Roots music from one of the strongest Jamaican harmony groups of the second half of he 70's.
1. Jah Works
2. The Best Thing In Life
3. Dreadlocks The Time Is Now
4. Fly Away
5. Marvel Not
6. Stick A Bush
7. Stop Before You Go
8. Can You Imagine How I Feel
9. We'll Find The Blessing
10. Music Makers From Jamaica
SWEET SO TILL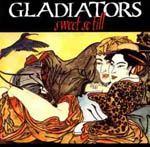 1979 - studio - discs: 1
This is the fourth set from the Gladiators. This is an album that lacks the quality of the previous efforts. But it contains nine songs that create a full and cohesive impact. The mood is the same as their previous albums: pure Gladiarors hamonies sung over Roots music. The set opens with the title track ("Sweet So Till") which is quite fast and joyful. "No Disturbance" is quite rocking. "A Day We Go" is one of the best song, Roots at full effect. "Let Jah Be Praised" is an ode to the Most-I with a beautiful guitar in the background. "Red Green And Gold" is one of their classics. "Backyard Meditation" and "Press Along" are not very inspired. "Merrily" is a typical laid back Gladiators tune. The set closes with "Holiday Ride" which has a higher quality. The album is a little bit inferior than the usual quality delivered from the Gladiators. But along with "Trenchtown Mixup" and "Sweet So Till" it remains a classic of their 70's Roots Reggae efforts. The album was self produced and was recorded at Channel One and Harry J Studios.
THE GLADIATORS / ISRAEL VIBRATION - LIVE AT SUNSPLASH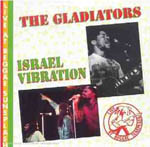 1982 - Genes -
live
- discs: 1
On Wednesday, August 4th 1982 The Gladiators and Israel Vibration played at Reggae Sunsplash in Jarrett Park, Montego Bay, Jamaica. I am pretty sure that they played separately and this album presents them both. By some obscure meaning Genes Records decided to compile this release alternating one song from The Gladiators and one from Israel Vibration. Meaningless. My suggestion is to play all the songs from one group straight and then play the other one the same way. Or better than this re-record this live album by yourself putting side by side each group's tracks: this way it works, believe me. Both groups play six songs so the performances are quite concise. Both play what would be expected: classics from their own repertory. Roots music live! The Gladiators peak is reached directly with the opening song "Roots Natty" and the closing one: a first class performance of Bob's "War". The rest is properly delivered but it lacks the necessary vibes. Now it is the time to talk about Isreal Vibration. They open with a deep "Fight To Survive" that underlines their power when they are on stage. The right vibes are delivered with the second song too: "Highway Robbery". The third track "Never Gonna Hurt Me Again" is not something that I would die for, so I feel it as nothing more than ordinary Israel Vibration quality. "Jah Jah Time Has Come" is Israel Vibration indeed but not at their best. Their fifth song is a marvellous "Friday Evening". They close with "Licks And Kicks": one of their best songs. Let's talk about the heart of the matter. The Gladiators could have been better. Israel Vibration were great! Do not miss this live album! (Read the stars as 3 for The Gladiators and 4 1/2 for Israel Vibration).
ONCE UPON A TIME IN JAMAICA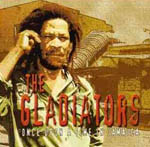 2003 - Mediacom - studio - discs: 1
When thirty or more years have passed by there can be good or bad records. But sometimes there are only nostalgic albums which try to bring up the old good times. This set could be described as this: a very good attempt to deliver some 70's Roots music after two and a half decades. After I listened to the set for the first time I felt disappointed but it happened because I was expecting some sort of upgrade of The Gladiators. Silly Boy. Even if so many years have passed by, how is possible to expect The Gladiators to deliver some Roots more powerful than the old The Gladiators style? Nonsense. The result is Roots inna old style, expecially with tracks as "War Is Over", "Babe And Suckling", "Trial And Crosses" and "Unite". The rest is not that interesting, but quite sincere. This set has three Dubs and was recorded at Tuff Gong Recording Studio. There are still nuff vibes!
STUDIO ONE SINGLES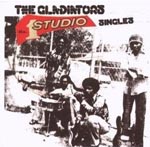 1969-1977 - Heartbeat - studio - discs:1
Albert Griffiths started his career in 1966 with "You Are The Girl", a flip side of the Ethiopians "Train To Skaville" single, recorded at Treasure Isle. In 1967 Albert joyned Clinton Fearon and Dellimore Sutherland to form The Gladiators. Their debut was a single called "Train Is Coming Back", followed by other singles as "Live Wire". Their first hit came with "Hello Carol", a song recorded at Coxsone' Studio One in 1968. The song was originally called "Hello My Love", but since the release was intended to take place in Christmas, they thought to change the name to get some more attention. It got it! in 1969 Griffiths went solo. They soon got back together and backed Studio One acts. There they recorded the stellar "Roots Natty", "Bongo Red" and other songs. Up to their great debut in 1977 with the Lp "Trenchtown Mix Up" they continued to release a lot of singles. The present release contains a selection of the singles and a couple of Dub versions plus some 12" singles released late. This set is unmissable if you like The Gladiators since it gives the opportunity to discover where they come from. An important aspect to consider is how they slowly turned from a "rural style" to a more Roots filled one. The gem is the slow and engageing "Roots Natty": a track that will become some sort of banner during their entire career.