Sugar Minott was born Lincoln Barrington Minott in 1956 in Kingston. He started his career in 1969 as a member of the harmony group "African Brothers", along with Winston "Tony Tuff" Morris and Derrick "Bubble" Howard. They faced some success. After a failed attempt to record a debut album the members went their own way in 1974. Coxsone Dodd opened the doors of his Studio One to Sugar and so it started a long musical relationship. It was immediately clear that Minott was highly skilled to write new lyrichs on vintege songs. This will always be his great force. Minott recorded at Studio One his debut album: "Live Loving". In 1979 he recorded for King Jammy the "Give The People" set, which was never officially released. In this "The Best Of" set some of the King Jammy tracks are included: "Give The People", "Be Careful", "I'm A Man", "Save The Children", "The Right Track" and "Can't Get Over". In the same year Sugar recorded the self-produced "Ghetto-Ology". Here are featured: "Walking Through The Ghetto", "Man Hungry", "Never Gonna Give Jah Up", the beautiful "The People Got Now", "Strange Things" and "Africa Is The Black Man's Home". Around 1980 Minott relocated to the UK where he had a great succes with "Good Thing Going". In the mean time his Youth Promotion label and Black Roots sound system (previously created in Jamaica) was promoting jamaican music to the UK market. But he never stopped recording and he soon became one of the greatest Dancehall stars of the eighties. This compilation covers the period from 1978 to 1983. But 14 on 21 tracks are from 1979. The best things still remain those of the 70's: here he was in a Roots mood with some early Dancehall spice. Great music!
This compilation from an obscure Canadian label takes advantage of the title track "Good Thing Going" to present ten tracks from Sugar. Remember that this is not the classic Heartbeat label omonimous release and only "Lonley Days" is present. The material is quite average early 80's Reggae, and at the end it is nothing special. Add to this that the sound quality is poor, sometimes resembling poor mp3 stuff. To get the real "Good Thing Going" compilation, and get Sugar in the right perspective, go for the Heartbeat release or the Prestige one.
SHOWCASE
* * *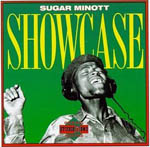 1979 - Heartbeat - studio - discs:1
"Showcase" presents six 12" of classic rythms from Studio One, here re-mixed by Sir "Coxsone" Dodd. Being 12", all the tracks presents their (Dub) extensions. The show opens with "Vanity", magnificently presenting in its second part a mesmerizing Dub-instrumental extension. The second track is "Roof Over My Head", versioning The Mighty Diamonds' classic "I Need A Roof". Follows "Guidance", as quite easy style composition. The fourth track is "Jah Jah Children", quite delicate. Follows "Try Love", a track that dismisses a little bit its original harder Roots flavour but prefers unfortunately to go for a softer tone. In any case its second instrumental half is far more interesting. The set closes with "Oh Mr. D.C.", a long time classic here reprising classic Alton Ellis' "Ain't That Loving You". The set is quite short, but half of it presents the growing talent of Sugar at full effect.
SUGAR MINOTT AT STUDIO ONE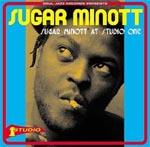 1978-1982 - Soul Jazz Records - studio - discs:1
In 1977 Sugar Minott recorded some very strong material for Clement Dodd susequently released one year later in his debut album. That seminal release was called "Live Loving". Reprising old material from Studio One, the result was impressive and finally Sugar got the deserved response from the public and the music industry. The present collection offers seventeen tracks from that period and the following years. The entire "Live Loving" set is included, unfortunately with the exception of "A House Is Not A Home" and "Live Loving". Seven gems come from the "Live Loving" album: "Jahoviah", "Hang On Natty", "Give A Hand", "Come On Home" (version of The Eternals' "Queen Of The Minstrel"), "Love Gonna Pack Up", "Jah Almighty" and "Jah Jah Lead Us". Pure classics. Six more great tracks are "Never Give Up" (a version of The Heptones' ""Pretty Looks Isn't All), "Try Love" (a wonderful hypnotic song), "Party Time" (a version of the homonymous song from The Heptones), "Vanity" (a version of Alton Ellis' "I'm Just A Guy"), "Roof Over My Head" (a version of The Mighty Diamonds' "I Need A Roof"), "Give Me Jah Jah" and "Jah Jah Children". Marvellous compilation! Almost perfect.
1. Vanity
2. Please Be True
3. Hang On Natty
4. Never Give Up
5. Jahovia
6. Give A Hand
7. Try Love
8. Roof Over My Head
9. Jah Jah Lead Us
10. Is It True
11. Love Gonna Packup
12. Give Me Jah Jah
13. Jah Jah Children
14. Party Time
15. Change Your Ways
16. Come On Home
17. Jah Almighty