ROOTS RADICS
FORWARD EVER, BACKWARDS NEVER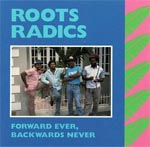 1990? - Heartbeat - studio - discs:1
Roots Radics were one of the strongest backing band in the history of 80's Jamaican music. They played mainly vintage material that perfectly fit with the fast developing early 80's Dancehall sounds. The played with everybody and it would take tons of ink to write down all the artists they played for. The Roots Radics are: Dwight "Brother Dee" Pinkney (lead guitar), Eric "Bingy Bunny" Lamont (rhythm guitar), Errol "Flabba Holt" Carter (bass), Lincoln "Style" Scott (drums) and Earl Fitzsimmons (keyboards). This set contains original material, and for once in a while they play for themselfs with as a result a mixture of Roots and Lovers Rock. Even if not all the tracks are particularly impressive this set states that the Roots Radics are not only highly skilled musicians, but that they have some own musical personality. The gems are "New Sound In Town", "How Could I Love" and "One Way Man", which is the best.
ROOTS RADICS MEET SCIENTIST AND KING TUBBY IN A DUB EXPLOSION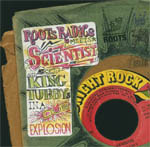 1981 - Roots - studio - discs:1
Aside from the music comments, the material collected here is quite confusing. Let us try to clear out what is collected here. Starting from the title, at least three subjects were involved here: the Roots Radics, Scientist and King Tubby. But reading inside the booklet the name of Nkrumah Thomas (aka Jah Thomas) appears. The compiler says that the producer and deejay Thomas mixed these tracks from his own masters at King Tubby's with King and Scientist. It is also stated that these tracks already appeared before this obscure release but here the mixes are different. But who is Thomas? He was born in 1955 and grow up in Trenchtown (Kingston). Musically speaking he grow toasting on some sound systems of the Three Mile and Waterhouse areas. He cut some tracks with Ossie Hibbert and later cut some single called "Midnight Rock". Later he worked with Dr. Alimantado, Prince Far I, Linval Thompson and Henry "Junjo" Lawes. Thompson and Lawes recorded together with the support of the Roots Radics. Some hits appeared during the Dancehall early 80's era. It seems that the material compiled here was recorded at Channel One and later mixed at King Tubby's. At the end it seems that the material collected here comes from different sources. What is really something that made me at least perplexed is the three seconds vocal introductions that appear before some tracks. For example Capleton's "A more fire, blazing" cry is absolutely meaningless here since this is an early 80's compilation. Forget these meaningless insertions. What remains? A quite repetitive set.