"Ja-Man All Stars - In The Dub Zone" presents two Dub albums produced by Dudley "Manzie" Swaby. Please refer to the following set for some details about his work as a producer. The albums collected here are "JA-Man Dub" (1976) and "King's Dub" (1979). The set also presents four b-sides taken from singles of the same period. The two Dub albums were cut at the legendary Channel One. The list of the technicians by the mixing board reads Crucial Bunny, Maxie, Soljie Hamilton, Ernest Hookim, Ranking Barnabas and Dudley Swaby hiself. Dudley remembers that he choosed Channel One for its "clear clean crisp sound", adding that since "it was situated in the heart of the ghetto (Maxfield Avenue), ..., Channel had a vibe that no other studio had". Of course we completly agree with him. With some first class musicians, what emerged was in some cases very powerful. The musicians were Lowell "Sly" Dunbar, Leroy "Horsemouth" Wallace, Mikey "Boo" Richards and Eric "Fish" Clarke (the latter on tracks 1 and 2 only) (drums); Ranchie McClean, Robbie Shakespeare, Errol "Flabba" Holt (the latter on tracks 1 and 2 only) (bass); Dougie Bryan and Eric "Bingy Bunny" Lamont (guitar); Ansell Collins, Gladstone Anderson and Theophilius Beckford (keyboards); Bobby Ellis (trumpet); Herman Marquis and Headley Bennett (alto sax); Tommy McCook (tenor sax); Don Drummond Jr. and Calvin Cameron (trombone); Noel "Skully" Simms and Uziah "Sticky" Thompson (percussion). "JA-Man Dub", the first album presenting nine tracks, offers some re-makes of classic rhythms but does not sound particularly impressive. The high peak can be found with "Rasta Feeling", based on Bim Sherman's "Mighty Ruler" from 1976. The following "King's Dub" set is undoubtly stronger. This is a Rub - A - Dub styled album, that is largerly based on General Echo's debut set called "Rocking & Swing" (1979). The strogest tracks are "Nuclear Bomb", the deep "Hotter Claps"and "Hot Steppers Dub". The bonus tracks are "Dub Zone", "Dangerman Version", "Weak Heart Drop" and "Blood Version". The first two were mixed by King Tubby at his own studio. The remaining two are far better, with the latter based on "Chant Down Babylon", a song by Junior Byles and Rupert Reid that Dudley had produced previously. The original booklet presents a very interesting commentary by Swaby on Jamaica and his career at the time. Surely not the best Dub albums of the period, but undoubtly a nice chance to discover Swaby efforts on this genre.
129 BEAT STREET - JA-MAN SPECIAL 75-78
* * * * /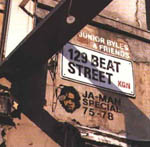 1975-1978 - Blood and Fire - studio - discs:1
Considering the nature of this Blood & Fire release, a collection of tracks from various artists produced by "Dudley "Manzie" Swaby", I decided to file it here. All the tracks of this compilation were produced by Swaby, so we must start from him. He was born in Clarendon on August 7th, 1953. At quite a young age he moved to Kingston where he attended St Martin's School in Ivy Road, just behind Studio One. Some of the best music was produced just on the other side of the wall. He met the Abyssinians and a young Keith 'Junior' Byles. In 1974 Dudley quit his job and adventured in the music world. By this time he played guitar in his yard with Byles and Rupert Reid. His recently founded label called Ja-Man released its first single: Rupert Reid's "See The Dread Deh". At Randy's he recorded four singles by Byles with Skin Flesh & Bones backing him and things started to change. Byles had already cut for Lee "Scratch" Perry. Tracks as "Beat Down Babylon", "Da Da" (1971), ""The Long Way" and "Curly Locks" (1974) were already classics. At this point Dudley produced Junior Byles and Rupert Reid's "Remember Me" and "Chant Down Babylon". Dudley and his associate Leroy 'Bunny' Hollett started their downtown Orange Street business in 1975. The street was at the heart of the Sound System business since the mid 50's. Later the area attracted the best: Bunny Lee at number 101, Sir JJ Johnson at number 133, Prince Buster's legendary Record Shack at number 127, Sonia Pottinger's pressing plant was there, Randy's Studio was around the corner. Top quality area for the artists, producers and crowd.. Some of the best Jamaican music could be listened to there! "House of Music" at 129 Beat Street was were Swaby's releases were selled. During this period Dudley produced tracks of a lot of artists. The list reads Leroy Smart, Ronnie Davis, The Itals, Errol Holt, Freddie McKay, and Hortense Ellis, U Brown, Pablo Moses, Bim Sherman, Dave Robinson, Brigadier Jerry, Neville Tate, I Roy, Trinity, his brother Clint Eastwood, Doctor Alimantado, Errol Scorcher and Augustus Pablo (with the instrumental "Liberation", released later in 1976). In 1977 an obscure Dub set was released and the next year Dudley and his associate Leroy 'Bunny' Hollett went separate ways. Dudley kept releasing singles and a set by General Echo. In 1981 he moved to Bronx (N.Y.). It was the end of a succesful era. The first five tracks of the present were recorded between the period when Byles cut for Lee Perry and hits as "Fade Away" cut Earl 'Chinna' Smith at Channel One, the Pete Weston's produced set called "Jordan" (1976) and other material recorded for Joe Gibbs, Winston "Niney" Holness, Lloyd 'Spiderman' Campbell and others. These tracks are the stellar "Chant Down Babylon" (by Junior Byles and Rupert Reid and deliverd here as an extended version), "Know Where You're Going" (by Junior Byles), "Pitchy-Patchy" (by Junior Byles - extended version), the delicate "Remember Me" (by Junior Byles and Rupert Reid and deliverd here as an extended version) and "See The Dread Deh " (by Rupert Reid - extended version). After these five songs follows the hypnotic "One People" by Pablo Moses. This single was cut after Pablo's seminal "Revolutionary Dream" album from 1976. The track is presented in its extended version. Follows Bim Sherman's meditative "Mighty Ruler" (extended version) from 1976. It is based on Leroy "The Heptones" Sibbles' "Tripe Girl". The next song is the Africa dreaming "My Homeland" (from 1976 and here presented as an extended version with its counterpart called "Soweto") by Dave Robinson. He also recorded a second single for Dudley's Ja-Man label in 1977, the song was "Jah Know". In that year he also cut "Chaga Chaga Warrior" for the Mighty Diamonds' Bad Gong label. Follows Brigadier Jerry's top deep and flowing toaster's style of "Wild Goose Race". Then it is time for Neville Tate's "See A Man's Face" (extended version) . This deep and dark version of Horace Andy's original is one of the best songs presented here. Here is delivered in its heavy and powerful extended version. A five stars gem! Another dread cut for Dudley followed called "Lightning Clap". The compilation closes with U Brown's "So Long ". This single was based on the "Ooh Wee Baby" rhythm, a classic already versioned by Count Ossie, Dennis Brown and others. What else to say? "Junior Byles and Friends - 129 Beat Street - Ja-Man Special 75-78" is a very good compilation. On eleven tracks, seven are really strong. Moreover most of the tracks are delivered as extended versions. This adds even more strength to the material presented. It is not an exaggeration to say that the material presented here clearly demonstrates Swaby's confidence and quality.