BEST DRESSED CHICKEN IN TOWN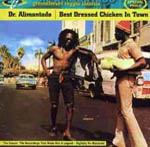 1973-1977 - Greensleves - studio - discs: 1
Sometims Deejay albums can be tough. This is a tough collection indeed. Winston Thompson is considered one of the most original deejay of the early 70's. He was. The tunes presented here cover the period from 1973 to 1977. This set covers tunes recorded by two of the best: Scratch and Tubby. The edgy approach comes from the tracks recorded at The Black Ark. Lee Scratch pushed the limit of the mixing board as permitted for these versions. Tubby get the right vibe. Listen to the "saturation" that King Tubby is able to reach by his mixing board on "Plead I Cause". In any case Doctor style is half singing, half toasting. The tracks were recorded at King Tubby's, at Randy's (Pat Kelly engineers), at Channel One (Maxie engineers) and at the legendary Black Ark. This is that kind of material from an artist who is sure to reach the right toaster vibes. He did for sure.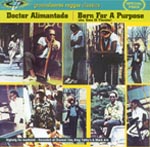 1973-1977 - Greensleves - studio - discs: 1
This set collects eleven tracks that were omitted from the "Best Dressed Chicken In Town" album. For this reason the present set can be considered as some sort of "part two" of that collection. There is a version of the acclaimed "Best Dressed Chicken In Town / Ain't No Sunshine" rhythm already released in the previous set, here renamed "Oil Crisis". This version is even rougher and of course it was recorded at the Black Ark too with
Scratch Perry
by the board. This is a little bit interesting than the "Best Dressed Chicken In Town" but it is still distinctive of Winston Thompson's approach to Toaster's style. The real gem is "Born For A Purpose / Reason For Living" and its version "Still Alive". The former is a beautiful heady Roots / Toaster track with Alimantado singing more than toasting at full effect and power. Its Dub version "Reason For Living" is effective as the same with its deep overdubs. The latter is just a little bit smoother but still interesting. This set is not as powerful as "Best Dressed Chicken In Town" but being such linked to that set, it is a perfect companion to that great toasting voyage.