Hugh Brown started his career with a Sound System called Silver Bullet. Later he deejayed for Sounds Of Music based in the tough Waterhouse ghetto. He changed his name to U-Brown as a tribute to the great U-Roy. But the real break came when King Tubby asked him to share the mike with Dillinger. In 1975 he cut his first single. Around the mid 70's Brown worked for Tubby, Yabby You, Jack Ruby and Bunny Lee. The first track here, called "Weather Balloon" and cut in 1977 was a big hit. This was followed by a version of Linval Thompson's "Train To Zion" in 1977. The present set (aka "Weather Balloon") was self produced and recorded and mixed at Channel One in 1978. Brown is backed by The Revolutionaries and the We The People Band. U-Brown is clearly a toaster that deserves to be remembered but his style is not always impressive. Check for the amazing "Blow Brother Joe" based on the evergreen Jazz classic "Take Five". Another demonstration that literally everything, once is versioned in Jamaica, becomes something absolutely new and genial!
THE ORIGINAL D.J.
* * *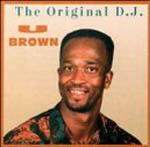 197? - Sonic Sounds Jamaica - studio - discs:1
This compilation from the Jamaican label Sonic Sounds presents twenty tracks from the D.J. U-Brown. Unfortunately there is no indication at all about the sources or the years of the tracks. On the back cover is stated that the material was recorded at Channel One and at Joe Gibbs Studio, and mixed at Channel One. With the help of the Roots Archives web site I only found out a couple of tracks details. "Tu Sheng Peng" is taken from "Hotter Reggae Music" (aka "Tu Sheng Peng), 1982; "Come We Have Fun" and "Don't Kill" come from "Revelation Time", 1977; "Tie And Die", "Blow Brother Joe" and "Row Mr. Fisherman" come from "Weather Baloon", 1978; "Jah Is My Father Still" comes from "Jam It Tonight", 1983; and finally "Train To Zion" is a hit from 1977. With a few exceptions, the whole quality is not particularly impressive. Maybe it is better to go for the original sets to be able to properly explore this late 70's early 80's D.J..