MORGAN HERITAGE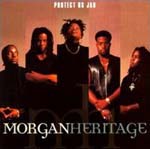 1997 - Ananci Records - studio - discs: 1
Morgan Heritage, the self proclaimed Soldiers Of The Lord, is formed by some (five) of the tventynine (!) sons and daughters of the great Denroy Morgan. Una, Peter, Gramps, Lukes and Mr.Mojo are the musical heritage of Denroy. What a family! After the very disappointing "Miracle" debut set (1994) here comes what can be considered the true debut. Their story is quite different than other Jamaican artists. The grown up in Brooklyn (NY) and since they were very young they were influenced by Denroy musical stature. More than that they always felt the strength of the family and the power of Rastafari. After the mixture of musical influences of the first album, they turned in the direction of Reggae. This journey from the shades of commercial and confused sounds brought them here. They came to Jamaica and found their real world. The result was a new confidence and personal approach to Reggae. Even if there are still influences from Soul and R&B, the final product is totally permeated of the purest Reggae. Hits as "Let's Make Up", "Set Yourself Free" or "Protect Us Jah" clearly demonstrate what has been reached. Another interesting aspect of Morgan Heritage is that almost every song is structured through the floating of different members singing alternating with the others. The stronger tracks and those that I appreciate most are: the opening of "Set Yourself Free", "Exalt Jah", "People Are Fighting" (featuring Tony Rebel), "The King Is Coming" and "Protect Us Jah". This is a strong set from the sons and daughters of a legend.
LIVE IN EUROPE 2000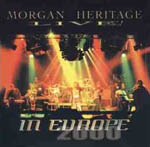 2000 - VP -
live
- discs: 1
This live set recorded during the Europen tour in 2000 is very good! Unfortunately it is unclear were it was recorded (there is a talking about Belgium on stage, but that was not the only location where the songs were recorded). It opens with a Nyahbinghi chant ("Jah Presence") to set the commitment for Rastafari which fills the entire set. Follows "Revolution", "Troding Jah Road" and "Earthquake" that slowly reach the first high peak with "Talkin' About War". "One Bingi" rocks as an interlude before the strong and short Abyssinians "Satta Massagana" opening of "Live Up". The small gem of "Protect Us Jah" follows at full effect. That is a great song from the 1997 studio set. Then is the time for the great medley of "Trodin' To Zion / I'm A Rastaman". The latter paying respect to the late Jacob Miller. "New Time, New Sign" is beautiful. "Buss Up Barriers" works as the darker song in the set. "Speech Featuring Denroy Morgan" features of course the father of all of them: the unforgettable Denroy. "Reggae Bring Back Love" comes before the closing with "Don't Haffi Dread" (from the omonimous set from 1999). Play it all, play it very loud... this is some of the best contemporary Roots music recorded live on stage in the recent years. Do not miss it!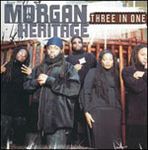 2003 - VP - studio - discs: 1
There is no doubt that Morgan Heritage deserve all the attention since they are able to release very strong material. But this set is quite disppointing. There is a lack of coherence that makes the set a quite poor one. The opening track "Jump Around", with his line "jump around and dance with me...", is a pop song that make you check the cover to be sure that you are playing the right CD. Things are totally different with the Rastafari declaration of "Ah Who Dem", featuring a confident Junior Kelly (one of the very few good songs of the album). "The Truth" is a good song even if it is not such inspired. "Rebel" is an average Morgan Heritage song. But it is not something that impresses me. "A Man Is Still A Man" stands on the same level. Things go on on the same low level with: "Everything Is Still Everything", "A Man In Love" (on Sizzla "Thank You Mama", but we are millions of light years from that masterpiece), "She's Still Loving Me". Things changes radically with the powerful Roots of "Judge Not". This is a good song even if it is smooth if compared to the average high quality that Morgan Heritage has delivered up to now. "Works To Do (Pt.1)" is poor, and it tries to version the rythm of Sizzla "Woman I Need You" without reaching half of that quality or power. After that comes a great tune "Nice Up U Medi", pure New Roots inna Morgan Heritage style. "Anti-War Song (Someone Knows)" and "Meant II Be" are slow tunes that do not help the final quality of the set. "A Few Words", again, is a simple try to put together Roots and pop or however you want to call it. Marvin Gaye's "What's Going On" is embarassing. Even Anthony B is not able to uplift "In The Ghetto". "Falling Race" could had been interesting if it was tough, but again there is no vibes. "Massive Rock" is an uninspired Rocksteady attempt. The set closes with a pure unrequested reprise of the opening track filled of digital effects. As always the production is strong but that is not enough. The final impression is that of a set that was released because it had to be for whatever reason, but it lacks the style that Morgan Heritage are able to deliver.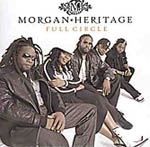 2005 - VP - studio - discs: 1
This seventeen tracks set from Morgan Heritage if far better than the previous "Three In One". If their characteristic is to keep the influences from other sounds inside their songs, at least this time the result is more cohesive and therefore interesting. Without any doubts and after eleven years since their debut they are a strong voice of the contemporary Roots music that is spreading the message abroad. More than that, and that is not always a good thing, they created a trademark: after ten seconds of listening to one of their songs you are able to say whose the track. This can be a good thing commercially speaking, but sometimes it can be boring, as you already know the content even before you come home and play the record. At the end I spent a long time to appreciate this set. And I was amazed to find again some good Morgan Heritage vibes. As stated before, the set is cohesive, coherent and confident, there are no particular low points (the spanish Reggaton (?) influenced "Girlz 'Round Da World" featuring Damien Marley, is one) and on the contrary there are high peaks. At the end it is the set that I was waiting for after "Three In One". I felt betrayed by that album, that is why I wrote these lines so far. Now let me say that is quite difficult to say which are the real best tracks of "Full Circle". Since I am not a Lovers fan (I prefer some old school things), I will not talk about those rythms present here. So I want to underline the best Roots tracks: the opening with "Jah Comes First" sets the mood in a very good way; "Armagedon Calls" is strong even if it is maybe too much inna Morgan Heritage style, but maybe that is its strengh; the same can be said of "Move On"; the strong "Hail Up The Lion" (versioning the main refrain of "Stop That Train"); "Hail Rastafari" is a typical Rastafari declaration and it works quite well; the version of Sizzla "Be Strong" of "Your Best Friend" (a slow Roots, actually, featuring LMS); "Propaganda" versions Capleton's "All My Life", even if Capleton stands miles on top; "So Much To Come" even if, again, it is too much a typical Morgan Heritage tune. Sometimes the arrangements have too much electric guitars used with a Rock music flavour. But here the real flaw, with some exemptions, is that the songs seem too much as the same song repeated forever. In any case this is a quite strong set.
MISSION IN PROGREES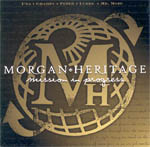 2008 - VP - studio - discs: 1
It is 2008 and Morgan Heritage are back with "Mission In Progress". No other title would have been more appropriate. If the mission is to move away from Roots album after album, well, sure they are progressing. In the wrong direction. There is for sure a "mission", but where is the so called progress? Maybe if sometimes there is a progress is in the growing and boring Hip Hop attitude that permeates some tracks. Tracks as "Cross Wi Borda" and "Shotz", are not Roots, Conscious Roots or Dancehall so what is their meaning? With the exception of a couple of Roots tracks as "Politician", "Yute Dem Share", "Mission In Progress", "Nothing To Smile About", "Headline", the rest is gone mainstream with that so called "rockerz" (maybe it's not the right spelling) or an attempted Lover's sound. These anonimous, average Morgan Heritage songs are: "Raid Roots Dance", "The Fight", "Brooklyn & Jamaica", "Love You Right", "Faithful", "Be Sure", "Youths Today". These tracks are like the same one repeated over and over. The formula is always the same. What is interesting is the sticker on the plastic packaging promoting the so called hits "Brooklyn & Jamaica", "Nothing To Smile About", "Faithful" and "Raid Roots Dance". With the exception of the second track the rest is really missable. After an eleven years career Morgan Heritage seem to have lost their innovative force.