JUNIOR KELLY (b. 1969 - )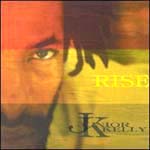 2000 - Jet Star - studio - discs: 1
Junior Kelly was born in 1969 in Kingston and raised in Spanish Town. At the age of thirteen Junior lost his older brother and mentor , the former Kilimanjaro Sound System ddejay, Jim. His brother was a model for Junior and this loss caused a depressed situation to face. As a reaction Junior started to sing and some early recordings were released. Since the beginning his Rastafari devotion was clear in his conscious lyrics. In 1995 he attended the major Reggae festivals in Jamaica: Reggae Sunsplash and Sting. Around that time he recorded his first two hits: "Hungry Days" and "Good Tidings" for Willie Carson's Front Page label. "Black Woman" and "If Love So Nice" recorded for Michael Stanford's M Rush Records followed. This set is his debut which features some quite good material. The mood is basecally Conscious Reggae and listening to his confident approach it is quite clear that he did practice a lot before the release of this debut. The best, or at least the more interesting, tunes are: "Purified", "My Heart", "Cha-La-Law", "Let It Grow" and "Can't Get Away".
LOVE SO NICE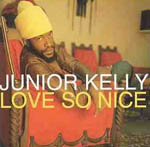 2001 - VP - studio - discs: 1
This set from Junior Kelly, a great Rastaman, is one of my favourite between the Conscious Roots contemporary artists. I cannot say that this set deserves a five stars rating, but at the same time everytime that I play it I feel enlighted. There is such a relaxing atmosphere (even with the tough tunes), a feeling of warm and calm sea around. This is a beautiful album. The set opens with "Clean Heart", slow and secure, but the lyrics are sharp as they address the need for a new and peaceful approch to life. The international hit "Love So Nice" follows the opening and its original "If Love So Nice" from the end of the 90's. "Sunshine" is a love song on a powerful and rocking Roots rhythm. "Boom Draw" is a tough tune, quite fast if compared to the previous songs; and well... yes, it is a ganja anthem. After this powerful song there is a low peak with "Juvenile", since it is a tune that sounds too much structured on digital effects and interruptions. "Hungry Days" is one of the best songs in the set: it addresses the lack of food for the poor, and it is delivered over a great rhythm. "Faith" (featuring Brian and Tony Gold) is a moving song on a musical circular structure. "Paradise" as with "Hungry Days" is one of the most powerful tracks. Stating a great and frightening line that reads: "...but for those that find it hard to overstand: paradise is a cleanseing of the mind ". This song is a gem! "Sleep Last Night" blames the politicians, policemen and other evil forces for what they do. "Jah Nuh Dead" is the third gem: a strong announcement that Jah is not dead at all! "Standing Firm" is a peculiar acoustic song built around a soft guitar with the lyrics that give thanks to H.I.M.. "Black Woman" is, again, a gem. Perfect music and perfect moving lyrics. A New Roots song about the love for a black woman and her need for help. "Wells Runs Dry" is a pure surprise. Here Junior expolres Soul territories: very (!) cool! This is a masterpiece. "Jewl Of The Nile" is Dancehall; as with "Go Down Satan" and "Hotta Fi Get" "Clean Heart - Semi Accappella" (sic) versions the opening with an acoustic approach. The set closes with the remix of "Hotta Fi Get" as "Hotta Fi Get Remix". Do not miss this set.
LIVE IN EUROPE 2003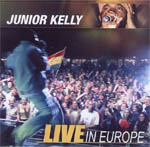 2003 - DownSound Records -
live
- discs: 1
This "Live In Europe" set (actually a concert recorded in Paris, France) is a very good one, even if the sound is not as good as it should be: yes, unfortunately it is some sort of unofficial release, but it works! Another thing, less important but quite boring, is that the leaflet is quite confusing since the name of the songs do not correspond to the written number. The set opens at full speed but not at full power, but after the first three songs ("Clean Heart", "Jewel Of The Nile" and "Truthful"), the atmosphere starts to get hotter. By the end it burns. Things start to work as it should be with "Blaze", fast and tough, and go on with "Sick A Dem Story". Later "Tough Life" shows Junior rocking over one of his great songs. "Prove My Love" is one of the best love songs from Junior, but the rhythm is faster than its studio counterpart. A great live version, here. "Sunshine" shines quite well as the following "Sinking Feeling". "Black Am I" is very hot. "Rebel Music", Bob Marley powerful hit is revisited but the result is not so good, too fast and aggressive. The real gem is "Well Runs Dry": slow, heartfelted, touching, slowly reaching the higher hites! An incredible enlighting version for a tune that was already shining in its studio version. Bless the I-dren!
BLESS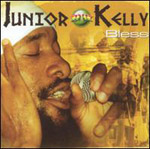 2003 - Penitentiary Records - studio - discs: 1
This set is a compilation of singles. I filed it as recorded in 2003 but most probably the material comes from previous years. The main mood of this set is quite tough (as with "Real" and "Cool Nuh") and sometimes Dancehall (as with "Cyaan Run", "Eye Beam", "Yanki Dollar & Queen's Pounds", "Gal Gal" and "Corner Man"), therefore be prepared to some songs that sound quite different from those of the "Love So Nice" (2001) set. What is interesting is this musically tough side of Kelly which seldom appears in his albums. The fifteen songs were produced by different producers. Not everything is particularly distinctive, but there are some good things. There are even typical Kelly's Conscious Roots tunes as "Black", "When", "Gideon Red" and "Cover Yourself", which are strong ones. "Take It Easy" is a Lovers Rock tune. What for sure did not change are Kelly's couscious lyrics. I think that this collection do not exactly represent Junior Kelly's message, but it is worth checking.
SMILE
2003 - VP - studio - discs: 1
Kelly is back in 2003 with a strong set released for the VP label. The set opens with "I Nah Bow", a quite slow Conscious Reggae song that perfectly set the mood. ""Just Another Blend" is a typical Kelly song: rocking, confident, with conscious lyrics. Follows "African Bound" which apart from lyrics is not particularly impressive. After this it is the time for a Rootsy love song with "Baby Can We Meet". "Smile" is a good and joyful song that delivers some real simple but positive message: smile. The music is quite simple too, but is enough to support its lyrics. "Take Me There" (featuring Calibe) is a Latino filled rhythm, dance tune, without being too much tough Dancehall. "Till The Soil" flows slow and powerful. "Black Am I" is a classic tune, already a hit as a single. A powerful tune that underline Blackness. Follows "Youth Dem Scared" is a good song, quite typical of Kelly's style: his vocals are rough over a nice Roots rhythm. "Do Them Something" is a Roots powerful song. "Sinking Feeling" is another classic. "Never Let You Down" is probably the best song with a previously unheared falsetto. Great Roots. "Running From The Law" actually runs quite slow. "Can't Meditate" is a good song, one of those that do not catch you off guard but still a significant Kelly's Roots tune. "Truthful" is Dancehall. The set closes with "Trod". Even if there are not really very high peaks, this set is a powerful statement from Kelly and for sure the best since "Love So Nice".
TOUGH LIFE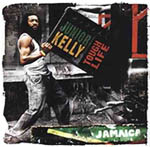 2005 - VP - studio - discs: 1
In 2005 Junior Kelly is back with this seventeen tracks album again for VP Records. Even if it does not reach the hights of "Love So Nice" (2001) or "Smile" (2003) there is some good material. The mood is more polished than the previous sets but this do no particularly wrong to one of the major forces in contemporary Conscious Reggae. Kelly's lyrics as expected are focused on social issues, underlined through his Rastafari beliefs. The set contains three gems: "Receive" is a slow and captivating Roots song with the great Dean Fraser on Sax (unfortunately he is mixed in the background, when he had to be heard on top); "Jah For A While" is again a slow song which perfectly represent the meditative side of Junior and "The More I See Her" with its mesmeric love declaration. A strong and tough song is "Not I" which states clearly Kelly Rastafari vision. "Satan Throne" is an interesting Nyahbinghi based song. The rest is quite good with some exceptions as with "Love You Like That" and "Ease My Pain". "Hold The Faith" pays tribute to the late Prince of Reggae Dennis Brown with uncertain results. In any case this set is worth the check.