SIZZLA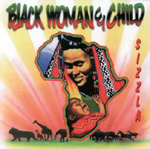 1997 - Greensleeves - studio - discs: 1
Mr. Miguel Collins, from August Town, Kingston, Jamaica is one of the strongest artists around today. The tough Sizzla Kalonji released a tons of albums during his career so far, and it is quite difficult to choose by which one to start with. For sure "Black Woman & Child" is a very strong and confident set and it is a right move to start from here. By the mid 90's he joyned the Bobo Shanti order. At the same time he started to practice with the Caveman Hi Fi Sound System. In 1995 his career officially started with some singles released with the Zagalou label and later with Bobby "Digital" Dixon. He got positive acclaim from the critics and the public. In 1996 he started to work with the producer Phillip "Fatis" Burrell who runned the highly established Xterminator. This collaboration let to the release of Sizzla debut: "Burning Up" (1995). The "Praise Ye Jah" set followed in 1996, again with Burrell. The present set is his third. This album sees Sizzla back with Bobby "Digital" with an impressive result. Here there is a very good combination of Conscious Reggae and some tougher rhythms, but the main mood is quite meditative and relaxed. On the other side the lyrics are straight sharp as he address social and Rastafari issues. This is the set that really made Sizzla famous outside the island. With this album the seed planted two years before started to grow, high and strong.
DA REAL THING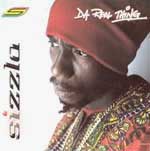 2002 - VP - studio - discs: 1
This is an album that I love, especially its first side. I do not consider it a masterpiece but everytime that I play it I get the right vibes. Maybe the reson lies in the fact that I first listened to it in Jamaica during my first visit. You know... the spot helps a lot. This is one of the few sets that is able to conquer even a skeptical Dancehall listener as me. But here there is a lot of Roots too, and that plays the main role. I will name a few tracks that are specials, at least for me. "Simplicity" is a song that makes everyone move their feet, and I think the mind too. "Thank You Mama" is one of the most powerful heartbreaking songs since the beginnings of the New Roots. A shining gem that for sure will last forever. "Woman I Need You" is a beautiful declaration of love delivered over a powerful Roots rhythm. "Why Should I ?" addresses the meaningless behaviour of wandering with wrong people, whatever the kind, when Jah is able to protect you more than everything. "Got It Right Here" states clearly Mr.Collins Rastafari beliefs over ganja. "Trod Mt. Zion" is the most powerful Roots song that is present here. "She's In Love" is a Lover's Rock song that asks for your lover to be near you. This great set was produced, recorded and mixed by Bobby "Digital" Dixon in his studio.
SPEAK OF JAH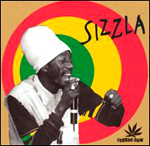 2004 - Bogalusa - studio - discs: 1
This set from Mr. Kalonji is quite different than other releases of that period. Both Sizzla typical Conscious Roots and Dancehall sounds are missing in this German production. Maybe its force lays in the experimental approach. But I have to admit that I do not know so much about Sizzla, so do not trust me that much. I will talk about some tunes of this set. The set opens with "Fight Against The Youth": a strong captivating Roots tune. Later "Teach The Little Children" is the first experimental (I would call it this way) song. The music is a repetitive slow drums rhythm over which Sizzla build up an articulated vocal structure. Quite interesting, actually. "Speak Of Jah" is an acoustic session with a single guitar that works together with Sizzla's voice. "Dem Ago Suffer" is a laid back song, slow and hypnotic. "Vision" is like a funky tune transformed through some unknown chemical addiction in a psychedelic Roots tune. "Girls Dem" rocks as a Dancehall tune made soft by an inspired guitar in the back. "Right Road" is a Conscious Reggae tune. This thirteen set is quite strange, as if it was unfinished. But is not, as its strength is delivered through an airy and suspended athmosphere.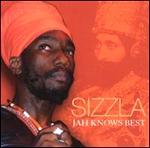 2004 - Ras Records - studio - discs: 1
This 2004 set from Mr. Miguel Collins is very (!) etrogeneous. At the first lisening is like a Babylon Tower, in this case of sounds. In this album there is literally everything. Here he moves crossing through Conscious Roots (as with the title track "Jah Knows Best"), Dancehall (as with "Rise Them Nature", ), Hip-Hop (as with "I Myself Know") and he is such confident to experiment new lyrics over a version of Bob Dylan's "Subterranean Homesick Blues" (as to show that he can face everything and everybody!). There is even a song with sounds that resembles Middle-East ones: ""Got It Going On". The first great gem is "You're Gonna Need My Love": a love song built over a Reggae / Latino athmosphere. A great tune which perfectly shows that Sizzla is able to sing with his distinctive confidence over whatever kind of music. The second gem, and maybe even better than the latter is "You're Better Off". Again there is a Latino flavour that makes this song a unique track. The set closes with "Jah Is Love", a slow song meditating over Rastafari and praiseing him. This set is a voyage through many musical realms, be prepared for a multi-faced musical journey.
LIFE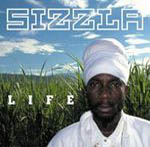 2004 - Greensleeves - studio - discs: 1
This set offers a mix of different sounds and moods. But it seems that for Sizzla jumping from Conscious Roots to hip-hop, and from digital to acoustics and back to Dancehall is not a problem at all. I am not a big fan of those sets crossing everywhere and this tendency to go mainstreem leave me sceptical. A leave to you to discover what lies in this set. Since I am a hardcore Roots maniac I will name only what I prefer. "Haven't I Told You" is one of those. "We Got The Love" is built over a simple musical refrain but it works quite well as a mesmeric tune. "Ain't That Nice" praises Jah over an almost Lover's Rock structure. "Jah Love" is a good Roots song as with "Stay In Tune", even if this is looking to a quite different scenary. These new musical territories that Sizzla is so able to explore, are the future of Jamaican music going global, or they only testify the death of Reggae? For sure this is something to think about very carefully!