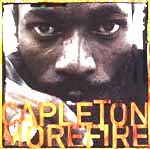 2000 - VP - studio - discs: 1
Capleton was born Clifton George Bailey III in 1967 in the St. Mary parish. At eighteen he moved to Kingston where he started to perform with small Sound Systems. He met Stewart Brown, owner of the African Star sound system and label, who made him perform with Ninjaman in Toronto. Once back Capleton met the producer Philip "Fatis" Burrell which made him record the controversy (explicit sexual lyrics) "Bumbo Red". The tune was banned in Jamaica but Capleton continued to sing "slackness" tunes. The first set ("Gold", 1991) contained the first hits. The "Alms House" set followed in 1993. In 1994 "Good So" was released. In the mean time he became a Rastafarian and this new spiritual journey became more apparent in the songs released in that period. The music in the 1995 set "Prophecy" was some crossover between hip-hop and rap. "I Testament" was released in 1997. After that "One Mission" followed in 1999. The present set sees a mature artist moving between through Dancehall and a couple of Conscious Roots songs in a quite comfortable way. As stated elsewhere I am not in Dancehall, therefore I really like the Conscious Roots songs and more or less I skip the rest. Here there are some pure gems: the quite tough "The More Dem Try"; the great "Jah Jah City", one of his best songs so far; "Glorify". The rest will be appreciated by the hardcore Dancehall fans.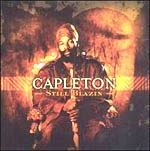 2002 - VP - studio - discs: 1
This set sees a further, and better, development in Capleton approach to music. The main change lies in the fact that this set is more permeated of a Conscious Roots spirit then Dancehall rhythms. The set opens with "Search Fi A Friend", which is one of the strong tracks of the set. But there is even better material, later in the album. In any case this fast rhythm quite clearly demonstrate how Mr. Bailey has reached a mature level. And it is a perfect opening, tough without the necessity to play Dancehall. "Behold" (featuring Morgan Heritage) is another rocking tune that works pretty well with this alternation of Capleton vocals and his guests ones. The third song "Mashing Up The Earth" is one of my favourite tunes from him. Its environmentalist lyrics are delivered over a quite slow rhythm. A gem! "I Will Survive" is not particularly convincing with its digital transcription of a Nyahbinghi athmosphere. But it remains an interesting experiment. After these songs it is the time for the first Dancehall song: "Whoa "New Way"". "Punchline 2 Hit" and "Caan Tan Yah" are Dancehall again. "Hail King Selassie" featuring Luciano is a Roots gem, released in Luciano's "Serve Jah" (2003) set too. "Cooyah Cooyah" is tough Dancehall. "Pure Woman" digitalieses Marley "So Much Troubles In The World" with different lyrics. The result is quite low if compared to the original, but it is one of best non Roots tunes. Follows "Boom Sound" with its Dancehall mood. "How It Ago" is pure Dancehall again. "Guerilla Warfare" is another tough tune of that kind. Then it is time for Roots with the powerful "Red Red Red". A very strange and beautiful song is "In Your Eyes": it is not classic Lovers, nor Roots. It is one of those mixtures that will leave you unprepared and astonished. This is a georgous slow love song. "Mi Deh Yah" is a Roots tune that is already a classic for Capleton's live acts. "Jah Is Gonna Work It Out" features Glen Washington for a slow Roots tune. The set closes with maybe one of the best Nyahbinghi songs played in recent years from a contemporary artists that is able to move back and forth between tough Dancehall tunes and Roots. This is the most original song of the set and something not to miss. Expecially for some young Dancehall fans that maybe do not pay enough attention to the Foundation! "Gimme the Woman" closes the set. It presence is not written in the leaflet, but is quite missable. This set will be appreciated by both Dancehall and Roots fans. There is enough, and some songs are very good, for both.
REIGN OF FIRE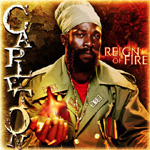 2004 - VP - studio - discs: 1
Two years after "Still Blazin" and a lot of singles Mr. Bailey is back with quite a strong album. His voice even more consistent than the previous set and the tracks more sophisticated. The set opens with "Jah Is My Everything", which is tough enough for one of the strongest voices that came out of Jamaica since the beginning of the 90's. "That Day Will Come" is a fast and heavy Conscious Reggae that address the so called leaders and bad men. Where ever they try to escape, one day their escape will stop and judgement will come. This is great song, great lyrics over a powerful rhythm. First gem. "Wise People" is another strong track built over a heavy rhythm; and again this is Conscious Reggae territories. Second gem. "Or Wah" is pure Capleton Dancehall, as "Real Hot" is. "Ton Load" is even heavyer. "Steppin' Up" makes you jump, no matter how much you try to stay attached to the ground. The third gem comes with "Never Share (Burn Dem)". A powerful declaration of war to the evil men. " Undeniable" has good lyrics, but the music is not very interesting. "Sunshine Girl" features Stephen Marley for a tune that seems as come out from an album of Stephen's brother, Damien. Anything special. "In Her Heart" is a huge Dancehall hit from 2003. "Who Yuh Callin' Nigga" is Dancehall. "Open Your Eyes" is the fourth gem. Slow, melodic, moving: a beautiful Conscious song. Another gem (fifth) follows with "Leaders Let The People Down". Here the mood goes even slower and deeper. Perfect tune. "All My Life": sixth gem. A spiritual declaration of pureness. Capleton do not stop: the seventh gem comes with "Standing Ovation". One of my preferred songs from this set, and maybe one of his strongest ever. "Remember The Days" is Lovers Rock! "Fire Haffi Burn" is Dancehall. "Jah By My Side" is Roots, but stands on an inferior level than the other tunes. "Number One Song" closes this twenty tracks set in quite a meditative way. After the beginnings around 1990 / 1991 with a slackness approach, Capleton is now a first class Conscious artist which at the same time is able to make people enflamed in Dancehall nights. Imagine this: erase the Dancehall tracks and you get a five stars Conscious Reggae set.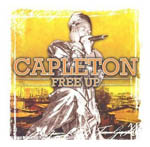 2005-2006 - Penitentiary Records - studio - discs: 1
"Free Up" is a collection of fifteen singles which appeared between 2005 and 2006. Supported by a small but strong ensamble of musicians, Capleton shines on a couple of strong Rootsy tracks. The musicians involved are: Sly Dunbar (drums), Andrew Campbell (bass), M. Chin (guitar) and M. Richards (keyboards). Not all the material is that great but the best can be found here: the opening of "Open Uno Eyes", "Fire", "Table Turning" (with a rhythm highly resembling that of "That Day Will Come" originally published in the "Reign Of Fire" set from 2004), "Small World" (which is actually "That Day Will Come"), "Love Mama", the Lover's Rock of "Love". The rest is too much Dancehall for me, but this does not mean that the tracks are bad, on the contrary there are some quite good that the fans of this genre will approve and maybe appreciate.