PRINCE FAR I (b. 1944 - † 1983)
HEAVY MANNERS - ANTHOLOGY 1977 - 1983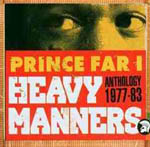 1977 - 1983 - Trojan - studio - discs: 2
Michael James "Prince Far I" Williams, aka Voice of Thunder (1944-1983), was one of the toughest toasters of the 70's and his voice was like some from an "Elder" chanting Jah since the beginning of time: deep and heavy. Michael started as King Cry Cry at the El Toro sund system in the late 60's but soon he spent some time in prison. Once back in the streets he was hired by Coxsone Dodd as security man. Legend has it that around 1970 he replaced King Stitt for a session at Coxsone with the result of cutting "Cain And Abel", "I Had A Talk" and a version of The Eternals "Queen Of The Minstrel". Another story says that his debut came with Bunny Lee cutting a single called "Great Booga Wooga". Around 1972 - 1973 Michael cut some material with Enos McLoad as Prince Far I. LAter he cut a version of Max Romeo's "No Joshua No" for Pete Weston, this track was followed by "Deck Of Cards". In 1975 Lloydie Slim produced Prince' first album called "Psalms For I". This seminal set was centered around Prince praiseing H.I.M. through various Psalms. By 1976 he was a commited Rastafarian, an approach to life and music he never loosed throughout his entire career. This definitive collection from Trojan opens with the original version of the single "Heavy Manners" (1977) cut for Joe Gibbs. By this time Prince established his own label, Cry Tuff. His backing band the Cry Tuff All Stars, later called Arabs, was formed by various session men. The Roots Radics' bassist Errol "Flabba" Holt was the core of the band. Two guitarists were alternatively present: Eric "Bingy Bunny" Lamont (Roots Radics) and the stellar Earl "Chinna" Smith. The drums was played by Eric "Fish" Clarke and later by the Radics' Lincoln "Style" Scott. On keyboards there was Theophilus "Snapping" Beckford and on different occasions Bobby Kalphat. The present two discs collection presents four entire albums. The first is "Free From Sin" (1979). The second entire set is "Jamaican Heroes" (1980). After this there is the "Voice of Thunder" entire set (1980). The fourth entire set here is "Musical History" (1983). This was his last completed album. The two last tracks of this compilation ("Survival" and "Stop The War") were intended to be released for the next album from Prince. Then the life of Williams was put to silence by the sensless fire of gunmen. Jamaica, and the fans of this unique music in the world, lost one of the strongest toasters that ever existed. This collection is a must for lovers of heavy toasters music, but it should be checked even by those that are not completely absorbed by this kind of sounds. In any case here we have two discs with four entire original sets plus three singles! Do not miss it. Respect Prince.
Note: the above sets are commented separately below.
FREE FROM SIN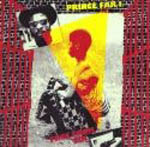 1979 - Trojan - studio - discs: 1
"Free From Sin" was the first of four sets for Trojan Records. This nine tracks set is straight and strong. The opening "Free From Sin" is a remake of "Heavy Manners" from 1977. The second track called "When Jah Ready You Got To Move" versions Peter Broggs' "Higher Field Mashall". "Call On I In Trouble" reprises the classic rhythm of "Rockfort Rock". "Don't Deal With Folly" slightly reprises another classic, "No, No, No". "Light Of Fire" is based on some passages of the Bible. "Reggae Music" is dedicated to Reggae. "Go Home On The Morning Train" talks about the writing process. "Siren" is about murderer. The set closes with "I And I Are The Chosen One". This self produced album was engineered by Sylvan Morris and Errol Brown and recorded at Harry J's and Treasure Isle. This was the pesonnel employed: Style Scott (drums), "Flabba" Holt (bass), Eric "Bingy Bunny" Lamont (rhythm guitar), Sowell Radics and Earl "Chinna" Smith (lead guitar), Bobby Kalphat and Easy Snappin' (keyboards), Deadly Headly and Bobby Ellis (horns), Sowell Radics (strings), Bongo Herman and Ras Menilik Dacosta (percussions). Supported on a couple of tracks by some strong rhythms and filled by Prince typical Biblical references in its lyrics, "Free From Sin" is not that strong as further material but in any case it is an introduction for the following three sets released by Trojan. Better material will be following.
JAMAICAN HEROES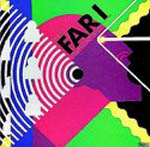 1980 - Trojan - studio - discs: 1
The "Free From Sin" album (1979) was followed by "Jamaican Heroes". Again self produced, this set was recorded at Channel One. Mixed by the Prince himself and Dave Hunt, with Crucial Bunny engineering, the set is stronger than the previous "Free From Sin". Even if the themes are similar, with a Rastafarian - Biblical vision as the main issues, Prince Far I's "Jamaican Heroes" goes a step further. The voicing is even more profound and sometimes complex, with the result of delivering a whole darker texture. The nine tracks album opens with "Deck Of Life" with the Abyssinians' "Satta Massagana" providing the rhythm. "The Vision" is based on the immortal "Stalag" rhythm. Follows " Natty Champion" versioning "Big Fight", a single previously cut for Joe Gibbs. "Read A Chapter" a Rastafari statement. "Golden Throne" is a about repatriation. The following title track "Jamaican Heroes" features Ari Up of the Slits on the back and of course is a tribute to the nation's heroes. "Prison Discipline" talks about avoiding imprisonment. "Musical History" is about inferior deejays. The set closes with "Jah Will Provide". Prince Far I style, with its committed Rastafarian themes, delivers as usual uncompromising statements about the Most High guidance.
VOICE OF THUNDER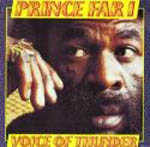 1980 - Trojan - studio - discs: 1
"Voice Of Thunder" is again a self produced set, recorded at Channel One and engineered by Barnabas (also known as Stanley Bryan, Ranking Barnabas and Barnie Bass) and Maxie. This was the personnel employed, under the name the Arabs: Fish Clarke, drums; "Professor" Larry Silvera, bass; David "Little D" Trail (a member of The Light Of Saba), guitar; Steely (aka Wycliffe Steely Johnson, Steely and Steelie Johnson), Tarzan and Tony Asher, keyboards; Deadly Headly, horns; Tony Asher, melodica; Jah Lloyd, percussions; Scully Simms, congos. This set opens with "Ten Commandments". It is followed by "Tribute To Bob Marley", which also remembers some departed artists as Slim Smith, Don Drummond (Skatalites), Jacob Miller and General Echo. A testament of faith is delivered by the following "Hold The Fort". "Every Time I Hear The Word" is based on a Psalm. An almost Nyahbingi track, its rhythm reprises "Drum Song". A very edgy track. Follows "Head Of The Buccaneer" comparing the gestures of the pirate Henry Morgan, the bad man Rhygin (see the movie "The Harder They Come" starring Jimmy Cliff) and Julius Cesar, with those of John The Baptist. A complex track. "Shall Not Dwell In Wickedness" is an optimistic track. "Give I Strength" reprises the "Ten Commandments" rhythm. Follows "Kingdom Of God", working on proverbs. "Coming In From The Rock" is about bringing herb through the ocean. The set closes with "Skinhead" which addresses the fascists of Britain and Ireland. Again, and as usual, Prince Far I is far from delivering an easy listening. And what is important here, as generally with his entire discography, is not the music but the straight message.
MUSICAL HISTORY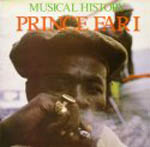 1983 - Trojan - studio - discs: 1
"Musical History", from 1983, presents again a nine tracks self produced set. This was his last album. During this period Prince was working with some leading deejays as Toyan, Rod Taylor and Jah Thomas. This album delivers the classic Rastafarian and Biblical references from Prince, but this time the supporting thythms are more or less Dancehall oriented. The set opens with "Everytime I Talk About Jah" and is followed by "Prince Far I Come Again", the latter using the immortal "Rockfort Rock" rhythm. "Tell Them About Jah Love" asks the American president Ronald Regan the reason for the anti ganja policy. Follows "More We Are Together" and "At The Cross", with the latter's rhythm slightly reminiscent of Johnny Clarke's "Move Out Of Babylon". The following track is "Working For My Saviour". "I Don't Know Why I Love Jah So" is a statement of faith. "What You Gonna Do On Judgement Day" is about Armageddon. The closes with "Take Heed Frontline". Michael James "Prince Far I" Williams' life ended on September 15, 1983. It is quite sensless to speculate over what the Voice of Thunder would have released in the 80's and 90's if his murder did not occur. For sure he would have continued to praise Jah as he did during his toaster career.