THE BEST OF THE FRONT LINE YEARS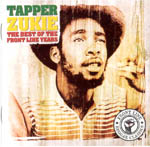 VARIOUS - Front Line - studio - discs:1
I have to admit that I am not a fan of this toaster. I am not particularly touched or impressed by his vocal skills nor by the versions on which he toasts. From my point of view Mr. David Sinclair stands far lower than Big Youth, Prince Far I or U Roy. But I want to say something about this release from the editorial point of view. This obscure release consists of sixteen tracks taken from the albums released by the Virgin label. I will never get tired to underline that the Front Line label is absolutely poor when it comes to help the listener with informations about a specific release. As always it lacks any kind of information about the tracks in the compilation. So what you have to do is search around to understand by yourself about the content. I hope that the following informations which I got by searching around are right. What follows are the titles of the song presented here and the name of the original album. "Pick Up The Rockers", "M.P.L.A", "Don't Get Crazy", "Stop The Gun Shooting", "Marcus" and "Chalice To Chalice" are taken from the LP "M.P.L.A. (1976)". "Oh Lord!", "Satta", "Green Bay Murder", "Freedom Street", "First Street Rock" are taken from the LP "Tapper Roots " (1978). "The City Of Mount Zion", "Ghetto Rock", "Praise Jah In Gladness", "Peace In The City" and "Dangerous Woman" are taken from the LP "Peace In The Ghetto" (1978). This compilation gives a good idea about this artist or at least his Virgin sets. But again I do not find anything particularly interesting. Zukie's style seems constructed on carveing down to the bone trying to reach the simplest shape but the result is too poor and frankly sometimes even boring.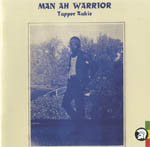 1973 - Trojan - studio - discs:1
David Sinclair (1955) expressed himself more as a producer (see his efforts with the group called
Knowledge
) than a performer, and this debut set is considered his higher achievement on the artistic side. The exuberant David started to attend Rastafari meetings in the Greenwich Farm area (Kingston) and changed his name in Tapper Zukie in his mid-teens. He was sent to England to change his behaviour. The producer Bunny Lee organised a UK tour for
U-Roy
and Tapper introduced the artist toasting over different tracks. The success came immediately with this debut set recorded in the UK in 1973. Clem Bushay and Tappar Zukie produced this set. Tappar returned to Jamaica in 1974 and was employed by Bunny Lee as a bodyguard. Lee was not very interested in the artist skills and consequently Tapper went his way after a couple of recordings. He set up his own label, Stars, and started to produce himself and others. I am not such impressed by this record. Tappers voice is too much edgy and broken and the tunes up on which he toasts are not particularly interesting. I would recommend this set - and maybe all the other material from Zukie - only to the fans of hard and tough toasters music. This release from Trojan contains seven bonus tracks from 1975 and 1978.