PRINCE ALLA (b. 1950 - )
ONLY LOVE CAN CONQUER 1976-1979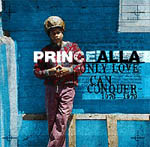 1976-1979 - Blood and Fire - studio - discs:1
Prince Alla (real name Keith Blake) was born in Kingston on May 10th 1950. He started to sing at quite an early age performing with some friends as the Leaders. They cut three sides for Joe Gibbs released in 1968. Then Alla cut other three sides as Keith Blake for Gibbs too. Since it was the end of the decade the mood was Rocksteady. After this experience Alla and Milton Henry (former member of the Leaders) formed a new group, the Nazarine. That was the time when Alla approached Rastafari. The order he met was that of the Edwardites after his founder Prince Emmanuel Edwards. The order grow in Greenwich Town (Kingston), then moved to Trenchtown and later it moved to Bull Bay (where it still settles). Alla spent almost seven years in the Bull Bay camp. By the mid 70's he moved back to Kingston to re-start his musical activity. He recorded some songs with the producer Bertram Brown (Freedom Sounds label). That happened in 1975. After those songs Alla and his friend Roy "Soft" Palmer recorded for Tappa Zukie at Lee Perry's Black Ark studio in Cardiff Crescent, Washington Gardens, Kingston. "Stone" (which is featured in this compilation) was released for Freedom Sounds, recorded at Channel One and voiced and mixed at King Tubby in the Waterhouse ghetto. This song clearly states Alla's faith in Rastafari referring to The Book Of Daniel, Chapter 2, v.31-36. This song was engineered by Scientist. The rest of the tracks, as this one, are all profound Roots music. In this powerful collection nine songs were produced by Bertram Brown, two by Anthony McClaren (aka Tony Mack), one by Bertram Brown and Tony Mack and two by Prince Alla and R. Lightbourne. Twelve songs were recorded at Channel One (Maxfield Avenue, Kingston) and mixed at King Tubby's (18 Dromilly Avenue, Kingston 11). Two songs were recorded and mixed at Channel One by the great Ernest Hookim. Twelve songs have the Soul Syndicate on instruments. Two songs have The Revolutionaries on instruments. I hope that all this background informations did not bore you but helped to overstand (!) from where Alla comes from. Everytime I play this set I get transfixed by some tunes: the tough "Lot's Wife", the perfect Roots of "City Without Pity", "Lady Deceiver", the almost similar (same rythm) "Youthman In The Ghetto". I am sure that you will find your favourite tunes. Here you will not find crying for "fire" as the contemporary Bobos do, but if you pay attention you will get Alla's totally Rastafari commitment (seven years at Bull Bay camp in the 70's are not a weekend in the country!). This is simply... Deep Reggae Music from the seventies!
HEAVEN IS MY ROOF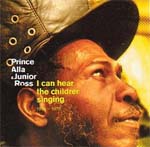 1976-1978 - Blood and Fire - studio - discs:2
"Heaven Is My Roof" is a very strong set from Keith Blake. Released in 1979 for the Stars label with the cover saying Ras Allah, it contains songs recorded between 1976 and 1978. This re-release from the great British Blood and Fire labe, contains the original tracks plus some very interesting extras. "Heaven Is My Roof" was produced by Tapper Zukie (he appears shining in "Black Man"). The set opens with "Bosrah" (sometimes known as "Bozrock") which is the only track recorded at Lee Perry's Black Ark in 1976. This track (a recut of the song "Joe Frazier") is presented in its original version plus its extended mix. The remaining ten tracks are also pure Roots from the 70's. These songs were recorded at Channel One with Scientist by the board and mixed at King Tubby's by Prince Jammy, Phillip Smart and Tubby himself. This is a highly recomended set.