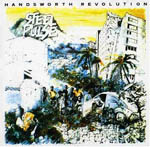 1978 - Island - studio - discs: 1
Steel Pulse is considered the best UK Reggae group, ever. Probably it is true but their direct counter-part are ASWAD, and they are great. So it is up to you to decide on which side your feelings are. Steel Pulse formed in the Handsworth area of Birmingham in 1975. The three founding members were David Hinds (lead vocals and rhythm guitar), Basil Gabbidon (lead guitar) and Ronnie McQueen (bass). This debut set clearly states that a Reggae group from the UK can equal their brothers from Jamaica. Their sound is strictly mid 70's Roots Reggae. This debut album is full of lyrichs about social matters. It is clear from the title track that they are very confident up on their musical skills. This is that kind of album on which is difficult to express a preference about the tracks. The Roots mood flows cool and calm like a spring in the Jamaican mountains. One day I feel the best vibes delivered from the slow "Bad Man" but another day is the time for "Ku Klux Klan". This is a classic pure Roots set. Again an incredible statement from the Jamaican sons in the UK.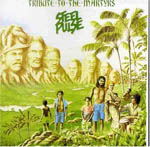 1979 - Island - studio - discs: 1
This second album from Steel Pulse does not stands on the same level of the debut album "Handsworth Revolution". The set opens in the right way with the Roots texture of "Unseen Guest" and the stronger classic "Sound System". But then things tend to be too much simple. Add to this a lack of inspiration in the lyrics and the result sounds lower than the expectations. The title track "Tribute To The Martyrs" is not an impressive one. "Babylon Makes The Rules" has a typical Steel Pulse approach. The set closes with "Blasphemy (Selah)" which is again a pure Steel Pulse song. At the end it seems that things are took too much for granted. This does not mean that this is a bad album but once you hear the debut one this sounds clearly inferior.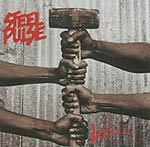 1991 - MCA - studio - discs: 1
Listening to this album is a depressing experience. Steel Pulse produced some of the best UK Reggae music but here all their potential seems disappeared. The set opens with a sound as that of UB40: faked Reggae. And this is the best song! The rest is 80's Pop of the worst kind. From time to time a very very far reminiscence of our beloved Reggae comes to the surface; as in "Grab A Girlfriend". But the title itself expresses how low they are. Avoid this album.
RASTAFARI CENTENNIAL - LIVE IN PARIS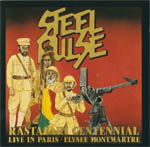 1992 - MCA - live - discs: 1
To commemorate the centennial of H.I.M. Haile Selassie I, Steel Pulse travel to Paris to play some of their best songs. This release do not need many comments. Lucky who was there. Steel Pulse evidently felt the occasion in a particular way: it was not only a date of a tour. It was the occasion to celebrate and commemorate H.I.M.. The track list is well choosen spreading through their best songs. The band plays well self confident as it would be expected from them. To talk about some songs here... After the opening with "State Of Emergency" follows a powerful and joyful "Roller Skates". Then is the turn for a deep "K.K.K." (from the "Handswoth Revolution" set), one of their best tunes that talks about racism. "Soldiers" (again from the "Handswoth Revolution" set) stands strong and firm more than ever. The same can be said about the following "Stepping Out". "Makka Medley" has "Makka Splaff", "Drugs Squad" and "Handworth Revolution". Its only pity on being too short. A long heartfelt masterpiece "Reprise" closes the set. Ina masterpiece style.