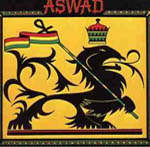 1976 - Island - studio - discs: 1
The sons of the diaspora started to develop a real presence in British Reggae in the second half of the 70's. "ASWAD" was formed in the Westbourne Grove area in West London in 1975 (same year as Bimingham's Steele Pulse). The nucleus band was Brinsley Forde (aka Chaka B aka Dan) on vocals and guitar, George "Ras" Oban on bass (he left in 1980), Tony "Gad" Robinson on vocals and keyboards and Angus "Drummie" Gaye on drums. For this first class debut album the musicians were: Forde, Oban and Gaye plus Donald "Dee" Griffiths on vocals and guitar and Courtney "Khaki" Hammings on keyboards. The great Delroy Washington of the fabulous "I-Sus" and "Rasta" albums backs on vocals. That said "Aswad" is a strong debut with the lower steps in "Red Up" which tries to sum up their albility for some dub too and the simple "Irie Woman". This is not only a very well learned lesson of Roots Music. This is Roots Reggae. I try to be hard on the debut albums but this deserves the stars given. The opening track "I A Rebel Soul" is a smooth and hard funkysh tune at the same time. Beautiful stuff ! A clear Roots vibe is present in "Natural Progression". "Back To Africa" is a Garvey filled tune on a strong one drop rhythm. An incredible strong piece closes the set: "Concrete Slaveship". Big up to the Jamaicans sons abroad.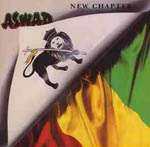 1981 - Columbia - studio - discs: 1
This third set from ASWAD demonstrates how easily they were able to move between Roots and some Lovers Rock. This album is just a little bit inferior to the debut set but this does not mean that is not worth listening. On the contrary this set shows how their career was growing to reach the highest points during the 80's. More than this their conscious / social lyrics would underline ASWAD attention to Rastafari issues brought directly in the UK. Here we find Mikey Cambell in the role of co-producer and engineer and his partecipation in the album adds a unique touch to the final product. Before running to some sort of judgement I suggest to adopt a socio / historical approach and remember that this is British Reggae. The only thing that puts this album under the debut is that from time to time it is not too much aggressive. But of course the are some peaks as "Ways Of The Lord", the slow Lovers of "I WIll Keep On Loving You", "Ina Your Rights", and "Love Fire"; which is one of their best songs ever.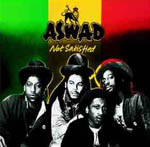 1982 - Legacy - studio - discs: 1
There is an anecdote about this album. The year before "New Chapter" was released but it did not bring the expected success. But they felt pretty sure that they still had something to say. So they decided to express this disappointment directly calling the next album "Not Satisfied". This album not only delivers some higher quality than the previous set but stands as one of their best. Here there is some dullness and some great songs: the best are at the beginning and at the end. The music is confident and the lyrics are miles away from "New Chapter". The album opens greatly with "Oh Jah" and goes on with one of my preferred songs: "Drum And Bass Line". Than follows the title track "Not Satisfied"; which expresses the dissatisfaction of above and stands as a classic from ASWAD. "Reality" flows slowly and is a "chill out" tune in the rythm but not in the lyrics. "African Children" is a declaration of Love to Africa. "Pass The Cup" is a joyful tune with the only flaw when it goes too much through a potential mainstream territory (as No More Living A Lie). Things are not very impressive in the following tracks. The album closes as it opens with two great Roots tracks: "Your Recipe" and "Girl's Got To Know". This edition has 4 bonus tracks as dubs.
LIVE & DIRECT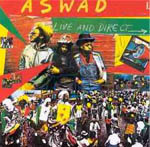 1983 - Island -
live
- discs: 1
It is 1983 and people are having fun because of the Hotting Hill Gate Carnival. ASWAD play but this is not a normal thing, this is actually a street party. The atmosphere should have been amazing because this is one of the best live performances that I have heared on record: straight, pure ASWAD Roots Reggae with no concessions to mainstream or other generes. The opening is tough from the beginning with the deep Roots of "Not Guilty", and the vibes are just of the same kind with the following "Not Satisfied" from the same titled album of the previous year. The set goes on with "Your Recipe", again from that album and one of the best there. "Roots Rocking" is welcomed with great applause and allows some more relaxed atmosphere. After it ASWAD plays one of my preferred songs: "Drum And Bass Line". This live version is more rocking than that on the studio album and it is much better than that. Follows "African Children" which is really a no apologies track played here in an aggressive way that only helps to add strength to the original. A short and unexpected "Soca Rumba" is a joyful interlude before "Rockers Medley". This ten minutes medley with "Ease Up", "Your Love's Gotta Hold On Me", "Revolution" and "Waterpumping" is pure Roots party time. This is a very strong medley with the audience on pure enjoyment. The set closes with the stellar "Love Fire". What a night! Even if you are not an ASWAD fan do not miss this great live album.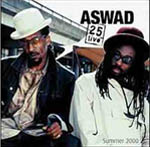 2000 - Paras -
live
- discs: 1
ASWAD remaining members Angus "Drummie" Gaye and Tony "Gad" Robinson play live at the Subterania on August 22nd 2000. As I stated somewhere else, sometimes it is hard to find a band which is that old (twentyfive years since their first tunes) but it can still deliver pure vibes. And here there is a lot! Here the two ASWAD play their former classics. And what a classics. From the fast mix of Rocksteady - Roots of "3 Babylon / It's Not Our Wish / His Majesty" to the Roots of "Roots Music". There is time for a joyful "Smokey Blues" and for the deep but fast Roots of "Ina Your Rights". The latter is great! Play "Thank You Lord" as loud as you can and your neighbourhood will thank you selecter. "Drum And Bass Line" is as always better than the original from the 1982 "Not Satisfied" set. Avoid "On and On". "Don't Turn Around" in a perfect joyful tune before the closing with the shining "Shine". The fast toasting/singing over this last song is by Soloman. This is a great concert. It deserves four and a half stars as it happened for "Live & Direct". They are two different acts: the former is easy and joyful, the latter is deeper in Roots. But they are both two great live sets. Do not miss them both. Yes London bredren!
THE BBC SESSIONS
* * * /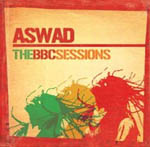 1976-1994 - Spectrum - studio - discs:2
Aswad' BBC Sessions presents thirtythree live recordings at the British radio between 1976 and 1994! Disc One opens with four songs recorded on August 8th 1976 for the BBC Radio 1's John Peel Show at Maida Vale 4. The list reads "Pressure", the Dub of "Ethiopian Rhapsody", the deep "Back To Africa" and "Natural Progression". Follow three tracks from October 10th 1978. The details of the recording are the same as above. They are "Behold", "Love Has Its Ways" and "It's Not Our Wish". The following four songs were recorded on June 3rd 1982 for the BBC Radio 1's Kid Jensen Show at Maida Vale 4. The list reads "Pass The Cup", "Girl's Got To Know ", a Dub tretement of "African Children" and the heavy Dub of "Love Fire". Four remaining tracks close disc one. They are a faster version of "African Children", the great classic "Your Recipe", "Roots Rockin' " and "Cool Runnings Inna W11 Area ". The details are the same as those of the previous Jensen's session. Disc Two opens with four tracks recorded on September 13th 1984 for the BBC Radio 1's Janice Long Show at Maida Vale 5. The list reads "Rebel Soul", "Gave You My Love", "Chasing The Breeze" and "Candles". Four tracks follow: "Mercy Mercy Me", "Need Your Love", "54 - 46" and "You Can't Show Me". The only detail available is that they were recorded in 1984. Follow four tracks recorded on August 28th 1985 again for the BBC Radio 1's Janice Long Show at Maida Vale 5. They are the oriental Dub of "Janice Strong", "Pull Up", "Nuclear Soldier" and "Wrapped Up". The following three songs were recorded on August 28th 1985 again for the BBC Radio 1's Liz Kershaw Show at Maida Vale 4. The list reads "Kool Nah", "Can't Get Over You" and "Rebel Soul". The remaining three songs are "Don't Turn Around", "On And On" and "Shine". The only detail available is that they were recorded in 1994. So what to say? Disc one is the strong slice of this cake. Powerful original Aswad's sound. Aswad 70's style. On fifteen tracks, ten are masterpieces. The wrong turn comes with disc two. Digital devices get in. The sound gets more and more artificial and the pulsating bass of the 70's is basecally gone. Remember Aswad for their huge contribution on late 70's early 80's British Reggae. What came after is far less impressive. But listen to Disc One for some five stars tracks! Great music.