RICHIE SPICE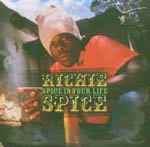 2005 - Fifth Element Records - studio - discs: 1
Almost five years after his debut album in 2000 ("Universal") the single "Earth A Run Red" hits the charts in Jamaica announcing the potential of this artist. The Fifth Elements Records, with Devon Wheatley producing, undoubtely helped a lot to reach huge success even outside Jamaica. So in 2005 came this very confident set. The Spice style is basecally Conscious Reggae both in the rythms and lyrichs. And this is a very good thing for a land suffering daily from extreme violence. Aside from "Earth A Run Red" two others songs were big hits: the ode to ganja of "Marijuana" and "Folly Living". The collaboration with the tough Chuck Fenda in "Fake Smile" hits the target too. "More Terrible" is a precise denounce of the sad state of things in Jamaica and it is one of those rythms that force you to pay hard attention to the words. "Black Like Tar" addresses the blackness, Africa, Garvey and proudness. These are the toughest tunes but on the meditative side there are some pure gems too. The opening track "Sometimes" is delicate and touching. "Crying Out For Love" on Sizzla'a "Thank U Mamma" speaks of the children's need for love. "Check Yourself", in a Lover's Rock mood, is terribly touching as it cries for attention to the uglyness in the streets. As in every album there are here too some low levels: "Holiday" is too much Hip-Hop and "Reggae's A Fire" is not Reggae at all. Without considering these two tracks "Spice In Your Life" shows clearly Spice personality delivered through a mature set.
IN THE STREETS TO AFRICA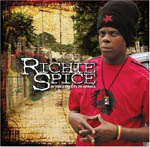 2007 - VP - studio - discs: 2
Richie "Nananana Yeah" Spice third set could have been a risky business after the world success of "Spice In Your Life". But after two years Richie is back stronger than ever. What's the result? The answer is: no one changes the formula when it works that good. So "In The Streets To Africa" is some sort of "Spice In Your Life" part two. Devon Wheatley of Fifth Element is still at the helm producing. Again the album contains some hits and some more interesting material and what is amazing is that there are no Dancehall tracks! About the former there is "Open The Door", "Youth Dem Cold" and "High Grade". The more interesting tracks are: "Get Up", "Babylon A Gwaan", "Sunny Day", "Uptown Girl", "Brown Skin" (even if this track could be filed with the hits), "Can't Stop Loving Jah" (this is a pure gem!) and the marvellous Nyahbinghi "Motherland Calling". These songs are better than the so called hits. There is a gem for the Culture fans: "Digital Ways" with Joseph Hill could be one of the last songs recorded by him before his demise in August 2007. This is another very good album from Spice. The mood is conscious as always with beautiful reality lyrics and he is more confident than ever. This special edition comes with a DVD as bonus disc with interviews and a street acoustic set that is priceless. There Richie is backed by the beautiful voice of the gorgeous Etana. When you are down and out play "Take It Easy" at maximum volume. It helps... you will start to dance and smile! This is a beautiful album with eleven songs on fifteen that are perfect. Respect!
GIDEON BOOT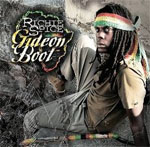 2008 - VP - studio - discs: 1
It is 2008 and Richie Spice is back with his fourth effort: "Gideon Boot". Proudly presenting his dreadlocks on the cover and no more Bobo Shanti kind of style hat, as to express even more firmly his Rastafari faith, it seems that with this release Richie hit again. The fourteen tracks produced by Bobby "Digital" Dixon and Chris Chin make "Gideon Boot" a good set, even if some less inspired tracks make it a little bit inferior to the previous effort. The formula is the same of the previous set "In The Street To Africa" (2007), which already was perfectly fitting after the previous "Spice In Your Life" set (2005), but this is due to a consolidated personality and not to the lack of artistical research or fantasy as some could say. Some tracks reprise some already heared rhythms, and this maybe makes the set a little bit inferior to its predecessor. The best tracks are: the intro and slightly Nyahbingi spiced of "Babylon Fallin", "Let's Go" (featuring the German Gentleman), "Wrap Up A Draw", "Getting Harder", "The World Is A Cycle", "Make Up Your Mind" and "Rise". Good conscious lyrichs and some very good tracks make "Gideon Boot" another Spice set to check and enjoy.