MICHAEL PROPHET (b. 1957 - )
RIGHTEOUS ARE THE CONQUEROR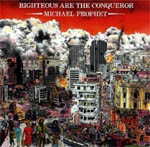 1980 - Greensleeves - studio - discs: 1
Michael Prophet was born Michael George Haynes in Kingston in 1957. He was discovered by Yabby You and his first success came with "Praise You Jah Jah" (a version of the Heptones "Fight It To The Top") and some singles cut for Don Mais. He got the deserved attention when he cut for Yabby the strong "Serious Reasoning" in 1979. The present set was recorded for Henry Junjo Lawes with Barnabas at the mixer. The album was recorded at Channel One. This set is not particularly impressive. There is a part of that distinctive Lawes imprint but something is missing. It is as if something is taken too much for granted and therefore the asked seriousness is put aside. The musicians deliver a good base for Michael lyrics but the whole result is quite tasteless. With the exceptions of the great "You Are No Good" and its reprise "Long Long Tribulation" and a few tracks more, the rest sounds like a missed opportunity.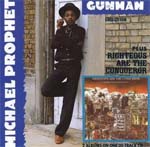 1981 - Greensleeves - studio - discs: 1
Right after "Righteous Are The Conqueror" came "Gunman". Henry Junjo Lawes is again the producer but in this case the great Scientist was called by the mixing board at King Tubby's. A clever move, indeed. The musicians are the same of the previous set but the sounds effects and the manipulations provided by Scientist make the difference. Three - four minutes long songs are enough for Scientist to provide rich textures filled by his distinctive approach to the available tracks. "Youthman" with singing birds inside could be a valid example of his experiments about mixing adding whatever could help the track to reach a higher musical and therefore emotional level. Listen to Prophet's top hit "Gunman" and imagine it mixed without its sound peaks and effects: it would have been a far less impressive and interesting song. Michael himself sings in a far more inspired way than the previous set. The gem is "Love And Unity", early 80's Dancehall with all that is required: deep and tough sounds. This track was also remixed by Scientist in his five stars set "Rids The World Of The Evil Curse Of The Vampires" and retitled "Your Teeth In My Neck": a stellar tune. Here we have a perfect combinations of inspired figures that created a great set: Michael, Henry and Overton (aka Scientist) together deliver a highly confident set that will be for sure appreciated by the hardcore early 80s Dancehall fans and Reggae lovers in general.