LACKSLEY CASTELL (b. 1962 ? - † 1983)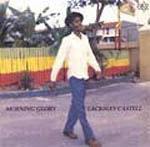 1982 - Negus Roots - studio - discs:1
Lacksley Castell was born in Kingston in the first half of the 60's. All the informations around him are quite obscure or contradictory, so please forgive my ignorance. Well, in any case let me try to trace his unfortunately very short career. It seems that he cut some singles in 1975 when he was very young. Some say that he cut some songs for Lee Perry and Prince Jammy. Some songs appeared on the "Jah Fire" set from Hugh Mundell in 1980. Robert "Flako" Palmer decided to produce him, initially for some 12" and later for the present set which was released in 1982. Among the 12" there was "African Queen", "Collie Tree", "Jah Is Watching You" and "Government Yard" (also in the present set). For some songs in "Morning Glory" Don Carlos was called in the studio to joyn Lacksley. After this set, "Princess Lady" was released in 1983. At the end this incredible smooth and great voice recorded only around twentyfive singles and two albums. Even his death is matter of discussion: some say it was caused by an asthma attack, some say he had an illness regarding his stomach. Is that important? Not at all. What I am interested in is the wonderful music of this set. Recorded at Tuff Gong and Channel One, the music and the lyrics delivered are beautiful. Steven Stewart, Crucial Bunny and Errol Brown egineered. Within nine tracks Lacksley bring us around for a Roots journey filled of both disperation and hope. Musically speaking the musicians involved were all top class. So, since this is the first time that I appoach Castell, I must admit that I was transfixed by him. Just by the start with "Leaving" (a painful declaration about why he does not want to wake up his lover because the tears would be unbearable) you can get the mood of this artist. "Righteous Stand" calls for the right and Jah blessed side to stand by. Serious things, here. "Message To My Woman" talks about an experience in prison (the famous Gun Court prison in Kingston in those days was not a resort to take a holiday in). "Speak Softly" maybe is the most touching song here. "Bound In Bondage" is a call for hope and justice: one day slavery will end. "Government Man" is a prey for a piece land to live in peace. Free the land, let the poor be able to rise thier sons by the rightious side, give us a real opportunity. This is what this song talks about. ...Just to name my preferred tracks, but the rest is no less impressive. Lacksley Castell's "Morning Glory" is a declaration of justice. An enormous call, actually. Sung as if everything is alright. Pure perfect Roots music. Castell died aged twenty (or twentyone) in 1983!
1. Leaving
2. Morning Glory
3. Righteous Stand
4. Message To My Woman
5. Cold Winter Night
6. Speak Softly
7. Doctor Love
8. Bound In Bondage
9. Government Man
1983 - Negus Roots - studio - discs:1
Lacksley Castell's second entire and last album is "Princess Lady" cut in 1983. This ten tracks set was again produced by Robert "Flako" Palmer, cut at Herman Chin Loy's Aquarius with Mervyn Williams engineering and finally mixed by Mad Professor at Ariwa (London). Lacksley Castell, Robert Palmer and Dean Fraser arranged the tracks. The musicians employed were: Mikey "Boo" Richards (drums), Ranchie (bass), Duggie (also known as Dougie Bryan and Rod Bryan) and Lloyd Willis (rhythm guitar), Duggie (lead guitar), Robert Lynn (organ), Ansel Collins (piano), Robert Lynn (synthesiser and strings), Nambo Robinson and Dean Fraser (horns) and Alvin Haughton (percussions). As most of the times it happens, the following release to a stellar set is inferior. In this case "Princess Lady" only stands one inch lower than "Morning Glory". The general mood here is a little bit undertone if compared to the forceful previous set. The presented songs are: "Genie In A Jar", "Johnny Brown", "Guiding Light", "Unkind To Myself", "Old Dusty Clothes", "Untrue Love", "Wicked Man", "This Girl & Me", "Black Sheep", "Princess Lady", plus the bonus track "Johnny Brown Dub". If "Morning Glory" would not exist, probably this would be a five stars set. Remember Lacksley!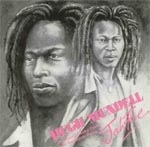 1980 - Black Arrow Records - studio - discs: 1
"Jah Fire" is a very fascinating album to comment. Beside its quality that I will comment later, its credits are something to deeply explore and check. This 1980 release is (was) issued (maybe in different times) by Live And Love label (#LAP 13) and Black Arrow label (#BALP 003). My CD reads: Black Arrow - #BACD 003. But what is important here is what is printed on Live And Love's release: "
Hugh Mundell
- Jah Fire". I do not know what is printed on Black Arrow's LP, but what I read here in front of me on the same label's CD is: "Hugh Mundell - Jah Fire - Featuring Lasky Castell and Augustus Pablo". Before moving on I want to strongly underline that I am not judgeing the mentioned labels. I am only reading what I have in front of me. At the end, additions or nor on the cover, it seems that this is a Hugh Mundell set with Lacksley Castell involved. But here things get really comlicated and interesting. In recent years some members of the forum of the top credited web site "Roots Archives" pointed out that from their point of view "Jah Fire" is at the end a Lacksley Castell effort, with Hugh Mundell slightly involved, at least for what concerns the voice. After reading this my ears got high, tough and keen. So I started to play again and again this CD. I do not care what is written on the cover. My only concern is who sung what. So after so much investigation my opinion is that "Jah Fire" is a set which should be credited to both. To be more precise here follows the playlist of "Hugh Mundell - Jah Fire - Featuring Lasky Castell and Augustus Pablo" (Black Arrow's CD release) with what I think should be the right credits: "Be My Princess Lady" (L.C.), "Jah Fire" (H.M.), "Walk With Jah" (H.M.), "King Of Israel" (H.M.), "Million Miles" (L.C.), "My Woman Can" (L.C and H.M.), "You Over There" (L.C.) and "Black Sheep" (L.C.). This release adds "Million Dub", "King Pablo" and "Pablo In The Moonlight" . These Dubs surely involved
Augustus Pablo
. The set was produced and mixed by Prince Jammy, and maybe putting the name Mundell on the cover helped commercially. The players were: Sly Dunbar, Carlton "Santa" Davis and Leroy "Horsemouth" Wallace (drums), Robbie Shakespeare and Jah Mike (also Mikes) (bass), Earl "Chinna" Smith, Bo-Peep Bowen and Eric "Bingy Bunny" Lamont (guitar), Keith Sterling and Gladdy Anderson (piano), Bobby Ellis, Deadly Headly ad
Cedric Im Brooks
(horns), Sticky and Scully Simms (percussions). With two very good Roots tracks from Castell and three from Mundell and the remaining on an inferior level, "Jah Fire" must be collected since both artists did not release that much and unfortunately died too young.