MIKEY DREAD (b. 1948 - † 2008)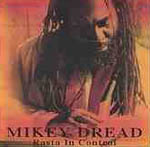 2002 - Dread At The Controls - studio - discs: 1
Michael Campbell was born in 1948 in Port Antonio, Portland, Jamaica. In 1977 Mikey broadcasted a night radio show from midnight to four a.m. as a committed Rastafarian from the frequences of JBC called "Dread At The Controls". At the time the radio shows were basecally conservative. But Mikey offered a totally different program. First of all the music was pure Roots with no concessions to commercial material. Secondly, and no less important, the show had a Dread spirit: it was made from someone from the street to the people of the street. It was common people music presented with street talk and atmosphere. All of this was something new. After the success of the show Mikey Dread cut some tracks in a deejay style. Three seminal set came out in 1979: "African Anthem" ( aka "The Mikey Dread Show Dubwise"), "At The Control Dubwise" and "Dread At The Controls" (aka "Evolutionary Rockers"). The Dub compositions had a huge success bringing again on the front this style. Mikey Dread radio deejay style is what he will be remember for. This set sees him back by the microphone in a more conventional way. Listening to this set is quite clear how he did not loose any strength. His voice is still very confident and powerful over classic 70's Roots. With only a couple of exemptions (as with "Give It A Chance" or "Year Of Decision") this album is very interesting. There is almost no commercial song and is not a nostalgic set as it could be expected from a fiftyfour years old singer. Mikey is here to state and declare that Roots music is not dead at all, but on the contrary is still Dread and alive! The self produced set contains eighteen tracks. The best tracks are: "Inna Foreign" (with Michelle Gordon, Endel Irie, Horace Andy and Cedric Myton from the Congos as guests) which must be listened with its "Great God Of Glory" reprise and "Rasta Irie Oki" as its third version: considering them as one song this is a pure gem; "Equal Rights" (it is not the Peter Tosh song!) ; the slow and Rastafari "Prophecy"; the Roots rocking of "Debut Performance"; "His Imperial Majesty". All the rest is just a little bit less powerful but equally interesting, which make me think that eighteen tracks are too much. Bless The I!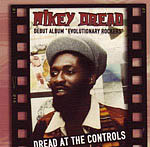 1979 - Dread At The Controls - studio - discs: 1
"Evolutionary Rockers" was Mikey Dread debut album. Dread gave Trojan a different mix of the tracks which were released with the album name changed to "Dread At The Controls", probably to attract more people using the same title of his legendary Radio show. The aim of these recordings is to reprise the atmospheres delivered through his night show. On some quite effective Dub - Roots instrumentals Mikey sings and also almost toasts, with the result of delivering eight tracks (in the original Lp release) that stay far off from any commercial approach. Maybe his style sounds sometimes a little bit too much repetitive, but this is the style that made him famous. This re-release from his own DATC label appeared in 2005 adding two vocal tracks and seven Dubplate specials. Some Dubs are almost better than the songs. A set that could ask some time to be appreciated completely.