WE THE PEOPLE MEET THE PEOPLE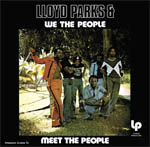 1978 - Pressure Sounds- studio - discs:1
Lloyd Parks is a bassist and singer born on May 26th, 1949 in Kingston, Jamaica. In the late 1960s, he played with the Invincibles band before teaming up with Wentworth Vernal to form The Termites. Around 1967 - 68, the duo split and Lloyd briefly joyned The Techniques. After this he started his own career, also founding his own label called "Parks". Among a real huge list of recordings made with some of the greatests artist and bands during the 70's, Lloyd works include recordings made with / for Justin Hinds on Duke Reid's Treasure Isle label. He was a member of Skin, Flesh and Bones along with Ansell Collins on keyboards, Errrol "Tarzan" Nelson on keyboards, and Ranchie McLean on guitar. This group backed Al Brown on his hit "Here I am Baby", and many other artists. When Skin Flesh and Bones started playing for the Channel One Studios, Parks renamed the band The Revolutionaries. Parks was also a member of Joe Gibbs' house band, The Professionals, performing hits such as Althea & Donna's "Up Town Top Ranking", and in the 1970s he backed artists including Dennis Brown, The Abyssinians, The Itals, The Gladiators, Culture and Prince Far I. In 1974, he founded the We the People Band, who backed Dennis Brown on tour for over 20 years. So the history of this auto-produced album bigins here, in spring 1978, at Joe Gibb's 16-track Studio. The tracks were engineered by the great Errol Thompson and Ruddy Thomas. The list of personnel is this: Lloyd Parks (bass and vocals), Devon Richardson (drums), Winston "Bo Peep" Bowen (guitar), Franklyn "Bubbler" Waul (organ), Nevile Grant, Noel "Skully" Simms and Ruddy Thomas (persussions), Dean "Youth" Fraser (saxophone), Lloyd Kerr (trombone), Junior "Chico" Chin (trumpet), and the backing vocals by The Mighty Diamonds, Rita Marley (BMW), and Marcia Griffith. In other words, a stellar ensamble. The album, comprising eight tracks, is a small gem, indeed, with vibrant tracks even more powerful thanks to the magnificent players involved. It had a very poor distribution, actually only in Jamaica, so it's such a pleasure to re-discover it thanks to the efforts of the great British label Pressure Sounds. This re-issue also three extra tracks, each followed by a version. A nice gift. So, maybe you listened to the We The People Band hundreds of time while listening some other artists song. Here they are totally for us. Strong set, to discover or re-discover.
01. Reality
02. Life Ain't Easy
03. You Hurt My Pride
04. Ordinary Man
05. Trench Town Girl
06. Ah Rock Dis Yah Bass Line
07. I Want To Go Home
08. I Love You Girlie

09. Grand Father Bogle (*)
10. Grand Father Bogle - Part2 (*)
11. Slaving (steppers cut) (*)
12. Slaving (version) (*)
13. School Days (*)
14. School Days (version) (*)
(*) Bonus track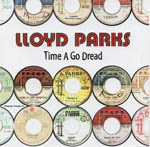 70s - Pressure Sounds- studio - discs:1
"Time A Go Dread" is a compilation, released in 2016 by the British label Pressure Sounds, of a series of songs by the great Lloyd Parks plus a couple of tracks by other artists. This collection also presents some of the so called "versions" and Dubs of almost all the tracks. As usual Pressure Sounds did a fantastic job, collecting material that otherwise would be basecally impossible to easly find out. A brief biography of Parks can be found on my comments of his powerful set "We The People Meet The People", released in 1978. The set opend with the marvellous "Money For Jam", slow and sulphurous it's followed by its version, the powerful "Money For Jam (version)". Thing get hotter with the fast tempo of "Push Push", one of the stellar tunes here ! Credited to Skin, Flesh & Bones it's followed by its version. Soon this gruop of musicians will be known as The Revolutionaries, and their trademarks are alredy here. After the collection's title track "Time a Go Dread" and its Dub version, comes "Maffia" with the distinctive melodica by Augustus Pablo and its version by the Black Expression Band. Follows "Take A Ride" by Wallie (aka Wally) Bucker. Sadly this artist from my beloved Port Antonio (Portland Parish) recorded just a few tracks and then prematurely died. This song if followed by "Shake Up Yu Dread" and its version called "Shake Up Dubwise" credited to Kow Allstars. Then comes another very powerful, stellar tune called "Strike", again featuring Augustus Pablo, with followed by a version. But the real great masterpiece is "Slaving" and its version. If we have to recall The Lloys Parks Song (with the Capital letters) here it is! A never forgotten song that still reasonates so deeply fortyfive years ago! A gem! No apologies. Follows the great toaster Dillinger with "Money Done", with again Pablo on melodica. There is also the Dub version. Follows "Famine". Another powerful song is the fast tempo of "Come Back Early", with its strong Dub version. The compilation end with the sweet "Girl In The Morning" and its version. A great compilation from one of the great musicians of the Golden age of Roots Reggae: the Seventies. And never forget Lloyd Parks, the singer !
01. Money For Jam - Lloyd Parks
02. Money For Jam (version)
03. Push Push - Lloyd Parks
04. Push Version - Skin, Flesh & Bones
05. Time a Go Dread - Lloyd Parks
06. Dread Dub - We The People Band
07. Maffia - Lloyd Parks
08. Maffia Version - Black Expression Band
09. Take A Ride -Wallie Bucker
10. Shake Up Yu Dread -LLoyd Parks
11. Shake Up Dubwise - Kow Allstars
12. Strike - LLoyd Parks
13. Part 2 - We The People Band
14. Slaving -Lloyd Parks
15. Slaving (version)
16. Money Done - Dillinger
17. Doney - Lloyd Parks
18. Famine -LLoyd Parks
19. Come Back Early - Lloyd Parks
20. Version 2 - We The People Band
21. Girl In The Morning - Lloyd Parks
22. Girl In The Morning -Part 2