TURBULENCE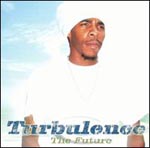 2003 - Jet Star - studio - discs: 1
Sheldon Campbell aka Turbulence from Hungry Town district, Kingston, presents here an album that stands as very representative of the contemporary attitude to put side to side Roots, Dancehall, Lovers rock, Ragga and Hip-hop too. Campbell started in 1998 under Fatis Burrell of Xterminator with his single debut "Think Of Peace". His first two sets were "Turbulence" and "Rising". A couple of albums followed. I am not such a fan of this kind of artists. So many different genres get me confused and sometimes bored too. When we are talking about the late 90's and more recent years I am basecally for "Conscious Reggae" and when the sounds goes too much through a contaminated territory I feel unconfortable. Unfortunately in these days this mixing attitude is present everywhere. So I prefer to skip some tracks and let the "Rootsy" ones to take control of my emotions. Here the best track of this kind is the great "We Need Liberation": a slow Roots song, very touching, that explores the need to be free from Babylon, sins and lies. The song features Digital Ancient on vocals along with Turbulence. The opening with "Go And Tell The World" stands as a pushing track and is worth more than one listening. "All I Require" is a very nice "Roots" tune. It must be said that Turbulence stands on the Conscious side at least for the lyrics. Something is saved.
I BELIEVE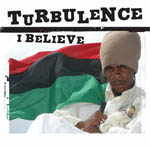 2005 - M Records - studio - discs: 1
This set from Mr. Sheldon Campbell is better than other stuff that came out in 2005. It is not a particularly spectacular set but it contains some real good tracks, maybe because it was produced by Paul Daley and Steven Stanley. Let's talk about the best content of this set. It opens with "Selassie Interlude" which in these days seems to be a must for every committed conscious lyrichs singer: an ode to H.I.M.. Follows the conscious "We Need Love", addressing the need for a peaceful way to relate to others. "Mama Don't Cry" is a slow new Roots tune quite touching. The following song, "Got To Be Smart", is the best of the album. It flows over a Roots rythm and it is worth the album. The other strong song is the rocking and quite fast "Sweet And Pretty", featuring Prince Javed. The rest is some Lovers (as with "You're An Angel"), some Hip-hop (as the aggressive, digital and pretentious "High Grade") and some innocuous songs as the title track.
NOTORIOUS - THE ALBUM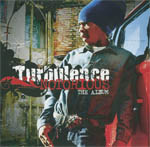 2006 - VP - studio - discs: 1
Sheldon Campbell is back with a new set. What should make this album different than his previous efforts is his collaboration with the Shabak Music Studio of Tel Aviv, Israel. Most of the songs were recorded and mixed in Israel. I do not know that well Turbulence to rate and appreciate the real difference if the set was a Jamaican product instead of this Israeli effort. But the result is quite strong and better than other sets. The album get straight to the target without indulgeing in its thirteen tracks. The mood alternates New Roots with some incursions in the Dancehall (as with "Run Away") and Lovers (as with "Work It Out") territories. As could it be expected Turbulence singing is tough. Sometimes the music is a little bit too much filled with unnecessary textures of keyboards structures and there is even some too much extended use of digital effects. But, I know, it is 2006 not 1976. I am not such involved with this singer but this set is more interesting than other sets. The best tracks are: the opening slow and engaging rythm of "Fire Pon Dem", the Rootsy "Do You", "I'm Yours" (even if there is no trace of the Jamaican musical heritage), the Roots of "Front Line" (featuring the great vocals of Sasha, and one of the few songs recorded and mixed in Kingston), and "Liberation".