RAS MICHAEL & THE SONS OF NEGUS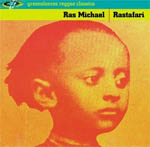 1975 - Greensleeves - studio - discs:1
Ras Michael (born Michael George Henry) have played Nyahbinghi music since the mid 60's. This music, in its purest form, is based on drums and chants. It is played by committed Rastafarians during their meetings called "Grounations". Basecally there are three kind of drums: the bass, the funde and the repeater. Occasionally some other instruments are employed, but the basis is made by the drum beating. There is no other way to describe Nyahbinghi music as the ancient beat from Africa that permeates the Jamaican society. This set starts from there adding a special flavour thanks to the addition of some of the top musicians of that period. The result is quite interesting since the final material is some kind of mixed texture of Nyahbinghi, plus some conventional Roots, plus some funky and some jazzy sounds too. The chanting from Ras Michael and his Sons Of Negus is a pure declaration of commitment to Jah Rastafari. And the music is a good starting point to later appreciate the more edgy and pure Nyahbinghi music. The set was engineered by Neil Case at the Dynamic Studios. An interesting experiment of crossover inside the deepest nature of Jamaican dread music.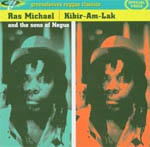 1977 - Greensleeves - studio - discs:1
This set from 1977 is far darker than "Rastafari" (1975). The main mood is the same: a mixture of Nyahbinghi music and more conventional mid 70's sounds. But the final result is different. First of all the drums stand on the front row. Secondly there is a much spiritual feeling permeating the entire set. At the end there is a bigger sensation, than on the "Rastafari" set, of listening to some real Rastafarian music played by people that are not joking at all. As with "Rastafari" this is not at all pure Nyahbinghi music, but it flows as a real spiritual and therefore religious music. The set was engineered by Neil Case and Geoffrey Chung at the Dynamic Studios. The purification fire here does not leave anything evil alive.
Note: for a fully comprehensive experience of what is Nyahbinghi music, please refer to the "CHURCHICAL CHANTS OF THE NYABINGI" set. This live field recording is commented inside the VARIOUS / COMPILATIONS PAGE. It can be reached
here
.