Please refer to the Tenor Saw 's page for my comments on "Tenor Saw Meets Nitty Gritty".
GENERAL PENITENTIARY
* * * *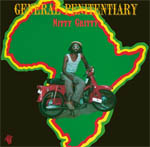 1986-1987 - Black Victory- studio - discs: 1
Is this a "showcase" album? For sure. Eight tracks, four vocals and four Dub(ish) counterparts. Produced by Ibo Millington and mixed by Bunny Tom Tom aka Crucial Bunny and originally released on NYC-based label Black Victory in 1987. Personnell: Errol "Bagga" Walker (bass), Wycliffe "Steely" Johnson (drums), Dalton Browne (ryth guitar), Pablove Black (piano and organ), Jerry Johnson (saxophone). A set recorded using conventional instruments and early digital equipmments that at the end conceive a perfect balance betwee the two. Strong, powerful, uncompromising. Short and pulsing. A killer set that will shake even the most skeptical listener of the 80s second half music. On 24 June 1991, he was shot dead in front of Super Power Record Shop in Brooklyn, New York at the age of 34. RIP.
01. General Penitentiary
02. Penitentiary Dub
03. Can't Test Me
04. Test Me Dub
05. Tell Ne Whata Gwann
06. Gwann Dub
07. Under The Moonlight
08. Moonlight Dub