MISTY IN ROOTS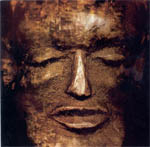 1979-2001 - Real World - studio-
live
- discs:1
Misty In Roots was one of the greatest British Roots band of the 70's. The band formed in Southall, London. The members changed during their career but the main core was formed by Walford "Poko" Tyson (lead vocals), his brother Delvin "Duxie" Tyson (vocals, rhythm), Chesley Samson (lead guitar), Delbert McKay (guitar, vocals), Tony "Thungy" Henry (bass) and Dennis Augustine (thythm guitar). Even if their main approach was quite melodic to be able to reach a wider audience than that of the purest Reggae fans, they never went commercial thanks to their own People Unite label. The Tyson brothers were born in St.Kitts and Dennis Augustine was born in Grenada, but they were all raised in London. They started to play as teens forming the basis for the Misty In Roots. Since when they were young they embraced Rastafari, a spiritual choice that is still with them. Their first album was the wonderful and raw live set "Live At The Counter Eurovision" in 1979 (featuring William "Smokes" Simon on MC). This set brought a strong reputation as an underground Rastafari band. More than that they were always involved in social and political matters. Along with Linton Kwesi Johnson they took a firm position against the establishment when Blair Peach (a teacher from New Zeland) was killed by the police during a rally against the British (and fascist) National Front in April 1982. They had troble with the law when after a demonstration against the National Front, the police arrested the band. A real tragedy happened in 1992 in Ghana were Duxie drowned in the ocean. From that time they never quit performing all around the world spreading their Rastafari beliefs. This brief story only half describes their story. This set for Real World label brought them back in the studio after many many years. This set is formed by new and old songs. It can be seen as a reminder that Misty In Roots delivered, and is still able to deliver, a positive message of hope. There is not such a difference between the new and the old. Their stength lays in the powerful Roots message, therefore even if twentytwo years separate the oldest to the newest track, the force has not diminished. The second part of the set (old songs) is formed by five studio tracks plus two live ones. These live songs ("Man Kind" and "Ghetto In The City") from "Live At The Counter Eurovision" (1979) clearly demonstrate their tough and powerful live personality. Pure Deep Roots vibes! The studio part with old material is formed by "Follow Fashion" (from the "Earth" 1983 set), "Ireation" (from the "Musi-O-Tunya" 1985 set), "New Day" (from the "Earth" 1983 set), "Dreadful Dread" (from the "Earth" 1985 set) and "Musi-O-Tunya" (from the "Musi-O-Tunya" 1985 set). This set makes us go back and search for the Misty In Roots previous albums, and at the same time riminds us that Deep and positive pure Roots music is still able to deliver its message at full effect.
LIVE AT THE COUNTER EUROVISION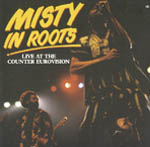 1979 - Kaz Records -
live
- discs:1
On March 31th and April 1st, 1979, Misty In Roots played in Brussels (Belgium) at the Cirque Royal. These two concerts were organized by a non-profit making association called "CAFIT" ("Collectif d'Animation pour la Formation et l'information des Travailleurs") under the initiative of the belgian "Pour le Socialisme" association and (its?) newspaper POUR. Three vocalists (Walford "Poko" Tyson, his brother Delvin "Duxie" Tyson and Delbert McKay); three guitarists (Lawrence Crossfield, Chesley Samson and Dennis Augustine); one keybordist (Vernon Hunt); on bass player (Tony "Thungy" Henry) and one drummer (William Simond); delivered some very deep beautiful Roots music. Rastafari, cries for a better world and prayers for justice fill the lyrichs of this mesmerizing live set. This is the best live album (re-issued on CD by Katz Records in 1990 and unfortunately very hard to find) that I collected so far. After an intro, the seven tracks are presented as follows: "Man Kind", "Ghetto Of The City", "How Long Jah!", "Oh! Wicked Man", "Judac Iscariote", "See Then Ah Come" and "Sodome & Gomorra". A re-issue of the two evenings or at least an extended edition of the present set would be a wonderful gift, but I am highly convinced that this will remain a dream. In the mean time immerge yourself deeply in the Misty In Roots message: you will purify yourself.
1. Man Kind
2. Ghetto Of The City
3. How Long Jah
4. Oh Wicked Man
5. Judas Iscariote
6. See Them Ah Come
7. Sodome And Gomorra