GARNETT SILK (b. 1970 - † 1994)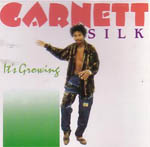 1992- VP Records - studio - discs: 1
Garnett "Silk" Smith was born in Manchester, Jamaica in 1970. The started to sing when he was very young, approximately when he was twelve years old. In his mid-teens he linked with Tony Rebel and his name started to be associated with that of a new talent on the scene. In 1992 under Bobby Digital this ten tracks debut set was released. Garnett Silk appearence brought something new in a market filled with a Dancehall that was more or less repeating itself without innovations. The reality lyrics here were something new: "culture" was surfacing again after ten years. Most of the compositions here are by Anthony "Fire" Rochester and the "silky" voice of Garrett gives them a special touch on "reality" and some more romantic tunes. Of course there is a lot of digital sounds here but they are mixed with the intention to put on the surface a Rootsy atmosphere. The songs that I prefer the most are those with a more Roots attitude: "Move On Slow", the deep "Bless Me", the fast "I Am Vex", "Disadvantage" and the Roots of "Keep Them Talking". A sad event occured in 1994 when a gas canister exploded killing Garnett. Without any doubts he helped to re-establish a serious and cultural approach in the music of the new decade. Respect!
LORD WATCH OVER OUR SHOULDERS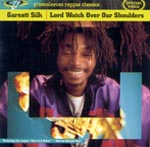 1992-1994 - Greensleeves - studio - discs: 1
This is a posthumous compilation. I suppose that the material was recorded between 1992 and 1994, year of Silk demise. The general feel is less convincing than the "It's Growing" debut set (1992). The songs are frankly quite repetitive without particular peaks. Of course there is much use of digital rhythms but these songs lack the Rootsy flavour of other compositions. The only song that emerges is "Home Town". If you are interested on Garnett I suggest that you start from the more intriguing debut album.