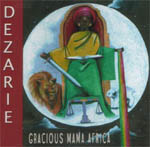 2003 - African Roots Lab - studio - discs: 1
This album is a masterpiece. Dezarie does not comes from Jamaica, home of Reggae, but from St. Croix, US Virgin Islands. Her debut was the "Fya" set (2001). This second effort is stronger than ever. The whole album (twelve songs) is a huge sea made of gems where everyone can find his. This is a continuous of very deep (and sometimes very dark) Roots delivered through a highly confident and powerful voice backed by the Midnite group. I must pay respect to the players since the music that they play is pure magic. Dezarie lyrics are hypnotic as a Nyahbinghi grounation smoke but sharp as the machete. Social justice, decline of the civilized world, racial equality and Africa as the homeland are the main issues here. It is meaningless to name the best tracks since there are no low peaks and everyone is absolutely perfect: both musically and lyrically speaking. Dezarie voice is beautiful while delivering a never ending conscious message supported by first class Roots music. Keep this album in a safecase and play it constantly. Yes Queen! Selah!
1. Gone down
2. Poverty
3. Not one penny
4. Strengthen your mind
5. Law fe de outlaw
6. Justice
7. Gracious Mama Africa
8. Exhalt
9. Mother and Child
10. Travelers
11. Slew dem an done
12. Judgement Come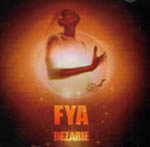 2001 - I Grade Records - studio - discs: 1
"Fya" is the debut album from Dezarie. Backed by the Midnite band, she establishes a strong milestone inside the contemporary Reggae scene. With Roots as the foundation of this complex building, she constructs a highly textured musical realm. Shifting between Roots and almost Soul atmospheres, Dezarie delivers a sophisticated and strong debut set. Meditative and solemn, "Fya" is unmissable for those searching for a new contemporary approach to Reggae music. Especially if considering the few female voices around. As with the darker "Gracious Mama Africa" set from 2003, "Fya" is a huge surprise that will conquer you forever.
1. Zion
2. Omega
3. Don't Cry
4. Most High
5. Love Yourself
6. Flesh and Bone
7. FYA
8. All Ova
9. Walk Wid Me
10. Rebel
11. Jah Throne
12. Mind Yu Own
13. Sing Out
14. Iron Sharpen Iron
15. FYA Dub

2008 - Afrikan Roots Lab - studio - discs: 1
At the end after five years since Dezarie' second stellar album "Gracious Mama Africa" (2003), she is back with this new effort called "Eaze The Pain". Again Midnite's Ron Benjamin is involved, and quoting the sleeve notes he performed, produced, recorded and mixed the set. Unfortunately no other informations are available, except the fact that he is also credited for the backing vocals. Do Midnite (as a whole band) played in this album? It sounds strange that Ron Benjamin played all the instruments since generally he is on keyboards and guitar only. But these are the only informations that we can get by the sleeve. Also there is no information about where this album was cut, but probably it was recorded in St. Croix, US Virgin Islands. But we are here for the music. This twelve tracks set is inferior to "Gracious Mama Africa", but since the quality of that set is that good, it was really hard to think that another five stars set would have surfaced again. At the same time "Eaze The Pain" also differs from the debut "Fya" from 2001. Let us try to describe how. The set opens with Dezarie harmonizing over a delicate piano texture ("Hail Jah"), a slow, solemn and profound opening. With the second song ("What A Mornin") things change radically. A proper Roots tune comes, with Dezarie singing over a pulsing and sumptuous rhythm. The third track is "Always Remember You". This song is a wonderful praise to our mother, our parents, all the people that love and loved us and that sooner or later will not be with us any more. A beautiful and delicate declaration of love. The touching lyrics are printed inside the sleeve. Follows "Eaze The Pain (Redemption)", an uplifting track thanks to Dezarie lyrics. The fifth track is a lot more meditative, working on an already tested musical chemistry (see the previous "Gracious Mama Africa" album) it is a lie back song that perfectly fits inside this set. This song is called "Real Lub". Follows "Concern" delivering - again - what can now be considered a typical Dezarie mood. The seventh song is "Angels". Punctuated by a synthetizer refrain, this slow tune flows as the soft breeze in a Carribean night. A different faster mood is delivered in the following "Set Da Flame". The temper is even faster with the nineth track, "The Truth", featuring the backing harmonyzations of Ron Benjamin. Follows "Anotha Rebolution", with Dezarie strangely delivering some rough voice on the peaks of the track. The eleventh track is "For The People / By The People", a quite conventional Roots song, and if compared to the rest of the set it is a low peak. The set closes with "RasTafarI". A final praise to the Most-I. Maybe on a couple of tracks Dezarie is sustained too much by a classic Midnite's sound. In any case this set proves again the big artistic stature of this great female voice. Not far from the five stars of "Gracious Mama Africa"!
| | |
| --- | --- |
| 1 | Hail Jah |
| 2 | What Ah Mornin |
| 3 | Always Remember You |
| 4 | Eaze The Pain (The Redemption) |
| 5 | Real Luv |
| 6 | Concern |
| 7 | Angels |
| 8 | Set Da Flame |
| 9 | The Truth |
| 10 | Anotha Revolution |
| 11 | For The People |
| 12 | Rastafari |