COCOA TEA (1960 - )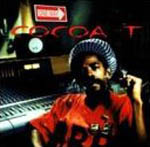 1998 - VP - studio - discs: 1
Cocoa Tea, born Calvin Scott in 1960, started his career in the middle of the 80's under the producer Henry "Junjo" Lawes. Later he worked with King Jammy, Bobby Digital and, as in this occasion, with Phillip "Fattis" Burrel (Xterminator). Cocoa's sets from the 80's and 90's alternated the digital dancehall sounds with some more Rootsy ones with "reality" tunes. The mood here is basecally digital (even in the "reality" and Lovers tracks) and considering that this set is from 1998 it sounds too much late 80's - early 90's. For this reason I feel it too dated and not particularly touching or impressive. The best tracks are "Business", the Lovers Rock "I Can't Help", the Rootsy "No Faith" and the catching off-guard Nyahbinghi of "Burn Satan".
PIRATES' ANTHEM
1988-1990 - Greensleeves - studio - discs:1
This is Gussie Clarke's chemistry. Augustus Clarke started operating a Sound System in the early 70's and therefore venturing in the production business around 1972. In 1987 he started his own studio called Music Works. His intention was to mix the Roots cultural aspects of the 70's with the digital Dancehall sounds. The present set (also known as "Holding On") combines the tough mood of Shabba Ranks with the Roots oriented sounds of Michael "Home T" Bennet and Cocoa Tea. Not all the tracks seem to fulfill the expectations, but a few succed in this attempt of mixing two musical eras. Check for some good dancing tunes from this trio.
SAVE US OH JAH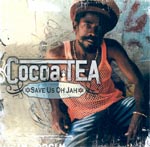 2006 - VP - studio - discs: 1
This release from Calvin Scott is a good set. Cocoa meets again Phillip "Fattis" Burrell to produce together fifteen "conscious" songs. The set opens with the great acoustic of "Stay Far". Earl "Chinna" Smith here plays guitar, as in five other songs, along with Donald Dennis on drums. and the title track "Save Us Oh Jah", the set get hotter with the fast and rocking "Let Let Music Play". The subsequent "Indian Woman" avoids the temptation to become Dancehall oriented, and is a good example of how Cocoa is able to keep in touch with the contemporary musical sounds and at the same time to keep his style uncorrupted. "How You So Hypa" is a contemporary Lovers Rock track fuelled by a slight latino athmosphere that perfectly fits inside its Jamaican main ingredients. "Got You Now" is one of the less impressive tracks among the fifteen compiled here. "Wave You Hand" and "Can't Tek The Fire Bun" are modern Roots tracks embellished by the tender voice of Calvin. Follows "Babylon Feel It" again perfectly mixes Cocoa's slow approch with dramatic lyrics. "It Was A Charm" is Roots again and is followed by the Lovers mood of "Don't Give Your Love Away". "Biological Clock", musically speaking, is quite smooth. "Stop Him" is a strong track with the great Dean Fraser providing the perfect ground to built a very confident Roots tune. Follows "Sex Drugs And Crime": a cry against some of the Babylonian worst aspects, sung over a Roots base which maybe it would have worked better on a tougher rhythm. The set closes with "Spin The Song Ya" but being basecally structured on a poor digital rhythm it lacks the deserved effect. Not everything is good as it could or should be, but fortunatelly here you can find also some very good Cocoa Tea.